Senior signoffs: Savvy Simo reflects on friendships made, challenges overcome as a Bruin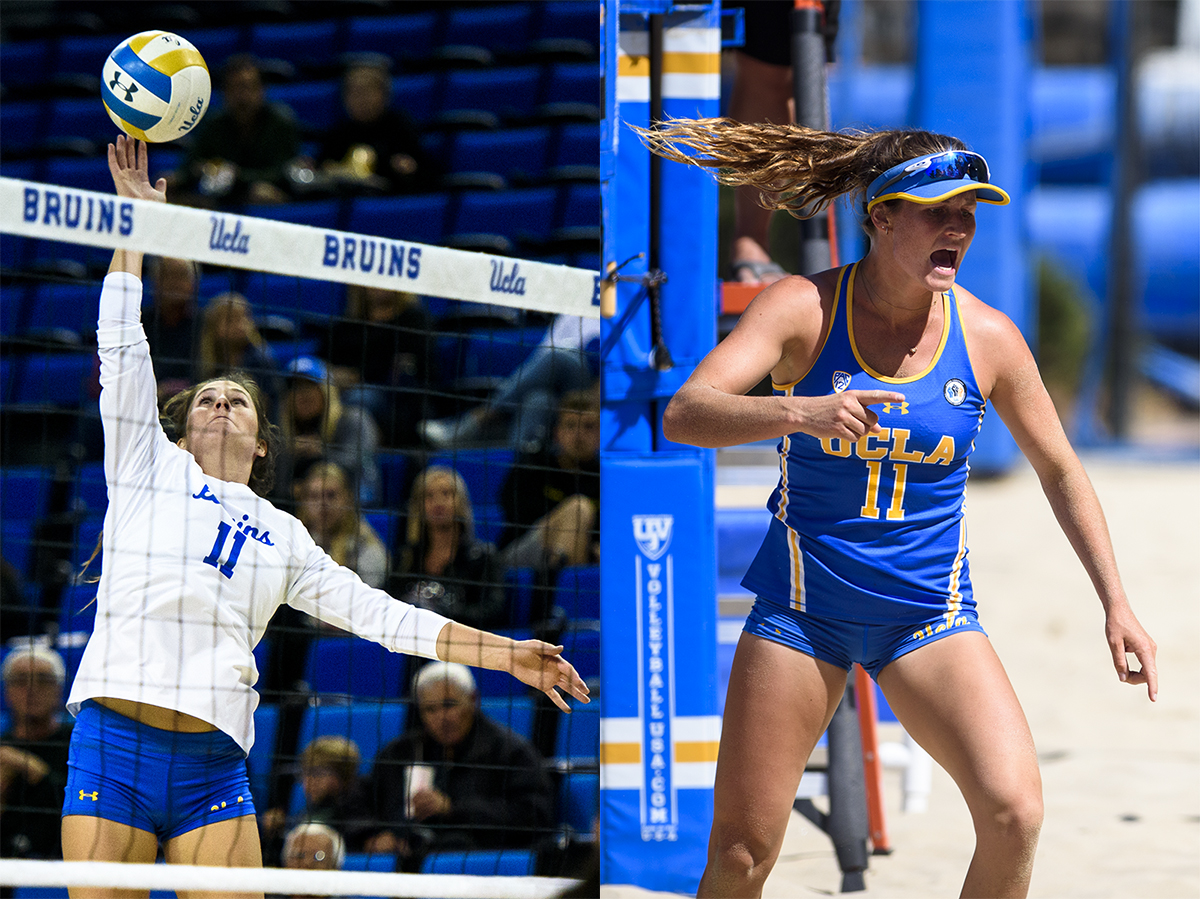 Savvy Simo played for both UCLA women's volleyball and UCLA beach volleyball during her five seasons in Westwood. (Left to Right: Liz Ketcham/Daily Bruin senior staff, Jefferson Alade/Daily Bruin)
When I look back at my five years at UCLA, I can't help but smile and feel flooded with so many positive emotions: happiness, contentment, love, trust, support, fulfillment and an overall feeling of pure gratitude. I am blessed beyond measure to have been able to play on the beach and indoor volleyball teams at UCLA and to have been surrounded by champions every day.
This past season was filled with more ups and downs than anyone could have imagined. I knew it was going to be a tough season going into it because of the lack of certainty and the way the world was, but I am so proud of the way our team fought and managed to finish second in the end with all the adversity and challenges we faced. Whether it was canceled games, breaching of COVID-19 protocols or flying in an N95 mask and face shield, the UCLA beach volleyball team embraced every challenge with grace and gratitude. We just felt so lucky to have been able to compete with our world flipped upside down. The chance and opportunity to compete held us together and kept us motivated.
As for me, the past five years have been filled with so many emotions and so many memories, all of which have shaped me into the person and player I am today. From the good times to the not-so-good times as a college athlete, I am still completely filled with nothing but gratitude and happiness. It's so easy to get wrapped up in the moment and let your judgment get clouded by the emotions of being in season. You often forget to feel happy and grateful to even be a part of a team. Looking back, you realize each and every one of us is so lucky to be at UCLA and to be healthy, young women surrounded by incredible humans at the best university in the world.
Being at UCLA has taught me more about life than I ever could have imagined. I have learned how to communicate with all types of people, I have learned how to manage my time, I have learned how to be the best volleyball player I can be, but most of all, I have learned how to appreciate everything I have, live each day to the fullest, spread love and support to everyone and stop and look around at the beautiful world we live in.
I would not have learned all of this without the help and support from countless people in my life: the fans, the support staff, the coaches, the trainers, my amazing teammates, my friends and my family. I could not have made it through the past five years without the support network I had. You can't do this journey alone, and it makes it so much more special when you have supportive, understanding and loving people in your corner. I am so thankful I had just that.
This is definitely not an easy goodbye for me, but you have to turn the page to the next chapter at some point. Five years and nine seasons later, I think it's time to turn the page. They say when one door closes, another one opens! There is nothing better than being a Bruin, and I will be a Bruin forever. I wanted to go to UCLA ever since I was a little girl, and now thinking back to that time as a Bruin alumna, there is no greater achievement in the world. Winning two national championships and creating lifelong friendships are some of the most special things you could imagine, but nothing compares to the honor of being a Bruin and spending five years learning from the best of the best. I can't wait to see what the future holds for my beach volleyball career, and I will never forget my Bruin roots.
Go Bruins!
Love, Savvy Simo #11
Simo played for UCLA women's volleyball 2016-2019 and for UCLA beach volleyball 2017-2021.