MFA film students showcase flexibility, innovation amid production restrictions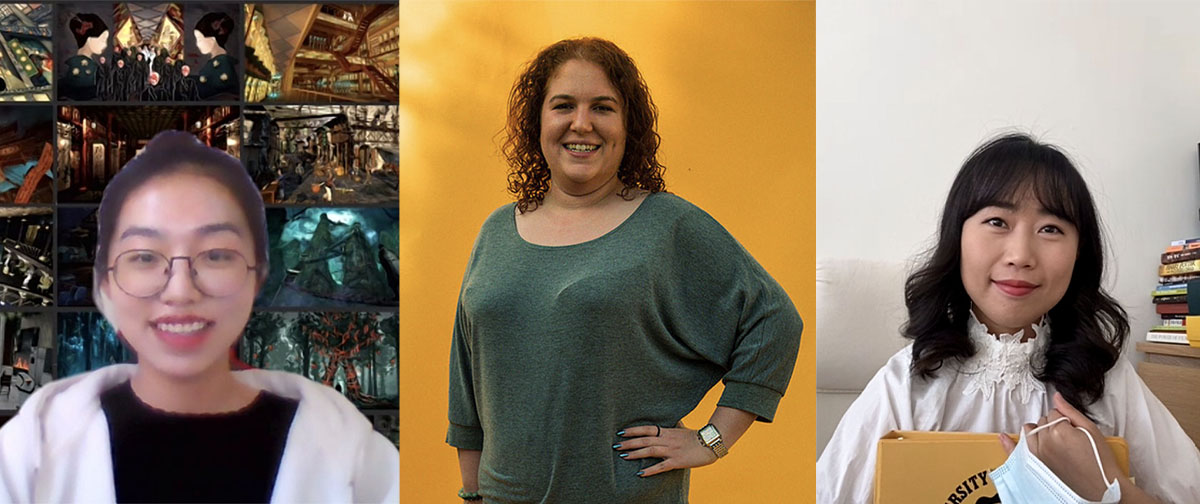 With regulations brought on by the COVID-19 pandemic, MFA filmmakers Beibei Hu (left), Jessie Klearman (center) and Changhui Shi (right) have faced and overcome various challenges from pushing back projects to holding Zoom auditions. (From left to right: Lauren Kim/Daily Bruin, Courtesy of Batuhan Taylan, Lauren Kim/Daily Bruin)
Graduating filmmakers have forged ahead in the face of the COVID-19 pandemic's unforeseen cameo.
Over the past year, graduating MFA film students Jessie Klearman, Changhui Shi and Beibei Hu have adapted their original plans for final projects ranging from original films to thesis papers because of the pandemic. Despite the past year's setbacks surrounding a lack of in-person collaboration and additional safety permit requirements, Klearman said the pandemic has benefitted filmmakers by imposing creative limitations to inspire original work.
"I was going to do a feature for my thesis before the pandemic happened (but) I kind of had to change everything if I wanted to graduate this year," Klearman said. "I did it within my bubble, so I shot it, wrote it and directed it myself."
She said her thesis film, "Captain Ocean," was inspired by the isolating impact of the pandemic as well as themes of race and freedom. Keeping these messages in mind, Klearman said she reduced her originally large cast to minimize costs and film given the safety measures on set. The MFA writing and directing student said a safety committee consisting of professors and students facilitated the approval process of paperwork that was required for a limited number of people to be present at shooting locations.
"This film kept the notion of the star (being) Black. It's talking about freedom as a metaphor for being free in America as a Black man, versus being on the run," Klearman said.
[Related: Alum's horror film 'Initiation' defies gender stereotypes, explores social issues]
The finalized concept for the film was inspired by an Airbnb houseboat Klearman found in the middle of a desert, a distinctive shooting location that she said reflected the theme of freedom in a state of isolation. After scouting the location, Klearman said safety restrictions limiting the number of people on set prompted her to take on the film's director of photography role.
"I had to adapt and trust myself to … shoot the film, which was a scary challenge," Klearman said. "Some things I did to reassure myself was paying a lot of attention to production design and costume design because I knew that no matter what if that looked good I can put a camera on a tripod and things will be okay."
The pressure of juggling multiple roles on and off-set was demanding but ultimately proved worthwhile as it gave her complete creative control, Klearman said. Though the concept for "Captain Ocean" allowed Klearman to work collaboratively with a limited cast, other student projects faced challenges surrounding remote work.
While Klearman consolidated roles in her project to adjust, MFA producing student Changhui Shi said she worked with directors around the globe to produce "Talk," a short film about a mother and daughter reuniting during the COVID-19 pandemic and experiencing tensions steeped in grief and cultural disconnect. Despite her passion for the film's relatable themes of physical and emotional distance, Shi said the increasingly restrictive measures placed on filmmakers over the past year forced the production to be postponed until spring quarter.
"It was really hard to think about (how) you devote yourself to this project, you put your whole heart into it and you … have to pause again and again," Shi said. "Luckily … the situation got better, and there were vaccines, and the school (greenlit) all the projects. And we started to work on this big challenge with the casting side."
Once the casting process commenced, Shi said she soon faced setbacks with finding actresses who could display authentic chemistry through Zoom. Although evaluating auditions proved difficult, she said the cast was ultimately fitting for the parts as their similar accents made them believable as relatives.
[Related: Dance film 'IYAguration' celebrates Black culture through dance styles, design]
Compared to Shi's collaborative challenges on a production-driven project, MFA production design student Beibei Hu said she has experienced a smoother online transition with developing her thesis paper, which is based on a concept at the intersection of Mary Shelley's novel "Frankenstein" and the Opium Wars. Hu said conducting independent research and strengthening her digital modeling techniques online with the help of UCLA professors has been a supportive process.
"During the past year, you can have more time to improve your (3D software) skills," Hu said.
These are necessary tools since one can use these models to pitch to the director ideas of what visual concepts are in one's mind, Hu added.
Working online has provided students more flexibility to learn relevant technical skills like 3D modeling to eventually build realistic sets on sound stages, Hu said. Although production design is a physical art that heavily relies on visuals, Hu said utilizing this time to learn digital skills can help develop a mastery of professional techniques.
Looking forward to a post-pandemic world, Shi said she is eager to discover and create exciting concepts with fellow filmmakers. Despite the setbacks over the past year, original plans have developed into more innovative ones that would not have been imaginable in a world without the pandemic, Shi said.
"I am very much looking forward to working with (directors), looking for whatever stories I can connect with and reading scripts that I enjoy," Shi said.