LA Pride hosting events online and in-person to uplift, celebrate LGBTQ+ community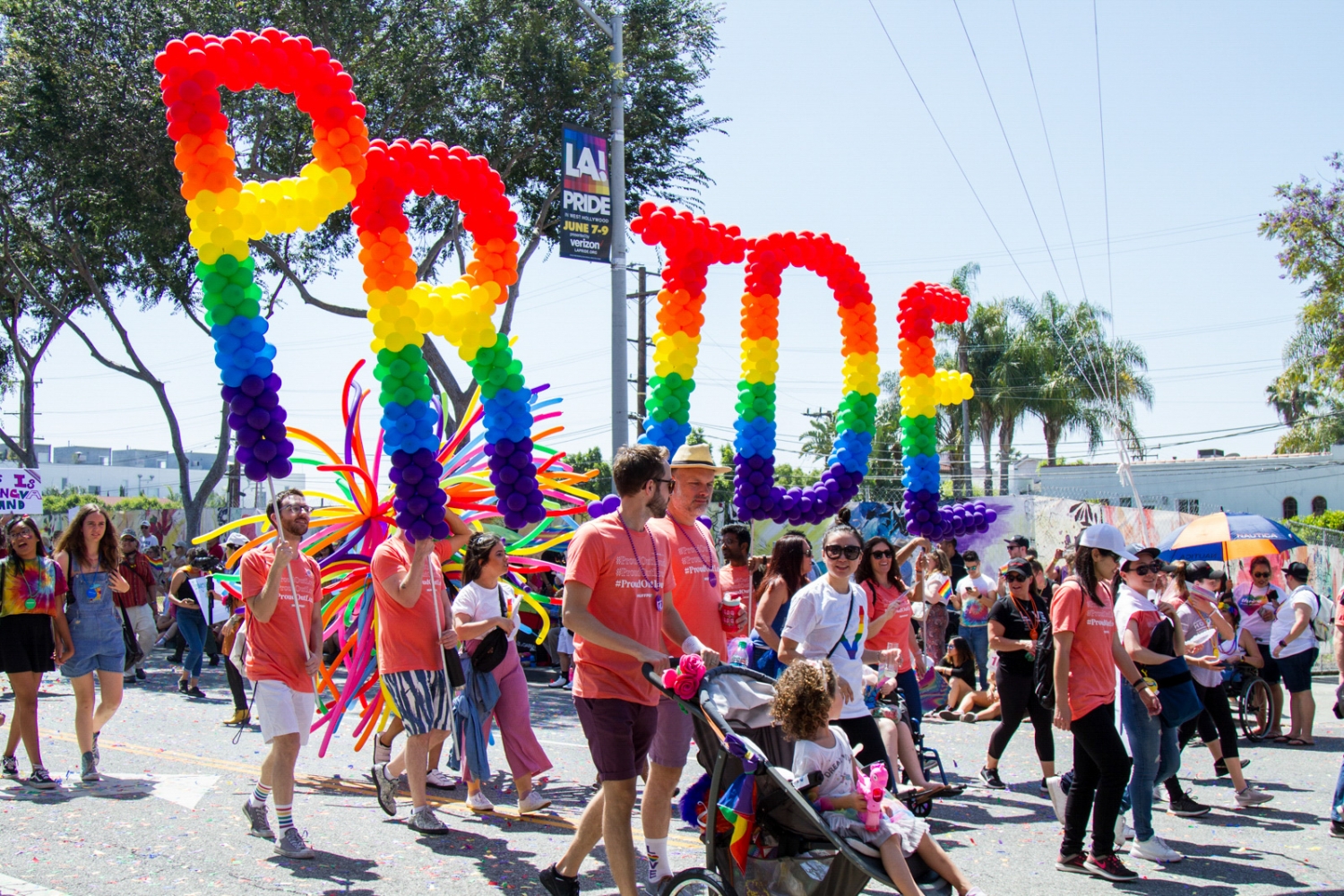 LA Pride 2021 events will be held both in-person and virtually throughout June, in place of the annual march. Planned in-person events include a movie screening with Cinespia and daily community service events with Big Sunday. (Daily Bruin file photo)
Correction: The original version of this article misidentified David Levinson.
This post was updated June 7 at 12:49 p.m.
LA Pride events for 2021 will be held in a hybrid format with in-person and online events throughout the month of June.
Last year, LA Pride shuttered in-person events because of the pandemic and had numerous virtual functions. About 53% of LA residents have been fully vaccinated, and COVID-19 cases across the county have continuously declined since vaccine administration increased. California will relax COVID-19 restrictions by June 15.
"The safety of the community has been and continues to be the number one priority," said LA Pride treasurer Gerald Garth in an emailed statement. "Folks should anticipate … many innovative, broader reaching, and more diverse experiences as well."
LA Pride is a celebration of the LGBTQ+ community, traditionally commemorated with a march in West LA since 1970. LA Pride hopes to honor deceased activists and raise awareness for the ongoing battle against inequality through its programming, said Christopher Street West, a nonprofit advocacy group for the LGBTQ+ community that organizes the annual festivities.
Planned in-person events include the LGBTQ+ Pride Night at Dodger Stadium on June 11, a celebration night at Universal Studios Hollywood on June 25 and an outdoor movie screening in collaboration with Cinespia on June 26.
For the first time in LA Pride history, the organization partnered with Big Sunday, a charity organization, to create daily community service events throughout June. Each week's events are themed, including health and wellness, food insecurity, housing insecurity and protecting the environment. Events are listed on Pride Makes a Difference, a website that features month-long public service functions.
Volunteers can choose between online, live or self-guided events such as downloading instructions to make an at-home hygiene kit, according to Pride Makes a Difference.
David Levinson, the founder and executive director of Big Sunday, said these choices let Angelenos celebrate pride while practicing their preferred COVID-19 safety protocols.
Charitable organizations such as the Hollywood Food Coalition and My Friend's House Foundation, a group that provides resources to unhoused people, are also hosting in-person events such as distributing food to the homeless for LA Pride.
Programming for the LA Dodgers game against the Texas Rangers includes a firework show and recognition for LGBTQ+ first responders, according to LA Pride's website. An LGBTQ+ artist will sing the national anthem for the night, according to the LA Times.
Vaccinated fans will be seated in sections without social distancing and must wear a face mask, except when eating and drinking, according to Dodger Stadium guidelines. Dodger officials will approve a vaccination card to confirm status. Unvaccinated attendees will be designated to a different area and must practice social distancing.
Will Hackner, one of the baseball night's organizers, said that the dropping infection and mortality rates reduce fears about COVID-19 transmissions in large crowds.
"We have to take pause and say 'Are we going to live in fear? Or, are we going to … hope for the best?'" said Hackner, the owner of the Varsity Gay League, an LGBTQ+ sports league and co-sponsor of the event. "I'm most excited for an opportunity to feel normal again."
In addition to in-person functions, virtual events are also being organized, according to Pride Makes a Difference. Non-profit organizations will hold online meditation sessions and mental health discussions for the LGBTQ+ community.
LA Pride will exclusively stream a show on TikTok, a social media platform, featuring pop star Charli XCX and other LGBTQ+ artists June 10. On June 12 at 9 p.m., channel ABC7 will air a one-hour special, the Thrive with Pride Celebration. Scheduled segments include performances by the Gay Men's Chorus of LA and recognition of individuals in the transgender community.
LA Pride hopes the newscast will celebrate intersectionalities within the LGBTQ+ community, Garth said in an emailed statement. The broadcast will highlight community leaders, organizations and agencies working to uplift the LGBTQ+ community, Garth added.
LA Pride memorializes the challenges LGBTQ+ groups have overcome and recognizes the identities of the LGBTQ+ community, said Carlos Santos, who identifies as queer, and is a social welfare associate professor studying the LGBTQ+ community at the Luskin School of Public Affairs.
"It is a space where I can celebrate who we are, who I am and feel comfortable," Santos added.
Luka/Isa Gidwani Monterrubio, a third-year transfer student who identifies as queer and transgender, said the virtual events enable accessibility for communities that cannot attend Pride in person.
"A lot of people work, or have disabilities and other barriers that may not allow them to physically go to Pride," they said. "We also deserve to experience Pride … being in community with others is really important, regardless of being there physically or not. I really like that we all discovered the virtual realm."
Fourth-year sociology student Martin Diaz, who identifies as queer, said he will not attend in-person functions because immunocompromised people could contract COVID-19. Diaz said Pride attendees must be cautious of the ongoing pandemic.
Second-year education student Dahlia Castillo, who identifies as queer, said she is not scared about contracting COVID-19 because many people are vaccinated.
"I'm hoping that enough of us will be vaccinated where there won't be a big outbreak because of Pride," Castillo said. "We need Pride because we're allowed to be out and proud without having to hide."