The Quad: Examining the links between Asian and Black Americans' fights for social justice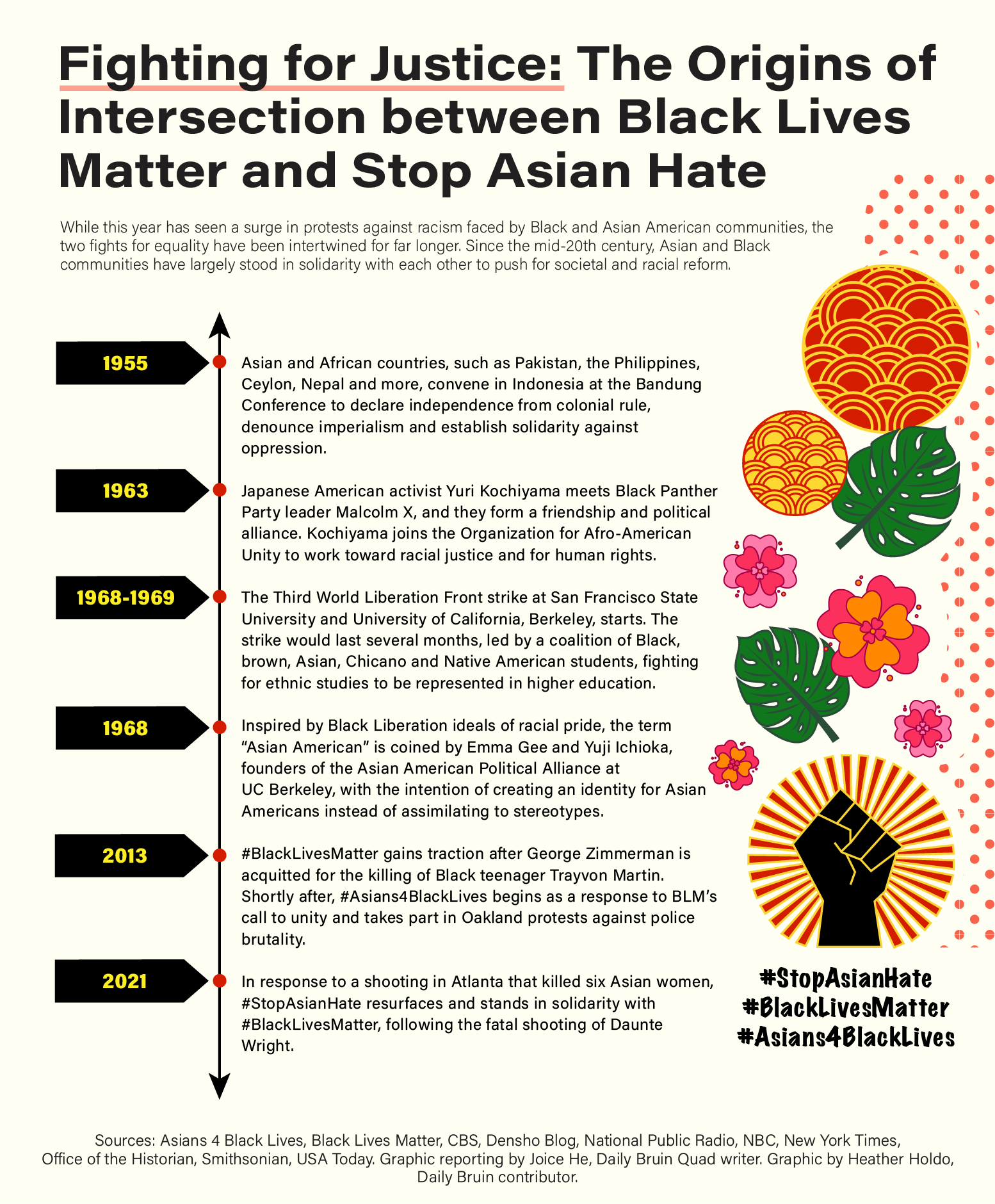 In the past year, the United States witnessed a surge of racial activism following the uptick in racially motivated violence.
Anti-Asian hate crimes are no exception to this and have skyrocketed due to the pandemic. According to the Center for the Study of Hate and Extremism, anti-Asian hate crimes have risen 145% in 16 of America's largest cities since the start of 2020.
The pandemic has brought to light the racism Asians have faced and continue to face, while also reminding many members of the Asian American community of the similar injustices faced by other people of color in the U.S. Despite this, many feel that racism within the Asian American community itself is still a pervasive issue.
First-year English student Victoria Lee said that her Asian American relatives will often treat movements such as Black Lives Matter with a dismissive attitude.
"When there are movements like BLM, a lot of my relatives will respond with, 'Oh, Asian Americans face a lot of issues too. Where's our movement?'" Lee said. "Or they'll say something like, 'We have issues too, but we don't try to get attention from it,' and jabs like that."
Nobuko Miyamoto, a Japanese American activist and singer-songwriter known for her political music, emphasized the importance of self-reflection when dealing with racism within the Asian American community.
"We have to face the racism that exists in our own communities and our own culture," Miyamoto said. "If we don't do that, we're not going to be fully liberated ourselves. (We need) to recognize it, speak about it, to face it and know that it exists and that our culture is embedded in it."
Not long ago, the term "Asian American" was not a descriptor or demographic adjective but a political identity. Coined in the 1960s at the University of California, Berkeley, it was meant to jab at anti-Asian racism and "Oriental" stereotypes such as the model minority myth and the "foreign threat" of Yellow Peril.
Asian American studies professor Kelly Fong said there are those in the Asian American community who have difficulty relating their own life experiences to that of other people of color.
"The emerging (Asian American) community today is very diverse, in terms of ethnic groups, socioeconomic status and class," Fong said. "So, you get a lot of Asian Americans who are maybe middle class, upper class, professionals or are children of professionals who don't see the connection between their own experiences and what Black communities are talking about."
This showcases a threatening perspective that many embrace as the "model minority" stereotype – an idea that suggests Asian Americans are more successful than other minorities because of traditional family values, hard work and obedient demeanors, even in the face of harsh and unfair conditions.
According to an NPR article, this stereotype was not created to elevate Asian Americans, but rather to suggest those in poverty, namely Black and brown communities, were poor because they did not work as hard, and that their opposition to unfair conditions was a sign of inferiority.
"Asian Americans don't necessarily recognize that they might be buying into ideas of anti-blackness by (saying) poverty is your own fault and not (systemic) … or the idea that if you can't pull yourself up by your bootstraps, you're not working hard enough and it's somehow your own fault," Fong said.
According to an NBC article, despite these underlying tensions, there is a history of cooperation between Asian and Black social movements. Stop Asian Hate and Black Lives Matter are often intertwined in the fight against white supremacy — and that is no recent development.
"We just need to reveal it," Miyamoto said. "These partnerships exist and have existed, we're not strangers."
In fact, the foundational ideologies of the Asian American movement have their roots in Black Power, which advocates for racial pride over racial integration.
According to a Vox article, ethnic studies courses offered nationwide were fought for in West Coast colleges such as San Francisco State, UC Berkeley and UCLA by the Third World Liberation Front – a coalition of Black, Asian, Chicano and Indigenous students.
Activists in the '60s and '70s operated under what they coined the "Third World" mentality, asserting that racist oppression would not end unless the institutional structures that enabled it were dismantled – no one group could be free while others facing similar conditions were not free as well.
As a result, Asian American activists, such as Grace Lee Boggs and Yuri Kochiyama, were often deeply involved in other social movements, including Black Power.
"The fight against anti-Asian hate has never been mutually exclusive with other race-based social movements," Miyamoto said. "We have our individual stakes in this. It's not just out there we have to deal with, it's internal. We have to change ourselves."
Fong said Asian Americans need to learn about the origins of the Asian American movement in order to initiate change.
"One of the first things is for more Asian Americans to be educated … about our shared histories, and what it meant to be Asian American in the United States," Fong said. "A lot of people in the Asian American community don't recognize this: learning more about these histories and developing that critical analysis would help."
Asian American activist and filmmaker Eddie Wong said that evaluating racism on an individual level is the first step to seeing large-scale societal reform.
"Take a deep breath, take care of yourself, and get your energy going," Wong said. "Then, express it as a form of love comradeship. It sounds stupid, but unless you do it yourself, it'll never happen in others."