Editorial: UCLA, CPO administrators must address wrongdoings, implement reforms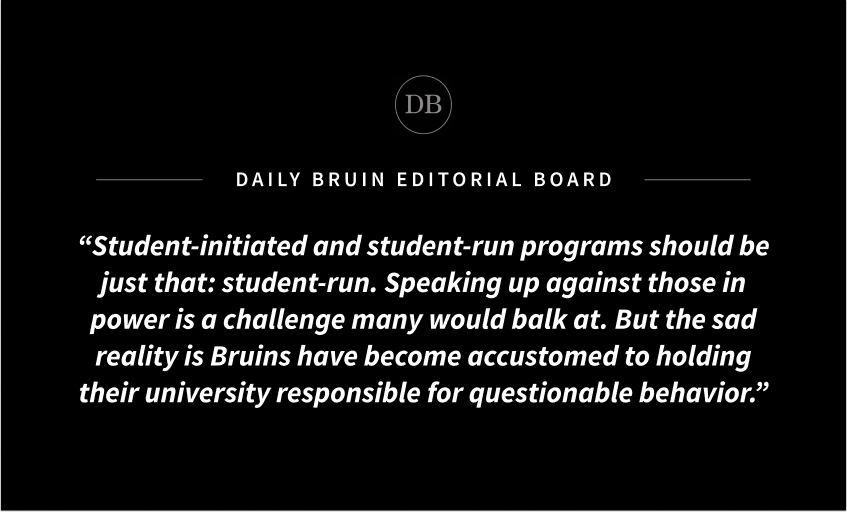 Editor's note: Editorials are intended to serve as the jumping-off point, not the conclusion, to discussion. As part of the Daily Bruin's commitment to its readers, the board hopes to present a responsible and clear analysis of relevant events and news items affecting the lives of those we serve, but our editorials are not representative of the Daily Bruin's views on issues as a whole. We encourage all readers to reach out to our board members and to respond to our editorials.
As some Bruins prepare to embark on a new chapter of their lives, others must battle administrators for greater control of their own organizations.
Students have accused UCLA and Community Programs Office administrators of creating an emotionally damaging workplace, mismanaging programs and failing to maintain financial transparency.
Two years ago, the student body received a report that two CPO committees failed to publicly account for millions in student fees. Since then, it has become abundantly clear that this massive oversight was the fault of university administrators running CPO, to the point that student leaders within those committees remain largely unaware of how funding is being used.
Additionally, some student workers have alleged being forced to work up to 40 hours unpaid in a toxic work environment. Others have claimed on social media that CPO administrators had students work past graduation. These students went into this work to increase retention, support underserved communities and provide their peers with resources. The university's continued failure to support them in that work is a grave disservice to the larger campus community.
Students deserve to call the CPO a space of their own, and administrators have an obligation to see this through. The university should first listen to Bruins' demands before making a concerted effort to both increase student control over the office and release quarterly budget reports that detail where the CPO's money goes. Doing nothing only makes what may feel like an inhospitable campus that more unwelcome – a reality that undermines the CPO's stated mission of inclusivity.
The CPO operates campus programs that are responsible for making UCLA more accessible to historically marginalized communities. All student-initiated and student-run programs, such as the Campus Retention Committee and the Student Initiated Outreach Committee, are housed under the CPO, which is staffed by UCLA employees and students.
But students and staff can't fulfill their designated responsibilities when they're devalued and disrespected. They also can't be expected to enjoy their work when they aren't paid on time and have little to no knowledge about the funds they manage.
In letters to administrators, students have called for UCLA to fire CPO administrators who allegedly contribute to hostile work environments, for retroactive pay to those who had to work beyond their tenure, for more student control over the budget and hiring processes – and more. Key among the demands is an "acknowledgement of wrongdoing and overreach" from UCLA administration, CPO and Student Affairs.
Vice Chancellor for Student Affairs Monroe Gordon addressed some of these concerns in a March 19 letter to students and even made plans to retroactively pay students. However, after months of discussion, administrators have said little about their failings.
Student-initiated and student-run programs should be just that: student-run. Speaking up against those in power is a challenge many would balk at. But the sad reality is Bruins have become accustomed to holding their university responsible for questionable behavior.
It's time for administrators to own up – with both words and action.