Art Students Collective creates space for artists to connect, build community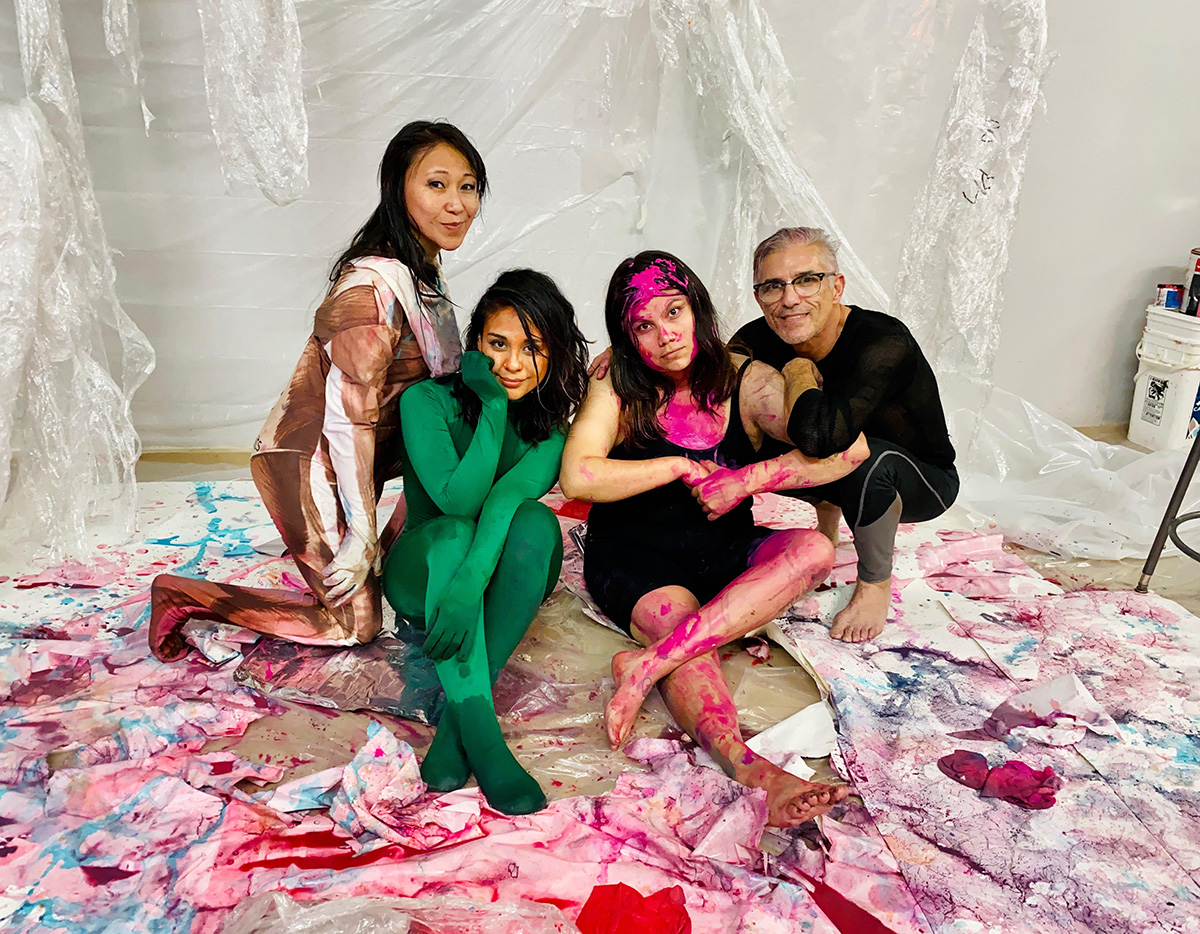 Formed in April, the Art Students Collective hopes to include all undergraduate students who are passionate about art. Co-founder Marie Tagudena (left), a third-year art student, works on a project with new member and third-year art student Mayra Jimenez (left center), along with the two other co-founders, third-year art student Brenda Barrios (right center) and first-year art student Armando Perez (right). (Courtesy of Marie Tagudena)
Bruin minds joined together in jump-starting a new student arts movement.
In April, several UCLA art students created the Art Students Collective, an undergraduate club that organizes open discussions for students who are serious about visual arts. Armando Perez, one of the founders of the Art Students Collective and a first-year art student, said the collective seeks to create a community that engages with art as a reality rather than just a pastime.
"(We) wanted a place to connect with other artists to talk about art, to learn about different ideas, different approaches, and just have a variety of conversations that would inspire different approaches to art and build a community," Perez said. "The Art Students Collective came together in the sense that we wanted to build a community where students from all disciplines could talk about art."
Specifically, Perez said the founders wanted to fill in the lack of support for the artistic community at UCLA by taking artists away from the overwhelming stress of social distancing and Zoom classes to engage with art on a social level. This engagement recreates the excitement that the founders had for art when they came to UCLA, he said. Since there was a lack of an engaging artistic community, Perez said the founders wanted to create a collective to foster this safe community for art students.
The club aims to create an inviting space for people to come together and grow as artists, said co-founder of the club Marie Tagudena. Through the exposure to different experiences, techniques and approaches to art, the third-year art student said this space gives artists the motivation and freedom to experiment with different forms of expression.
"I think we bounce off of each other's ideas and help create a sense of being in the zone," Tagudena said. "You then start to borrow from others, and you see that connectivity with others. … They're able to connect with another person, and other artists that might know more about different approaches they didn't."
[Related: Maker's Medium: Student artist exemplifies powerful potential of charcoal through her drawings]
For Anna Wilson, a fourth-year art student and acting secretary of the club, the club creates a community for finding meaning in her artist identity. She considers the club a place where she can find the freedom to express herself without fearing judgment or criticism, and she said the collective helps her think more philosophically about art. She strives to answer the question of whether art can have an impact on society and the time period at hand, which she said gives her a sense of purpose and happiness despite the financial and social struggles that come along with choosing an art career.
"As artists, we have to deal with these really heavy questions that not many college students are thinking about," Wilson said. "We wanted to create a space where students could look at their work, evaluate it and see if we could come up with bigger artistic meanings for them."
However, Brenda Barrios, a third-year art student, said this is not a club exclusively for art majors – she wants all students at UCLA to engage with the same philosophies that art students face on a daily basis. As the person who initially conceived the concept for the Art Students Collective, Barrios said she wanted to create events and guest talks that could help immerse individuals in the artistic world.
"The No. 1 priority was to bring students together that love art from all disciplines," Barrios said. "No. 2 was to have events. We wanted to bring artists to talk with the club so students could get that experience because that's usually only for art students."
[Related: Undergraduate art students post projects to Instagram page in virtual exhibition]
In addition, Perez said the art collective came together in the sense that they wanted to build a community where students from all disciplines could love art. The club intends for its doors to be open to any student who wants to learn about art, and he said the founders hope to make individuals aware of how creating art can provide a powerful voice to anyone.
For Wilson, the art community at UCLA helps to develop camaraderie and an appreciation for the vast diversity of artists coming into UCLA, but the Art Students Collective is the start of a bigger artistic movement. Since all of the different art movements of the past, like SoundCloud rap or zine art, were just created by friends, she said it is an incredible experience for her to spark change in the modern art world.
But most importantly, Perez said one of the main takeaways he wants for the club members is for them to not focus on the art itself, but rather focus on making friends and building lifelong connections. Sometimes, art isn't about art, but instead is about finding a supportive community, he said. Having an art career can sometimes be a solitary endeavor, and Perez said having a community can not only help alleviate that loneliness but also make an artist's work more sincere.
"Art unites us as a community in that we're working on the same path to create a universal language of sharing and understanding," Perez said. "There's something about having that knowledge that helps build the integrity within the work."