Protesters renew calls to abolish UCPD in march across UCLA campus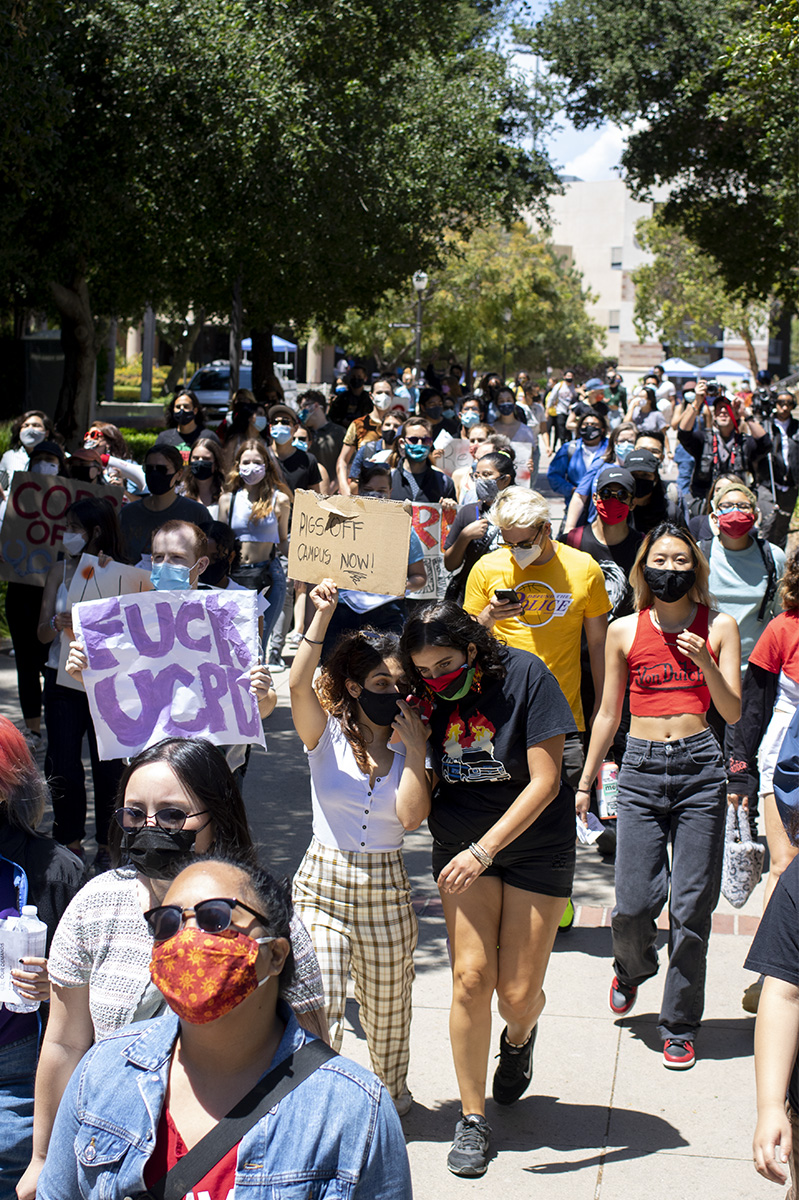 Protesters marched through campus calling for the abolition of UCPD on Friday afternoon. (Finn Chitwood/Daily Bruin)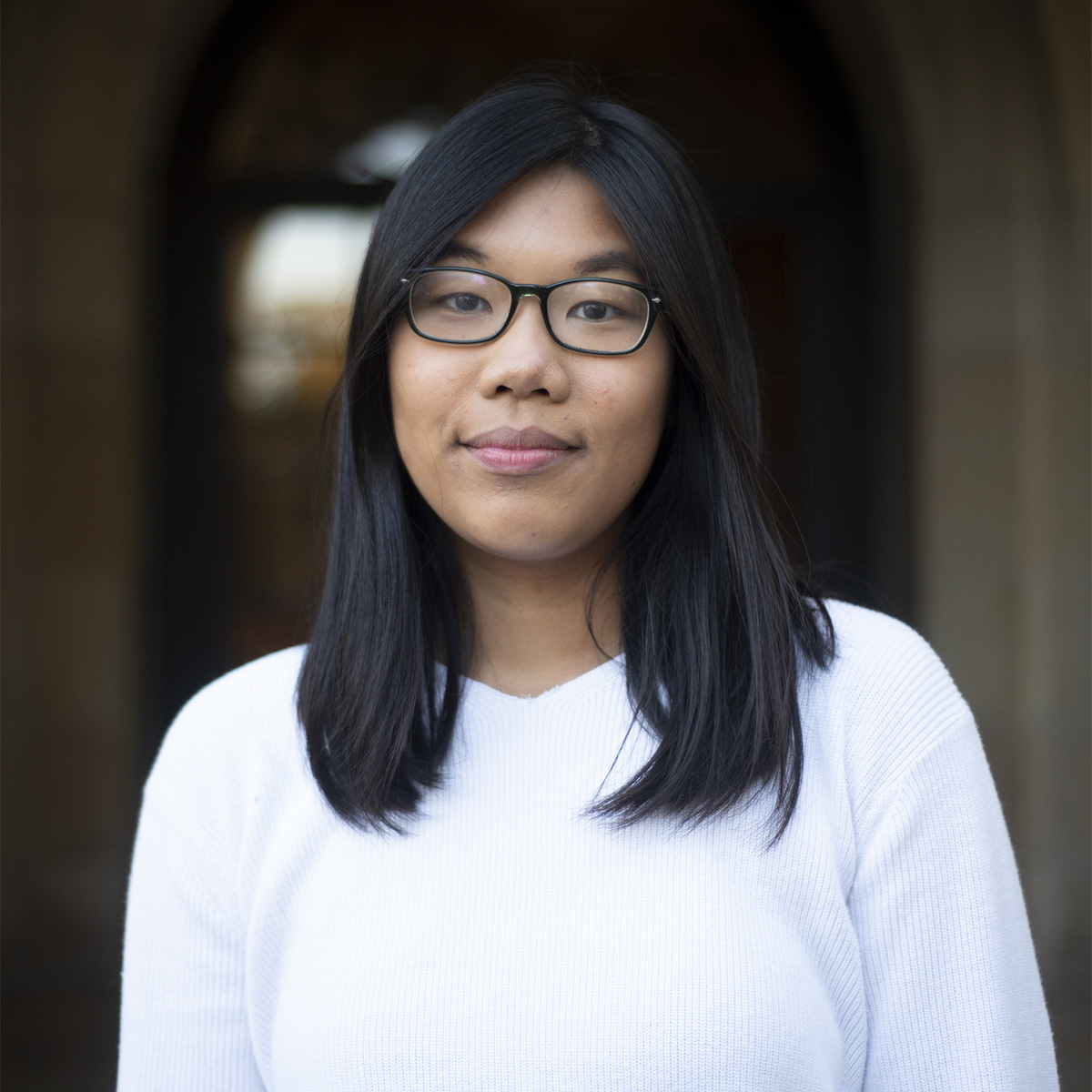 Dozens of protesters calling for the abolition of UCPD from UCLA's campus marched from Royce Hall to the university police headquarters Friday afternoon.
The Cops Off Campus Coalition, a national organization advocating for the abolishment of campus policing, co-hosted the rally as part of Abolition May with organizations such as No UCPD Coalition, JusticeLA, UCLA Divest/Invest Faculty Collective, UCLA Black Feminism Initiative and Stop LAPD Spying.
Organizers and protesters gathered outside of Royce Hall on Friday afternoon in front of banners pinned to the building reading "Cops off UCLA" and "Fuck Reforms, Abolition Now."
Abolition May is a nationwide movement across universities to abolish on-campus police – it began May 3 with students and faculty withholding labor, said Leah Gasser-Ordaz, an organizer for UCLA Cops Off Campus Coalition.
Several representatives from host organizations gave speeches about the need for the abolition of police and for the UCLA administration to distance itself from LAPD.
Cassandra Gatica, a second-year sociology student and member of No UCPD, spoke at the event about the time her former therapist sent three police officers to her dorm for a wellness check and they escorted her out in handcuffs because of her mental health.
"This is the same experience of UCLA students, college students – especially the BIPOC community – seeking support for their mental health, just to be criminalized and traumatized," Gatica said. "(Counseling and Psychological Services) wonders why students of color are not seeking mental health support from their services, but how can they say they want mental health support for our communities when they're investing into UCPD, who are not trained health care providers?"
Christopher Soto, a staff member for the UCLA Cops Off Campus Coalition, said despite demands to abolish police since last year, the University of California administration continues to increase UCPD's budget.
UCLA's UCPD budget for 2019-2020 was the second highest of all UC schools at $21,663,372 and is projected to be at $22,182,739 for the 2020-2021 academic year, according to a July 2020 UC Regents report. According to the report, UC Berkeley, UC Davis, UC Merced, UC Riverside and UC San Francisco police department budgets are also projected to increase for the 2020-2021 school year.
The UC released its proposed revisions to UCPD policing policies Feb. 5, which included recommendations to create specialized response teams for crowd management and requiring police officers to wear body cameras on duty.
"We want abolition now. We want abolition today," Soto said. "The bare minimum that they could do is start working with the faculty … and with the students that they have on campus in order to figure out the immediate steps that they could take toward abolishing the police and reimagining public health."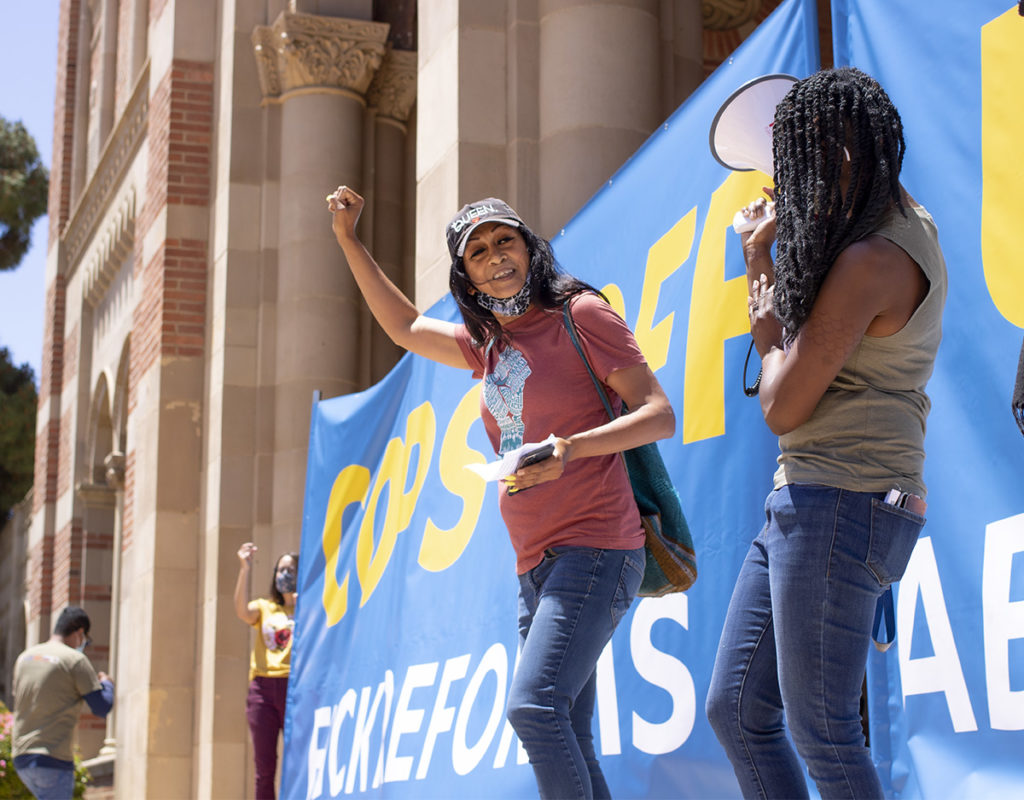 Dominique Mikell, a member of the UCLA Cops Off Campus Coalition, led the protesters in chants as the crowd marched through campus to university police headquarters. In front of the UCLA police department, people drew chalk drawings on the street calling for the abolition of UCPD.
The most important things are to get UCPD off campus and get rid of their weapons, said Josh Hessel, a second-year chemical engineering student. He added that the UC needs to make amends with communities UCPD hurt, such as the communities LAPD detained at Jackie Robinson Stadium.
"(The UC needs to be) giving people of color, especially Black people, spaces where they can be safe from police and other … law enforcement entities on campus, as well as providing more mental health services for those people," Hessel said.
Protesters continued to chant while drawing messages on the ground and dispersed around 2:30 p.m.
"Hopefully, you know, after today, they hear us, they know we're here and they know that, you know, like we have something important to say," Gasser-Ordaz said. "We're not asking for reforms, we're not asking for more money for police. … We want an end to policing – an end to UCPD on this campus."
Tran was the 2021-2022 national news and higher education editor in addition to being a contributor for Enterprise. She was also a fourth-year political science student at UCLA.
Tran was the 2021-2022 national news and higher education editor in addition to being a contributor for Enterprise. She was also a fourth-year political science student at UCLA.