Public affairs course teaches students about how to create safe learning spaces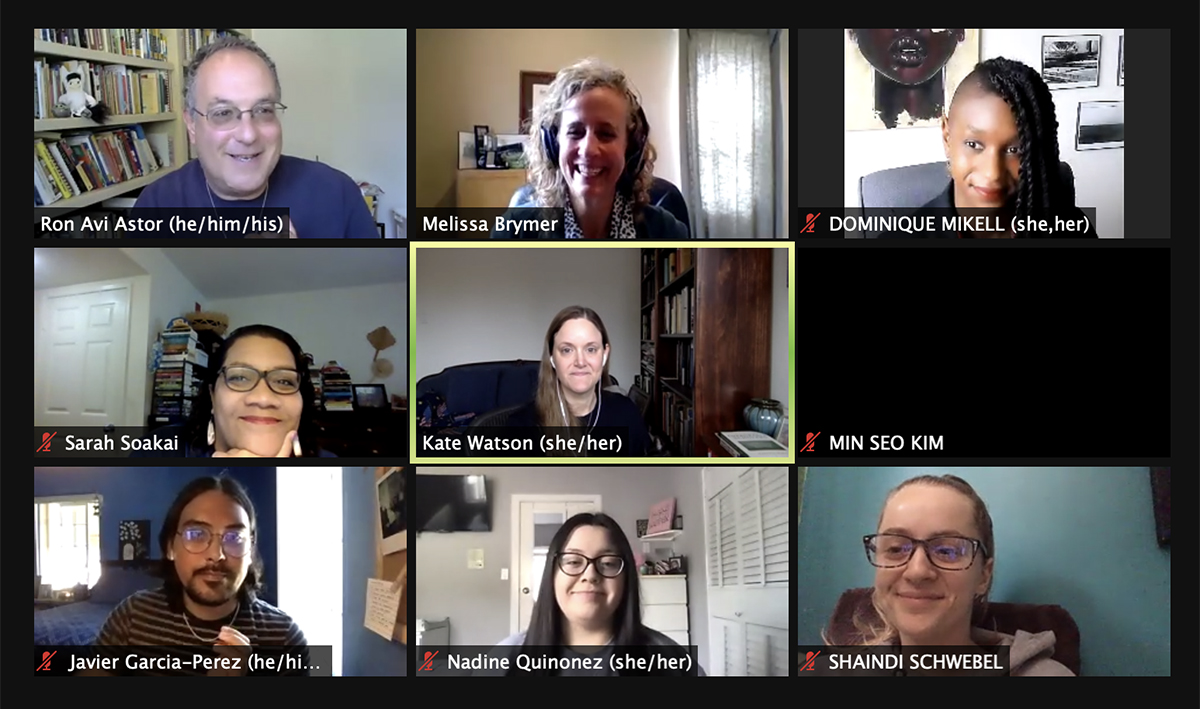 Public Affairs 125 invites experts to be guest speakers in the classroom and prompts students to think about and discuss improving safety and learning in educational environments. In an age of threats such as COVID-19 and school shootings, Professor Ron Astor developed the class to help students address the subject. (Elana Luo/Daily Bruin)
With a global pandemic threatening school safety, Public Affairs 125: "Creating Safe and Welcoming Schools" opens a virtual classroom for both experts and students to these potential issues.
"We have a lot of questions about COVID-19 and how it impacts schooling," said Kate Watson, a social welfare doctoral student. "How do we address the isolation that students have felt?"
This question is one among many explored in Public Affairs 125.
The class aims to provide undergraduate students the opportunity to learn from leading experts who work to make safe learning spaces.
Ron Avi Astor, a social welfare and education professor, developed the course last summer, and this spring quarter is the course's inaugural session. School safety has become a central concern for students who have grown up in an era of school shootings and other safety concerns, he said.
The class meets once a week for about three hours over Zoom. During the first half of class, Astor invites one or two guest speakers to share their expertise and experience promoting school safety. For the second half, small discussion groups discuss readings, presentations and class topics, including institutionalized racism, transgender victimization and school shootings.
Watson, a teaching assistant and a co-creator of the course, helped Astor draft the class syllabus. Watson said she hopes the course will allow students to learn directly from experts at the university.
In one class meeting, students discussed school shooting preparedness with guest speaker Melissa Brymer, the director of terrorism and disaster programs at the UCLA-Duke National Center for Child Traumatic Stress. They also discussed how to respond to the trauma that follows school shootings.
Juliana Abello, a second-year public affairs and anthropology student taking the class, said the two-part format of the class keeps it engaging. Hearing from different experts helped her realize there are many different considerations that pertain to education beyond the curriculum, she added.
Another guest speaker, Laura Abrams, a social welfare professor, visited the class to talk about the school-to-prison pipeline. Abrams, who is also the UCLA Luskin School of Public Affairs social welfare department chair, and the students discussed the history of gangs and police in school, disciplinary action and criminal charges against young people.
"Sometimes we forget about populations like incarcerated youth just because we've never been exposed to it," Abello said. "But we have to think about how to educate them because they also have a right to education."
Making schools safe and welcoming includes consideration of the communities that students come from, said Sarah Soakai, one of the course's teaching assistants and an urban planning doctoral student.
"Schools are reflective of society, reflective of the values we uphold," she said. "There's a lot we still need to do to reach the ideal of equity and equality for all."
Students not only explore the range of school safety issues but also have the opportunity to focus on a specific issue of interest. Public Affairs 125's final project asks students to identify a social issue involving the public school system and develop their own policy proposal to address it.
"It's not just listening to the world's experts, the students could become the change," Astor said.
The students have been working on their final projects from the very beginning of the class, Watson said. They are provided time to discuss and receive feedback on their projects with one another and their instructor during the discussion component of the class, she added.
Chloe Huynh, a third-year communication student taking the class, said she plans on doing her final project on diversity in school staff and administration.
Huynh said she must write a full policy brief and create an accompanying talk in the style of a TED Talk explaining her proposal.
Although the class is composed mostly of public affairs students this quarter, Astor said he hopes the course will attract students from different majors of study such as Huynh in future sessions. Enrollment this quarter was restricted to public affairs students on the first pass.
A diverse array of student perspectives is more interesting with the class's focus on discussion, he said.
Huynh said Public Affairs 125 completely transformed her plans for her future. She is considering pursuing a minor in education studies and hopes to work in education now.
"Seeing the passion that all the instructors and the guest speakers bring to the class, I can tell they love their jobs and I'm like, 'I want that to be me,'" Huynh said. "I want to actually love my job, make a difference and impact all sorts of students."