Student representatives express concerns about UC's proposed tuition increase model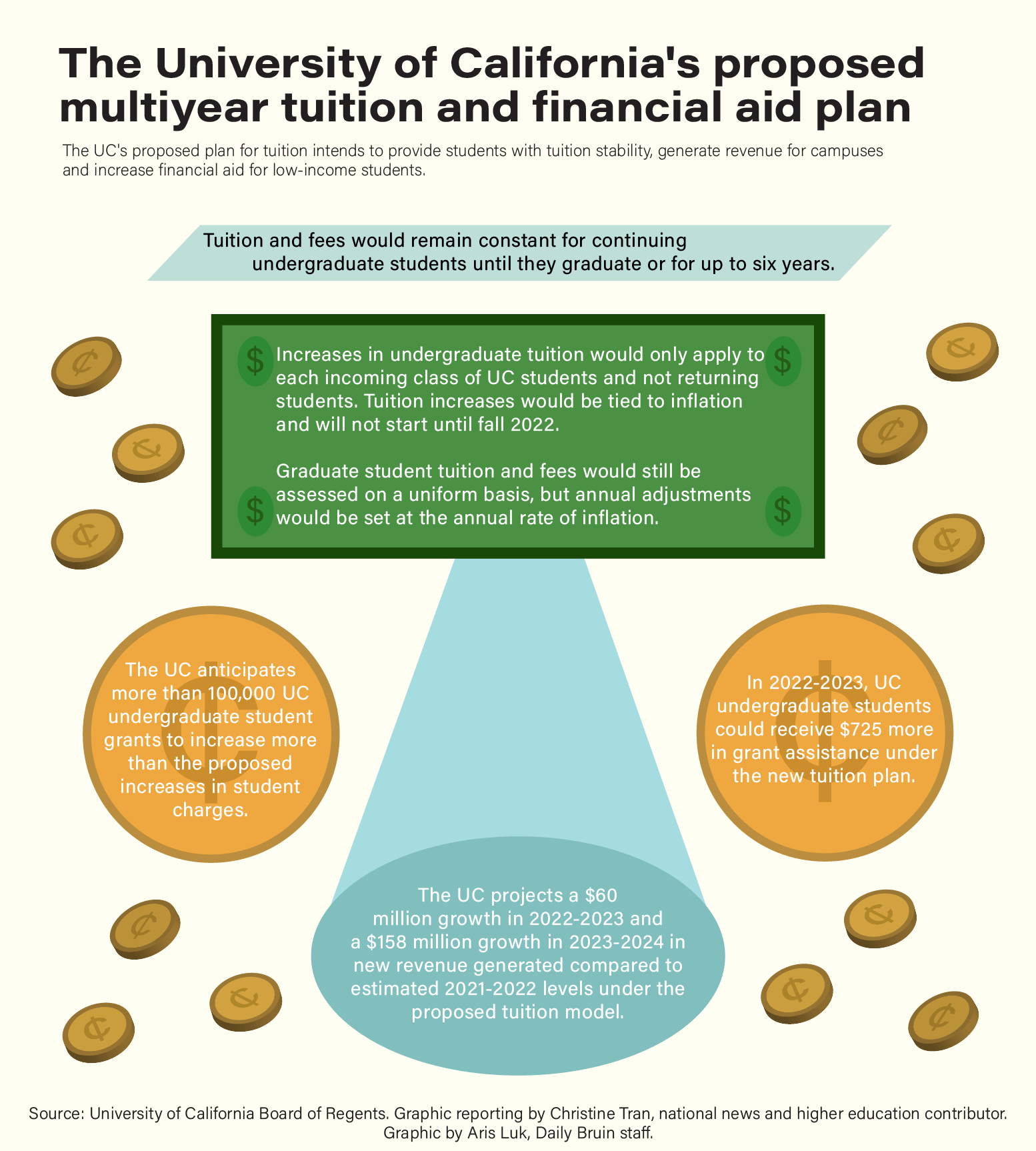 Student leaders said they oppose the tuition model proposed by the University of California Board of Regents that would allow annual tuition increases for incoming students.
The cohort-based tuition model ties changes in tuition to inflation for each incoming class of students. Once enrolled, a student's tuition, student services fee and nonresident supplemental tuition would remain flat until graduation or for up to six years. The UC estimates that the new model would increase tuition and student services fees by $642 based on inflation for a UC student entering fall 2022.
Student leaders from across the UC said they did not support the cohort-based tuition model, citing greater tuition increases and poor communication with students.
Aidan Arasasingham, the University of California Student Association president and a fourth-year global studies student, said the tuition increases would hurt students. He added that since tuition has remained the same for about the past decade, the new model would not be offering greater predictability for students.
"The high price of tuition that students are currently struggling with, it's going to only increase that struggle going forward," Arasasingham said.
Alexis Zaragoza, the 2021-2022 UC student regent, said she was concerned about the affordability of the new model since the trend of increasing inflation means higher tuition rates.
"This perpetual increase, … it's maybe good for campus stability and then being able to figure out the budgets, but there's really no way to combat it going up," Zaragoza said. "It's going to go up forever, basically."
There are no systems in place to ensure tuition increases get voted on by the regents under the new model, Zaragoza said. This would disable students' ability to voice their opposition, she added.
"There's never a place where increase is ideal, but we should at least have a say every couple of years; they should have to revote on it every couple of years, if anything," Zaragoza said.
Zaragoza said transparency is important and that the UC should communicate how tuition is used at the UC. She added that the model involves asking students to pay more in tuition without demonstrating how the money will be used to improve campus services.
Arasasingham said the cohort-based tuition model would increase overall tuition for students and disproportionately impact non-resident students, students who receive limited financial aid and foster youth students.
"The fact that there's going to be a large increase is really the piece that's going to hurt students," Arasasingham said.
The proposal would also make the UC more affordable for students with less financial resources by generating more financial aid funds through increased tuition, according to Nathan Brostrom, executive vice president and chief financial officer of the UC.
The UC projected financial aid would increase by $1,304 by 2025-2026 under the new tuition model.
The cohort-based tuition model was initially brought up in 2019, but was tabled because of the COVID-19 pandemic.
The proposed tuition would also provide predictability for students by keeping tuition the same from year to year, said Carol Christ, the chancellor of UC Berkeley, at the regents meeting.
"With tuition playing an increasingly important role in the financial health of our campus, we believe that a cohort tuition model providing for small, regular and reliable tuition increases would enable us to keep pace with cost increases beyond our control," Christ said.
Sarah Wang, the 2021-2022 Undergraduate Students Association Council external vice president, said the COVID-19 pandemic put many students out of work and led many to lose access to basic needs. She added that increasing tuition at this time would place a burden on already struggling students.
"We don't believe that the burden should fall upon students," Wang said. "We're trying to not just keep tuition flat, but lower tuition and increase aid, so definitely this tuition increase is not something that we would support."