Student art shop explores the female form with abstract line pieces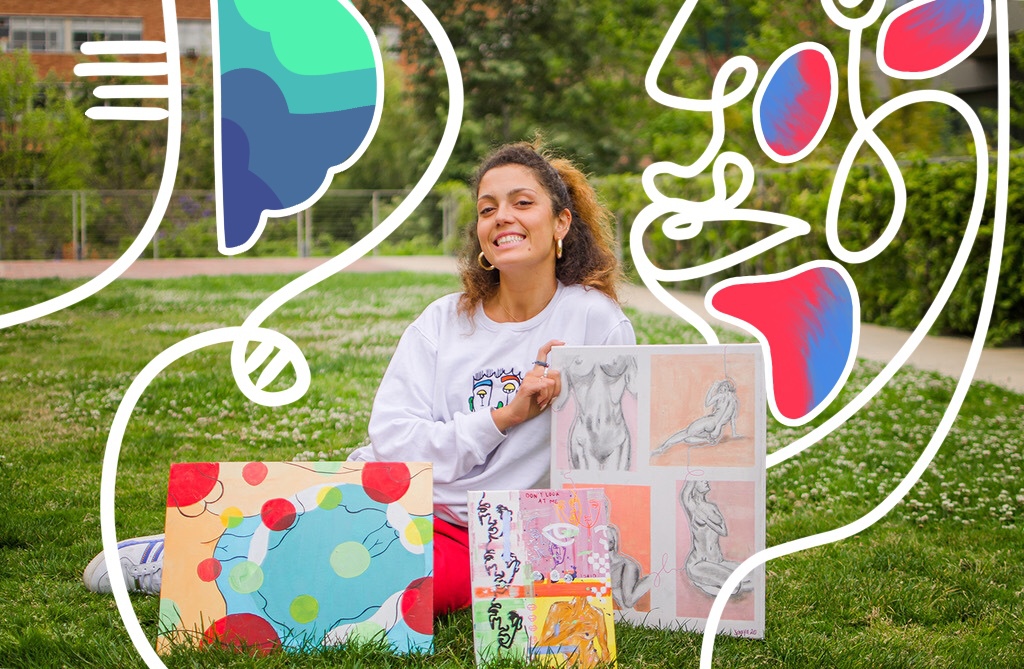 Soraya Saghbini, a third-year biochemistry student, launched an art account and online shop to feature her abstract bodies and faces. More recently, Saghbini said she has attempted new mediums, such as tattoo design and digital art. (Photo by Kanishka Mehra/Photo editor. Photo illustration by Maddie Rausa/Daily Bruin)
From doodles to tattoos, Soraya Saghbini's abstract line art fits on a multitude of mediums.
The third-year biochemistry student said she launched her Instagram page @soosartsyshit and website to sell her artwork back in April 2019 after being encouraged by her close friends to share her work with a wider audience. Recently, Saghbini said she has been producing stickers and T-shirts that feature her signature swirly yet minimalistic style. While she has been creative since she was young, Saghbini said the downtime during the pandemic allowed her to fully develop her own abstract mode of art.
"The reason that I do a lot of line drawings is because I'm a perfectionist," Saghbini said. "I also started doing line drawings because I liked how imperfect it was. It's art, and art is subjective, so it's not about what looks good or what looks bad. It's about whatever you think is art."
In applying this mantra to her own process, Saghbini said she mainly focuses on asymmetrical faces and the female body. Ever since she was young, she said she has preferred drawing torsos, and, more specifically, the curves of the female body. Saghbini said the minimalist style allows her to be free in deciding how simple or complex each piece is going to be when drawing upon her own experiences.
"A lot of young girls – and just young people in general – find difficulties in feeling comfortable in their own skin," Saghbini said. "That's something I dealt with as well, so being able to reproduce the female body as a painting in its beauty shows how I've personally progressed. Being able to show (the female body) as a piece of art helps me believe that my own body is a piece of art."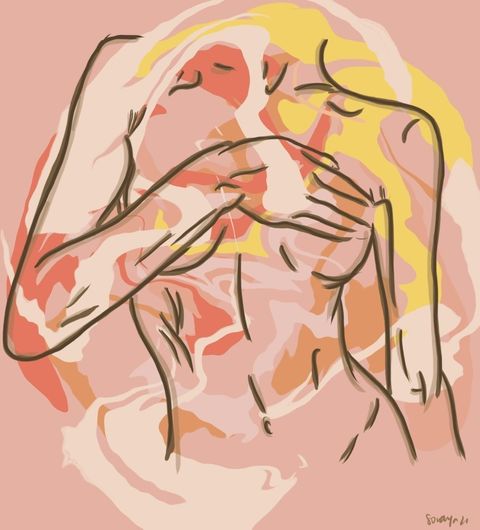 [Related: Student uses heritage in art to challenge beauty standards, tackle social issues]
For Saghbini, creating art has always been a form of catharsis, a therapeutic way to work through her life experiences. Saghbini's roommate and third-year psychology student Hannah Cass said Saghbini, someone who is usually outgoing, is more reserved when it comes to sharing her art. Cass said she often jokes with Saghbini that she is her unofficial manager, as it took a good deal of persuasion to convince Saghbini to charge a reasonable price for her art.
Over the years, Cass said she has been able to see how Saghbini's work has progressed from general faces to a more colorful style. She said many of her pieces are gender-neutral, and Cass especially appreciates the colors Saghbini uses to shade and capture texture.
"She plays more around with, 'How can I make this look like a face without really drawing a face?'" Cass said. "Recently, it has been a lot more of an in-between male and female, which offers the interpretation of the viewer."
[Related: Maker's Medium: Student artist exemplifies powerful potential of charcoal through her drawings]
Each viewer's ability to perceive her pieces in their own way is what Saghbini said allows her work to resonate best as she blends abstract faces with feminine bodies. Now, Saghbini said being a college student has altered her process slightly. Since Saghbini said she lives with roommates, she tries to keep her mess as minimal as possible and works on a budget. She said this workflow has led her to experiment with different mediums, such as painting on clothes or wood, and, more recently, digital art.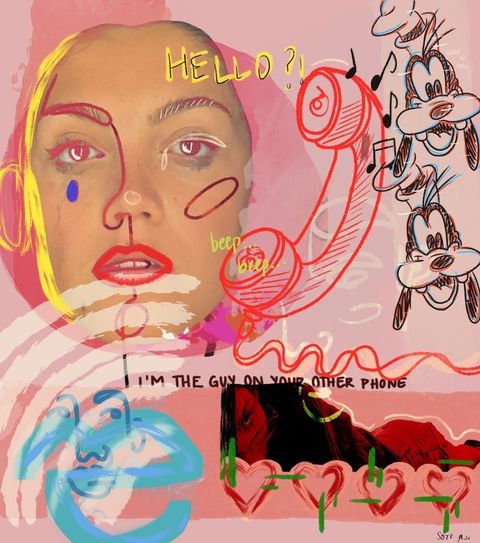 While Saghbini has attempted painting on various mediums, third-year global studies and political science student Marty Hockey said Saghbini has also been designing tattoos for himself and others. Though the first piece he bought from Saghbini was one of the T-shirts she sells with her designs printed on them, he said her free-flowing style made for a polished tattoo as well, leading him to commission a custom piece from her.
Beyond painting for her friends, Saghbini said making art allows her to escape the stress of school or life as she enjoys the creative process as a respite from reality. While Saghbini said she would like to be able to spend more time on art, she said she doesn't see art as a likely career as that would take away from the freeing aspect of it.
"It's so zen for me that I wouldn't want to make it my reality or my main focus," Saghbini said. "I always tell (my friends), 'You don't have to know how to do art. You just have to let your imagination flow,' and I think that's why I started."