Opinion: Social housing could alleviate financial strain on students in Westwood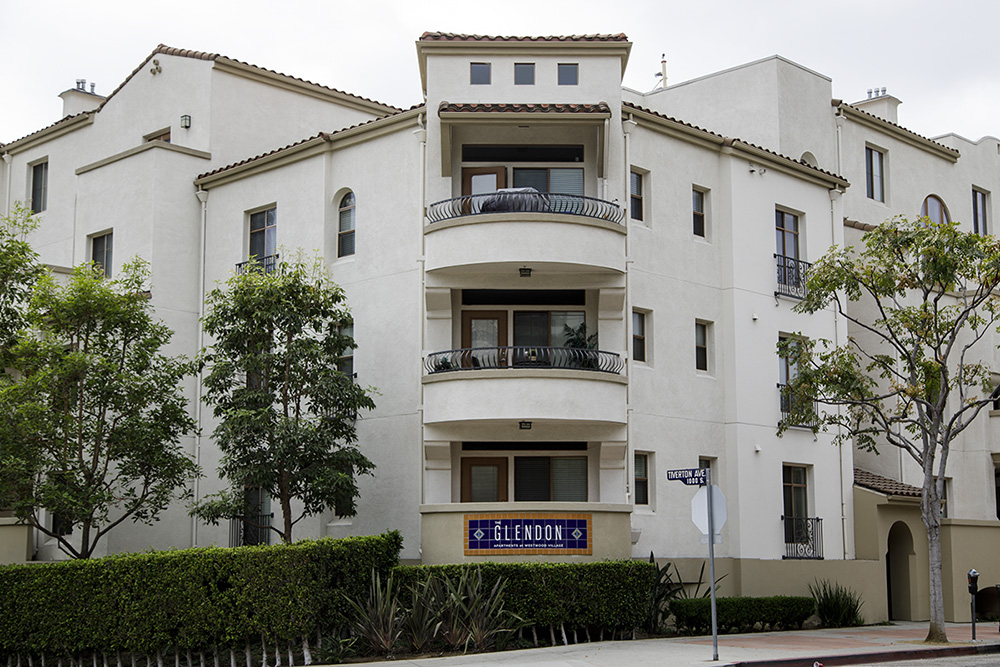 In order to protect the well-being of the Bruin community, the Los Angeles City Council needs to establish more social housing in Westwood.
(Justin Jung/Daily Bruin senior staff)
This post was updated May 23 at 7:12 p.m.
Angelenos experiencing homelessness deserve a place to call home.
And social housing may just be the solution.
The increasing scarcity of affordable housing has caused homelessness in Los Angeles to rise. Between 2019 and 2020, West Los Angeles experienced a 14% increase in its homeless population.
Some Bruins, unfortunately, are no stranger to this reality. A 2019 cityLAB UCLA report found that 5% of UCLA students surveyed reported experiencing homelessness while enrolled. This worrying number isn't helped by Westwood's status as one of the most rent-burdened neighborhoods in California.
There must be more options for affordable housing available.
On April 7, the North Westwood Neighborhood Council voted to pass a community impact statement supporting social housing. According to this statement, social housing generally encompasses mixed-income developments that provide access to public transportation and retail stores, with tenants paying rent on a sliding scale. The University Cooperative Housing Association also provides affordable housing for students in return for weekly chore shifts.
It is time for the Los Angeles City Council to prioritize the needs of individuals who are low-income or experiencing homelessness in the Westwood community. Providing social housing for these groups would help alleviate financial hardships and would allow Bruins experiencing housing insecurity to pursue their education without worrying about living accommodations.
Securing affordable housing options for students is more important now than ever, especially since university housing may be hard to come by.
Because of safety concerns and public health guidelines surrounding the COVID-19 pandemic, UCLA Housing will have reduced capacity for the 2021-2022 academic year. This could exclude students from university housing.
"The number of students we are ultimately able to house is contingent upon the county approving the use of double or triple rooms, leaving our final capacity unknown," said UCLA spokesperson Ricardo Vazquez in an emailed statement.
Vazquez also confirmed that students with specific institutional needs will be prioritized in housing decisions, such as former foster youth, students experiencing homelessness and veterans.
With recent low COVID-19 case rates, California's reopening will likely continue as planned. UCLA also announced it would offer students triple-occupancy rooms in the fall, which can alleviate much of the stress students experiencing housing insecurity may feel.
But, that doesn't mean all students will receive housing. That's why our community must install an extra safety net.
Eleven advisory neighborhood councils in Los Angeles have weighed in on the issue of rezoning for increased affordable housing by releasing community impact statements, which act as recommendations to influence representatives' votes. However, these don't do much policy-wise.
"(Neighborhood councils) are not decision makers, … but they do wield a great deal of power and influence still," said Ann-Marie Holman, public information officer for EmpowerLA. "One of the effects that a CIS can have is that they establish accountability."
Building social housing would work to not only house the currently unhoused but also keep others from losing their housing in the first place. Rent control and housing vouchers may prevent housing insecurity but can be difficult to access for those who are already experiencing financial or housing insecurity.
"I think a lot of students in college tend to be housing insecure, meaning that they're at the risk of facing homelessness, but they're not necessarily there yet," said Chloe Rosenstock, who is a case worker with the Mobile Clinic Project at UCLA and a second-year sociology student. "And providing resources for people before they end up out on the street and before they have to do classes from a tent – that is probably the most important thing to do."
And it's not like the idea of social housing is new. In March, California Assemblymember Alex Lee introduced the Social Housing Act of 2021 to establish a council that would expand social housing.
The Housing Authority of the City of Los Angeles does allow students who are attending university full time and part time to apply for social housing, which is a great resource in areas that have a higher volume of those kinds of developments. Westwood, however, is not one of those areas. Students who would qualify for such housing would most likely have to commute to UCLA.
And while the NWWNC sees social housing as a necessary change, there are many other neighborhood councils that oppose the policy. The Mar Vista Community Council, for instance, opposes the motion because they would not be able to rezone their own community plans, as it would be within the purview of the state-mandated Regional Housing Needs Assessment.
As important as internal community influence is in neighborhood zoning, social housing is necessary to help students experiencing homelessness. Housing insecurity will not right itself. It's the responsibility of city council members to address this issue
Social housing is an opportunity to support rather than scorn people experiencing homelessness. Everyone deserves a roof over their head.