Travel restriction exceptions give international students hope for return to campus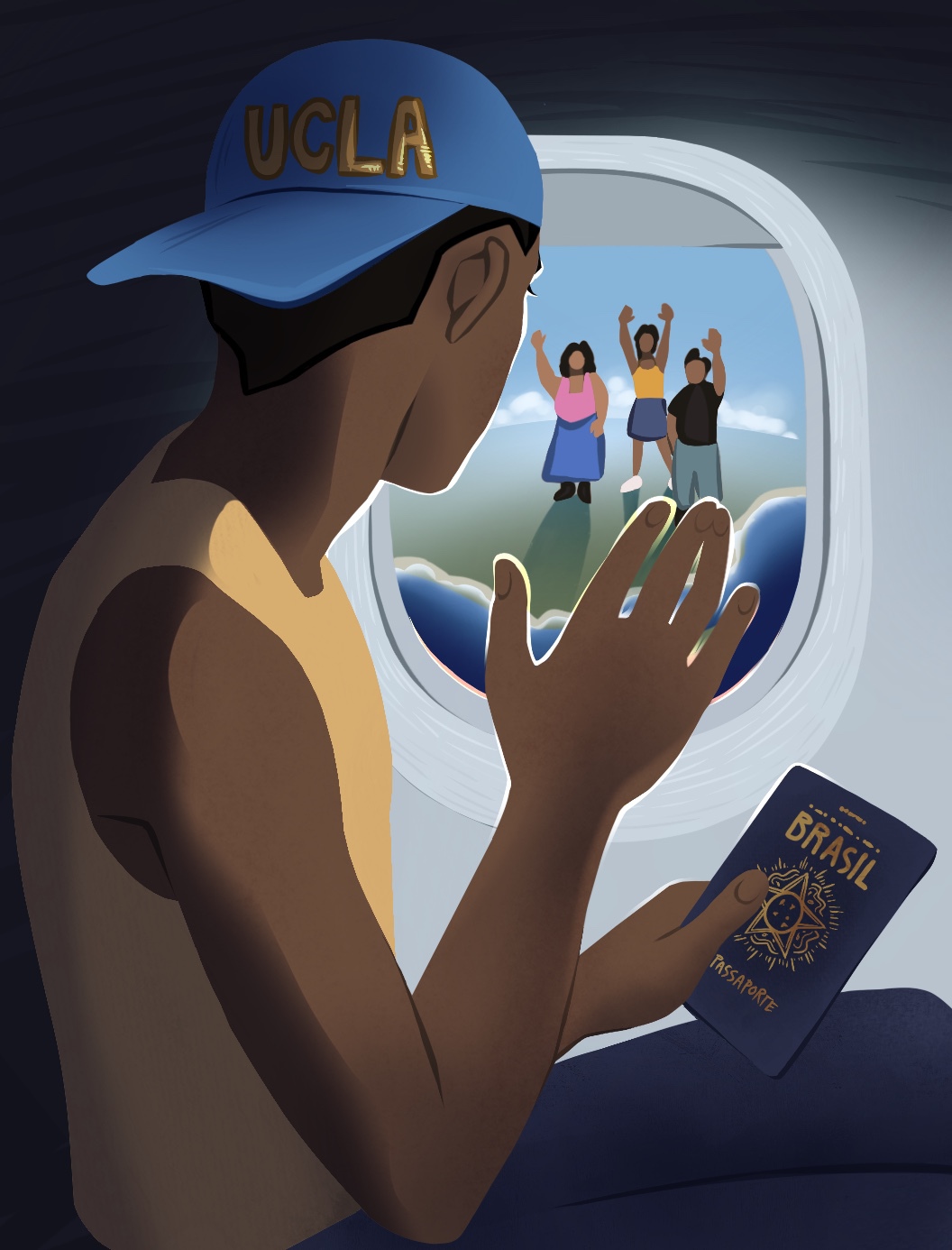 (Maddie Rausa/Daily Bruin)
This post was updated May 23 at 5:41 p.m.
After a year of feeling forgotten, exceptions to COVID-19-related travel restrictions have brought Gabriela Belasque hope that she will soon experience UCLA life to its fullest.
Belasque, a first-year economics and psychology student, spent the entirety of her freshman year attending UCLA virtually from Brazil because of travel restrictions.
The secretary of state announced travel exceptions April 26 for some international students with in-person programs in the fall. The Department of State restricted travel to the United States from China in February 2020 and from India, Iran, Brazil and South Africa in April 2021 because of their high rates of COVID-19 infections.
Students from these countries automatically qualify for National Interest Exceptions, which permit entry into the U.S. for schools beginning in-person instruction after Aug. 1, as long as they enter the country within 30 days of their program's start date.
The exception is a relief, because it allows international students more flexibility in their fall planning, Belasque said.
The travel exceptions give hope to international students after the unique challenges they have faced, said Manya Agrawal, a first-year engineering student from India.
"I'm really glad that they are differentiating between tourists and students because we are living a completely different life," Agrawal said.
Zachary Dai, a UCLA law student from China, said he is excited to be able to return to the U.S. because the time difference for online classes was very difficult for many international students to deal with this past year.
[Related link: For many international students, time zone differences lead to unhealthy sleep habits]
After more than a year of feeling removed from the UCLA community, international students should be accommodated in the transition to campus as well, Agrawal said.
When in-person classes resume, Agrawal said international students must be prioritized for on-campus housing so they can more easily integrate themselves into a new culture and university. UCLA should also hold seminars in the fall to provide guidance for new international students in how to adapt, she added.
Before students are able to settle into UCLA in-person learning this fall, the Dashew Center for International Students and Scholars needs to be more knowledgeable about the details of National Interest Exceptions because the policy is a little unclear about the timing of accepted travel, said Phoebe Shi, a UCLA law student from China.
Dai said he is confused about the guidelines for entrance into the U.S. because the law program begins mid-August, and according to the 30-day rule, students can enter in mid-July.
The Dashew Center posted an update on its website explaining National Interest Exceptions and the rules of the policy, including qualifying for entrance 30 days before the university start date.
However, when Dai asked for clarification from the Dashew Center, he said he received a short reply that reiterated only part of the policy, stating students could enter the U.S. 30 days before a start date after Aug. 1.
Shi said she also sent the Dashew Center an email and received a response that said students may not enter the U.S. before Aug. 1, and if they wish to do so they must contact their local U.S. embassy. This would mean students with start dates in early-to-mid-August would have fewer than 30 days in advance of classes to travel to the U.S.
National Interest Exceptions are overall beneficial to students and will hopefully make it easier to obtain visas after embassies had closed because of travel restrictions, Belasque said.
The processes for acquiring a visa and entering the country are two separate difficulties for international students, Belasque said. She said the exceptions solve the entry problem, but U.S. embassies are just now beginning to open up again.
Belasque had to schedule her visa interview in Panama because of difficulties with the U.S. embassy closest to her home city, she said.
Agrawal said students in India have had trouble obtaining visas recently, but she hopes the exceptions to travel restrictions will make the process easier.
Agrawal said she doesn't blame the U.S. for restricting travel from India because she believes her country has not handled COVID-19 well. She added she hopes the vaccine will help improve life in India and eventually allow for restrictions to be lifted.
[Related link: At a Distance: Graduate student, professor express concerns about pandemic response in India]
As a result of travel restrictions, Shi said many Chinese students who have already had in-person classes this year needed to travel through other countries such as Singapore in order to enter the U.S. The exceptions and the reopening of U.S. embassies save almost a month of waiting and quarantining in another country for a visa, Shi added.
International students in countries with restricted travel have felt unwelcome and disregarded by the U.S. during the pandemic because of the restrictions, Belasque said.
After new variations of COVID-19 spread in Brazil, Belasque said she felt alienated from other countries because of the health crisis and travel restrictions. However, she feels optimistic now that she is able to travel to the U.S. in the fall.
"It's hard to not feel welcomed, but for the very first time, I decided, I think I had hope," Belasque said.
Belasque said she will feel more at peace when she is able to make it to the U.S. for fall quarter.
"It's still a bit nerve-wracking until I get there," Belasque said.