UC colloquium spotlights AAPI voices and experiences through research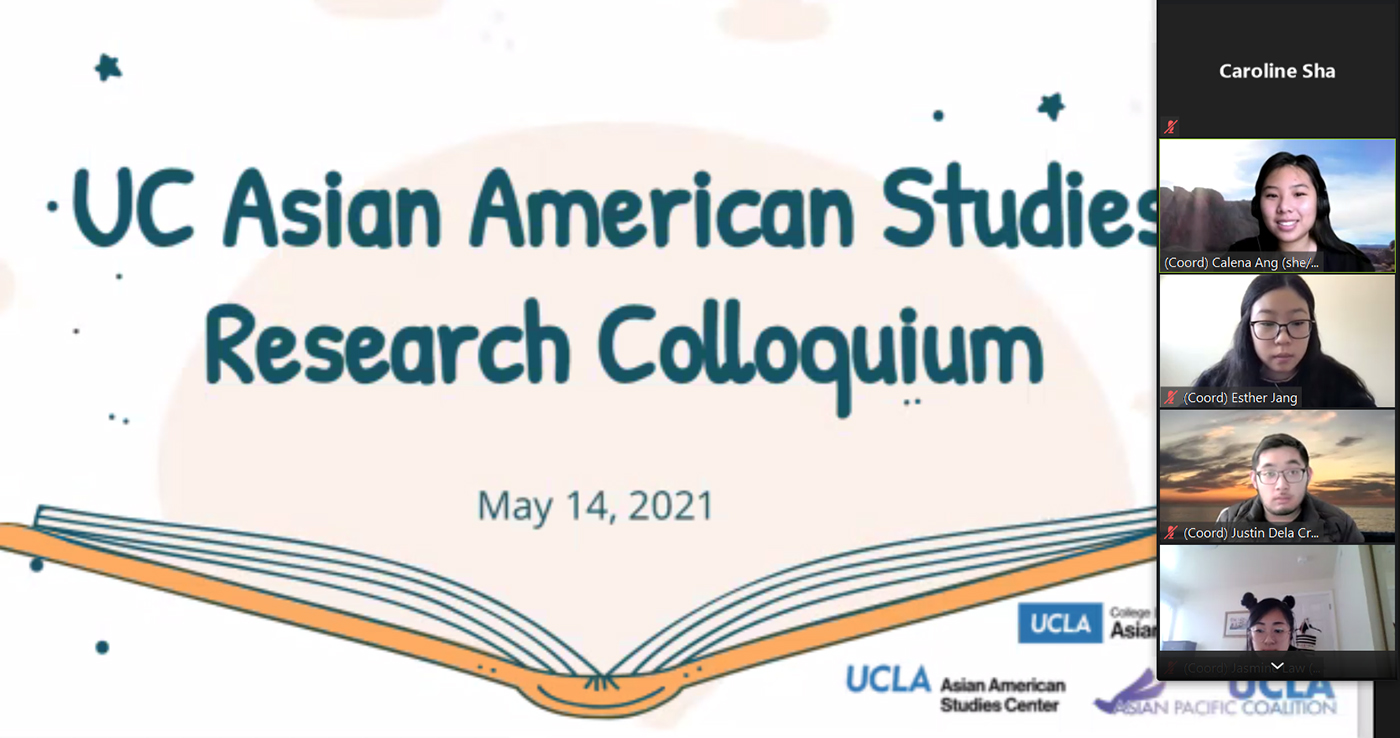 UCLA students hosted the first-ever UC Asian American Studies Research Colloquium on Friday. (Courtesy of Caroline Sha)
Undergraduate and graduate students aimed to create a community through sharing Asian American and Pacific Islander-related research and creative projects at a University of California systemwide colloquium Friday.
The main goal of the UC Asian American Studies Research Colloquium was to create a space for Asian American and Pacific Islander students to amplify their voices and celebrate their cultural heritage while spotlighting issues involving the AAPI community, said Rebekah Sim, a third-year English student at UC Berkeley and one of the event organizers.
UCLA's Asian American Studies Center, Department of Asian American Studies and Asian Pacific Coalition supported the virtual event.
It is important for students of AAPI descent to offer new perspectives and decolonize academic fields, said Mary Arlen, a fourth-year critical race and ethnic studies and literature student at UC Santa Cruz and one of the event organizers and video presenters at the colloquium.
"Just centering AAPI voices in research both impacts our communities, good and bad, but also tells a different narrative," Arlen said. "As AAPI, conducting this research yourself, it's part of dismantling those frameworks of white supremacy."
Projects came from a variety of both science and humanities fields.
Joanne Seung, a third-year biology student at UCLA, recorded a video presentation describing how Korean Americans have different levels of RNA expression, a detail that is lost when health data group more than 30 Asian American nationalities and ethnic groups as one population.
Arlen submitted a video presentation interviewing her family members to explore Japanese identity.
Many of the student presentations focused on building off previous research to increase Asian Americans and Pacific Islander representation.
Alexander Shinkawa, a fourth-year Asian American studies and political science student at UC Santa Barbara, presented on interactions between Black and Asian communities during the pandemic and how some Asian activist organizations have changed or kept policy positions in response to interactions with Black activists. For example, some organizations stopped supporting increased policing in Asian American and Pacific Islander communities while others reaffirmed previously existing solidarity with Black activists, he said at the event.
Conducting this research deepened his understanding of the current issues facing Asian Americans and Pacific Islanders, Shinkawa said. Interviewing Asian activists for his research allowed him to see how issues besides violence against Asian Americans are also important to activists and communities, he said.
[Related: Asian American professors worry about safety amid rise in anti-Asian attacks]
Gloria Jiyoon Kim, a third-year education and social transformation and psychology transfer student at UCLA, presented on the struggles of AAPI students in community colleges, and said she wished to challenge the model minority myth by highlighting the struggles they go through.
Many AAPI community college students lack academic support, which can worsen the feelings of shame and isolation these students already face because of cultural expectations surrounding higher education, she added.
Bernard Remollino, a history doctoral student at UCLA, discussed how Filipino Americans helped pioneer American tattoo culture, a subculture that used to be dominated by white males. He said that in popular culture, people associate the beginnings of American tattoo culture with white figures such as Sailor Jerry and ignore the contributions of the many Filipino Americans who ran tattoo parlors.
Calena Ang, an organizer for the event and fourth-year Asian American studies and international development studies student at UCLA, said the colloquium strived to break down barriers in research and encourage undergraduates to pursue research that can be personally motivated or community-oriented.
"As undergraduates, academia and research are often an intimidating space because we've been conditioned to believe for so long that research is split into STEM or has to be quantitative or groundbreaking," Ang said. "But we wanted to break down those barriers, encouraging undergraduates to pursue research in all forms, whether they're personally motivated or community-oriented."
Kim said reading a report by the Community College Equity Assessment Lab that validated the feelings of isolation and marginalization during her time at a community college motivated her to research students like herself.
[Related: The Quad: Transition to independence of college brings unique challenges for AAPI students]
Arlen said that being a fourth-generation Japanese American who felt disconnected from her cultural heritage led her to explore her Japanese identity.
Organizers and presenters also expressed hope that research into Asian American and Pacific Islander communities will contribute to positive change in the future.
Conducting their own research can give AAPI students the ability to debunk false stereotypical narratives about their communities, like the model minority myth, Sim said.
Jason Vu, an Asian American studies and global studies student at UCLA who presented on the March deportations of Vietnamese refugees, said that research in AAPI topics could illustrate the need for a greater sense of cooperation between marginalized groups in ending oppression.
Arlen said she hopes the research colloquium will continue in the future and reach more people.
"(This event) is empowering AAPI students or students interested in AAPI studies of any kind to make space for these projects in fields that often don't represent us," Arlen said.