Swati makes musical debut at Spring Sing with song about loving, accepting herself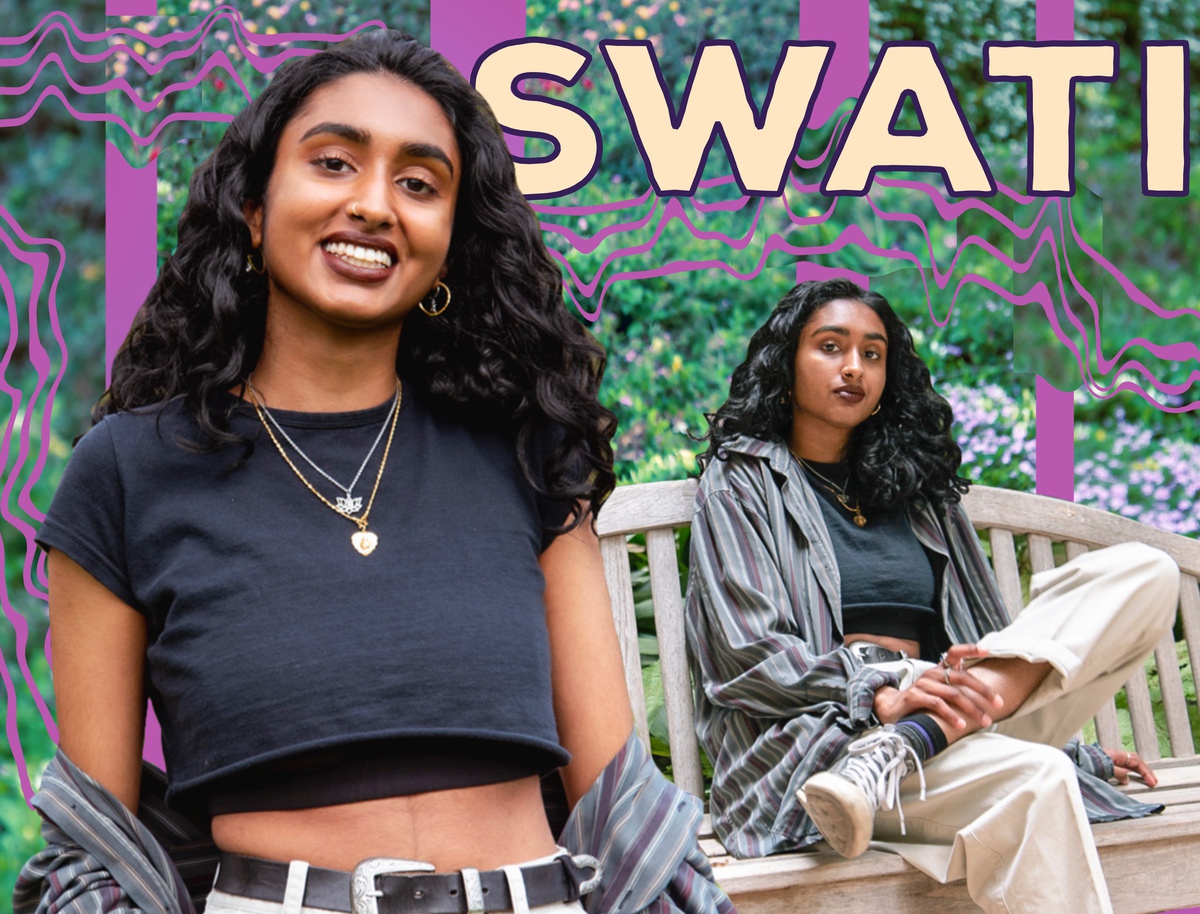 Fourth-year computer science student Swati Swaminathan will debut her original song "Brown," which centers around her journey to embrace her dark skin tone. (Photo illustration by Anika Chakrabarti/Daily Bruin staff and Emily Dembinski/Illustrations director)
Swati's music is seeing the light of day for the first time.
Going by her first name as a solo act, Swati Swaminathan will be making her musical debut at this year's Spring Sing with her original song "Brown." The fourth-year computer science student said she auditioned on a whim after she wrote "Brown," which is only her second fully finished song.
"I auditioned because I wanted to push myself to share things that I've created," Swaminathan said. "I feel like when it comes to music, it's really easy to overthink showing your stuff to everyone because you're worried about judgment and how it will be perceived. But I just went for it, and now I'm here."
The singer-songwriter said using her guitar as the instrumental basis for the song's acoustic sound gives it a sense of nostalgia. While the track also incorporates wooden percussion instruments and bells for liveliness, Swaminathan said its production is centered around her vocals, placing emphasis on what she's saying in the lyrics.
Clara Auguste, a second-year graduate student in the UCLA Department of World Arts and Cultures/Dance, said she started improvising to "Brown" when she first heard it. As one of the dancers in the song's music video, Auguste said she wanted to show her vulnerability when connecting the lyrics to her movement of the contemporary style.
"(When freestyling,) my body reacted as shaking in the beginning, focusing on the turmoil that the lyrics were presenting within itself," Auguste said. "I don't think I would have leaned towards certain movements if it wasn't because of how powerful the lyrics (are) and how it related to me as a person of color."
As a dark-skinned woman of color herself, Swaminathan said "Brown" recounts her journey of learning to accept and love her brown skin. Growing up, she didn't realize the mental toll of seeing media productions that depicted what women were supposed to look like. Internalizing those beauty standards, she said she didn't notice how they negatively affected her comfort with her own skin tone.
"It was small stuff like thinking I couldn't wear certain nail polish or lip colors or big things like (thinking) I'm ugly because I have dark skin," Swaminathan said. "(The song) was therapeutic to write because I got to sit with the feeling about being embarrassed having dark skin. It outlines my journey of being uncomfortable to eventually accepting and loving myself."
Given the importance of the color brown in the song, Swaminathan said she came up with a general aesthetic for the video that emulated the sun, nature and brown tones. She said setting the music video in grassy locations surrounded by trees complements the calm and stripped-down feeling of her track. In addition to the dancers' visual interpretation of the song, the musician said the video also includes clips of her rubbing dirt on her skin and putting on gold makeup.
Mikayla LoBasso, a fourth-year communication student and Spring Sing talent director, said the overall visual aesthetic of the video is golden. When filming and editing the video, LoBasso said she used a lot of direct sunlight to highlight the color brown rather than try to muddle it.
"(Dark skin tones are) something that so many people are forced to hide and bury down or try to avoid as much as possible," LoBasso said. "For the video, I wanted to make sure that everyone (looked) beautiful in it with the sun, the color grading and their natural selves so that beauty came across in it."
While she does not have any explicit plans in the future for music, Swaminathan said her Spring Sing video will be a fun way to reveal her passion for music to the people who know her. Though she said the idea of performing in Pauley Pavilion was appealing, she is still very excited to be leaving UCLA with a music video and the hope of having a virtual bonding moment with audiences after she graduates.
"It's cool that I wrote this song fall quarter and someone's going to listen to it in May," Swaminathan said. "I'm really passionate about what I'm singing about, so it's cool to be able to share my experiences and hope that people who have been through similar things make peace with music."