Spring Sing takes digital approach, aims to engage with students away from campus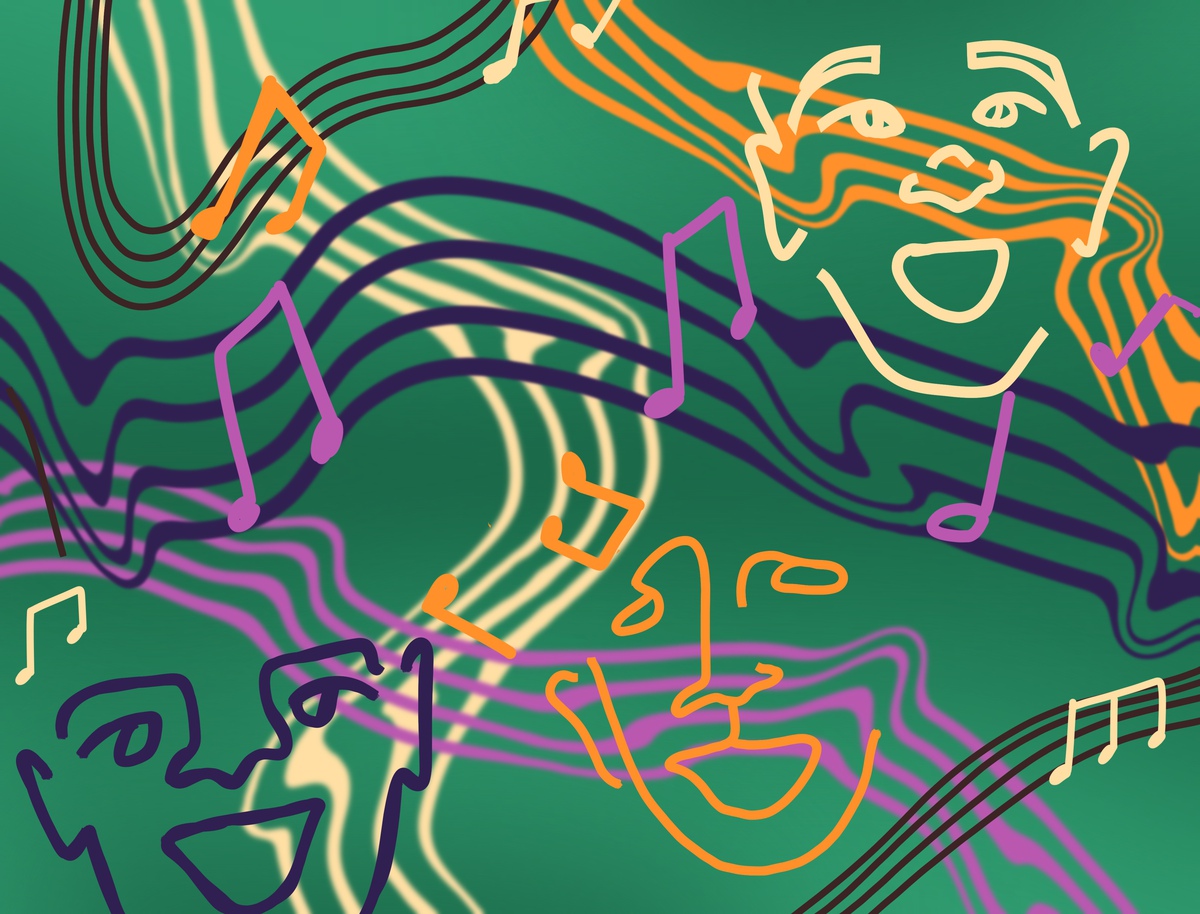 (Emily Dembinski/Illustrations director)
Spring Sing is having a digital renaissance.
The annual music and performance competition will be hosted online for the second year in a row, but Spring Sing director and fourth-year Arabic and dance student Bella Stenvall said this doesn't mean things will be the same. As director of the production, Stenvall said she used her personal experiences with Spring Sing from her freshman year to craft a show that reflects the diversity of talent and identities at UCLA. The shift to an online platform allowed Stenvall to cut the traditional categories for performances while providing engaging content to the UCLA students who have been away from campus.
"These big student events have always been a given when you arrive at UCLA, (but) … we can't gather in the same ways we used to," Stenvall said. "If I was a freshman and I didn't have a chance to be in a normal college environment, what would impact me? … What would make me feel excited to show up to UCLA next year despite the challenges and obstacles we're facing?"
Previous years of the competition have seen categories like "solo," "duet" and "band" to place talent within artistic guidelines, but Stenvall said she disliked how the classifications limited performances and wanted to bring more artistic freedom to the show. Without the categories, Stenvall said performers were able to meld their acts with dancers and visual elements rather than being restricted to their singing alone.
While eliminating the restrictive categories was one of Stenvall's goals, she said her student-first approach also made its way into her decision-making about voting. In previous years, Spring Sing had celebrity judges choose winners of the competition, but this year, Stenvall said students will vote for their favorite acts through text message instead. In place of the traditional celebrity judges, Stenvall said the executive committee developed a celebrity mentorship program for talent where various musical artists partner with performers in preparation for the event.
Stenvall worked alongside assistant director Lauren Solouki, a fourth-year psychology student, to improve production quality from years before with a new production crew and multiple filming locations. The online format led to struggles with sourcing a production team to help film and direct music videos, but Solouki said she sees the silver linings in having the show completely virtual since audiences are not limited by geographic location.
"I've gone into this year with the mindset of … (making this as) inclusive as possible," Solouki said. "How do we engage both the current students and (those) outside of that … (because) Spring Sing doesn't live inside Pauley Pavilion – it is something beyond that."
Stenvall said this mindset of inclusivity led to a collaboration with the American Indian Student Association that created a land acknowledgment to introduce the show. Desirae Barragan, vice chair of AISA and second-year American Indian studies and pre-human biology and societies student, said she led the production of a video land acknowledgment that highlights the role of music and dance in indigenous cultures to parallel the performances at Spring Sing.
"Being able to amplify our voices is very rare and … (collaborating) with Spring Sing … allowed native students' voices to be heard," Barragan said. "(Land acknowledgment has) become a tradition at UCLA that brings us together."
But before the land acknowledgment can be presented May 21, Spring Sing's executive board has to build student engagement. Shannon O'Halloran, fourth-year communication student and media and outreach director for Spring Sing, said she has been working to provide behind-the-scenes looks at the filming of music videos and features on performers. Alongside behind-the-scenes content, O'Halloran said pre-filming the performances, rather than having a live debut, gave her the freedom to release a trailer highlighting multiple filming locations and the production value of the show to increase student interest.
"Although (Spring Sing) is this grand show at UCLA, we also want it to be for students and the UCLA community," O'Halloran said. "Because of the nature of the online platform … we can be more transparent with the process of the show. … We're trying to keep Spring Sing as open as possible."
Expanding the show to include a wider audience is a major goal the executive committee created to guide their decisions, Stenvall said. Despite the struggles the UCLA community faced this year, Stenvall said she believes the virtual show will provide a hopeful reflection on the year.
"My whole goal was how we can use (the pandemic) to our advantage," Stenvall said. "How can we create something that has the effect and the emotional impact of being in a live show and select talent acts … (that) capture the UCLA experience in a way that is touching (yet) joyful."