ScatterTones includes UCLA community in a cappella 'Here Comes the Sun' video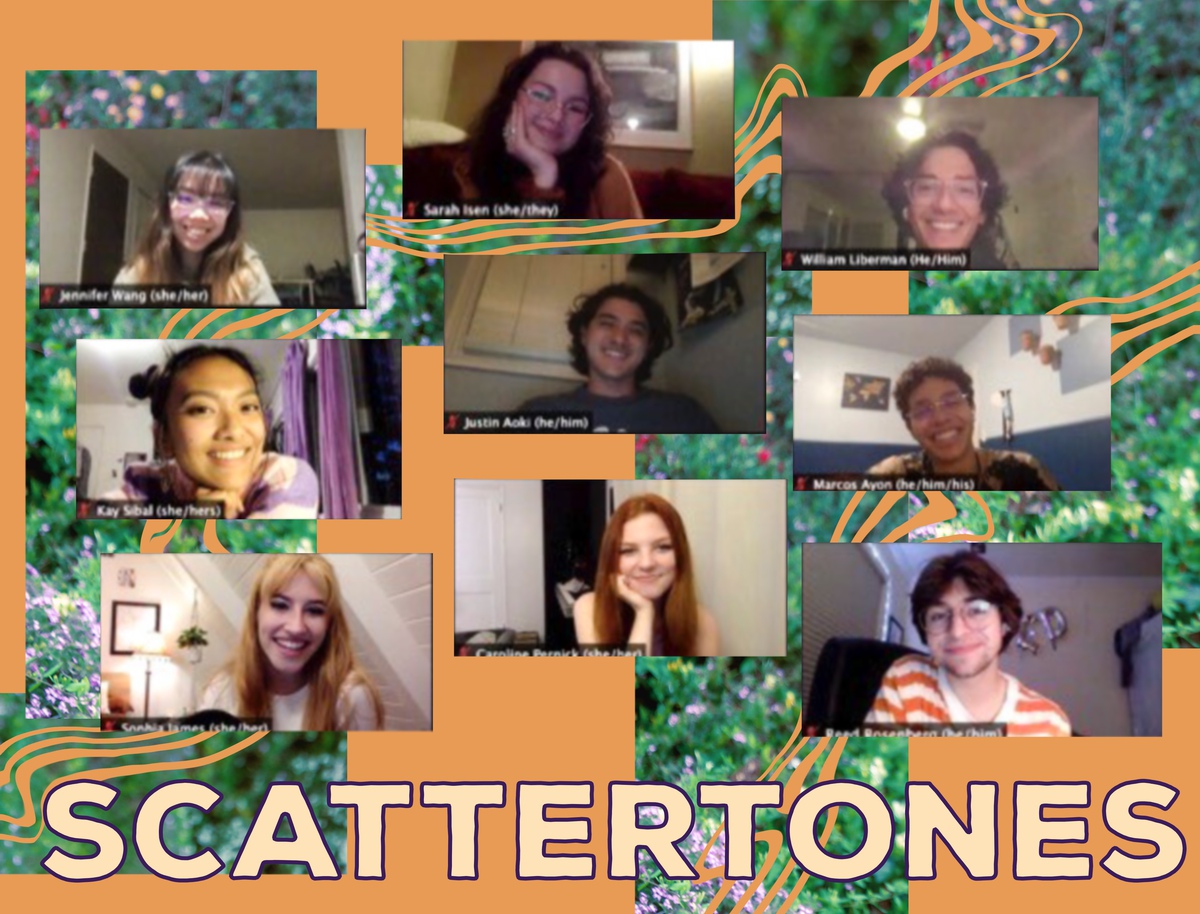 The a cappella group ScatterTones plans to perform a cover of The Beatles' "Here Comes the Sun," which contains a combination of video submissions from members of the UCLA community to send a message of unity. (Photo courtesy of ScatterTones. Photo illustration by Emily Dembinski/Illustrations director)
ScatterTones is focused on the light at the end of the tunnel with its rendition of the Beatles' "Here Comes the Sun."
Working virtually over the past year, the a cappella group selected, arranged, filmed and mixed their cover of the Beatles track with a focus on community, according to second-year psychobiology student and first-year member of ScatterTones Marcos Ayon. With their song, Ayon said ScatterTones hopes to emphasize the broader UCLA community and connection outside of the group.
"We wanted to show that the grass is greener on the other side, and we're almost on the other side," Ayon said. "We wanted it to spread a lot of positivity because we know what this year and the past year has brought to every student, every family, everyone in the world."
After hearing a cover of "Here Comes the Sun" by musician Jacob Collier, fourth-year linguistics and computer science student Joshua Flancer said the group took inspiration from Collier's arrangement and stripped-down acoustic style. Third-year theater student Carly Wood said the group settled nearly unanimously on the Beatles' classic for their Spring Sing performance this year, and as they worked on arrangements and submitted an audition video, group members became increasingly excited about the opportunity to perform their selected song.
"The thing that was different about this year was that we knew all along that it was going to be virtual," Wood said. "If we were doing like an in-person performance, we would have discussed choreography and everything that would make a singular in-person performance memorable and meaningful."
Despite the group's excitement about their song choice, the logistics of rehearsing led the group to find creative ways to practice a cappella virtually, Flancer said. Featured in the performance as a soloist, Flancer said the rehearsal process was much more individualized over Zoom. Without the ability for the group to sing cohesively over a virtual platform, Flancer said rehearsals required not only a heightened sense of refinement for parts but stronger communication to articulate exactly what vowels to sing and how long to articulate notes.
After the group learned the initial arrangement, fourth-year human biology and society student Sarah Isen said members began to individually record their parts to a click track, and those tracks eventually were all mixed together into the final product. Isen said working virtually has given the group the opportunity to delve into the world of sound editing and mixing, and despite not expecting a virtual platform, it gave her the opportunity to refine a new skillset.
"Spring Sing is such a cool, unique thing, especially doing a video project like this and having a real product," Isen said. "I think (a virtual performance) was in some ways more work, but I think it's just been fulfilling in a different way."
With their video performance, the group also offered the entire UCLA community a chance to submit videos to add in, which Ayon said went along with their message of unity and togetherness. With a combination of video submissions from members in and out of the group, Ayon said ScatterTones emphasized a return to normalcy and the activities they have missed during the pandemic through recordings of students goofing around, having fun and spending time with their friends – many of which were from before the pandemic.
"We decided we wanted to extend it to the entire UCLA community because we're all going through it together," Ayon said. "We wanted everyone to show a bit of what they miss and what they're looking forward to. That's kind of where the concept came up, and we just decided to open up submissions just for videos of people having fun."
Moving closer to the performance at Spring Sing, Flancer said he is looking forward to ending his last quarter with ScatterTones and at UCLA with his debut as a soloist for the group. As he readies to depart the group, Flancer said he feels that despite a virtual setting, the emphasis on connection and community within the group remained strong, enhancing the experience of many members during the past year. For Wood, their upcoming performance represents an opportunity to foster a sense of closeness with the entire UCLA community through music.
"I think as a group we've talked about multiple times that our main goal is to offer hope for brighter days, and for me, I believe so strongly in the power of music," Wood said. "Whether it's an in-person show or the thing we're doing right now with Spring Sing, what I try to bring to it is an opportunity to connect with people."