Paravi Das' songwriting skills bloom in original track 'Happy Place'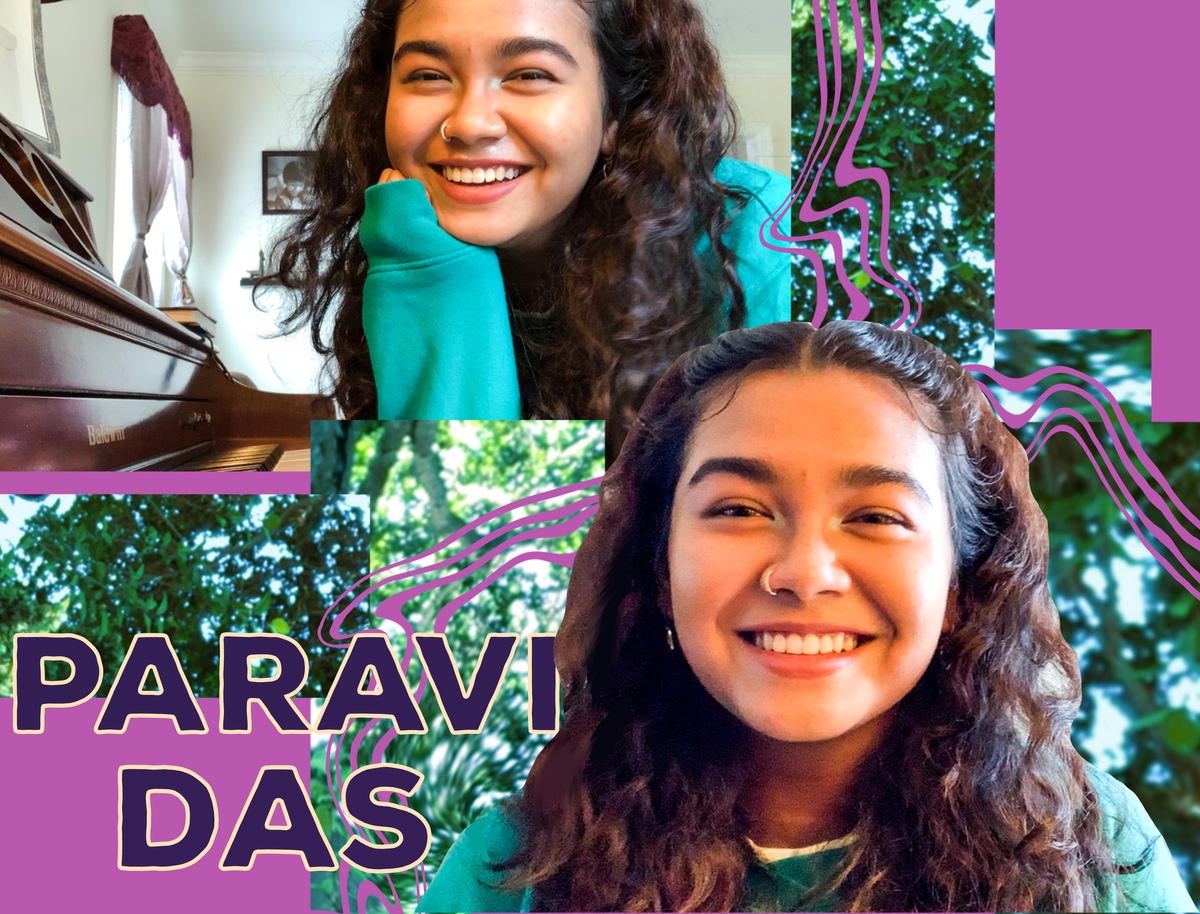 Second-year musical theater student Paravi Das said her original song "Happy Place" encourages fellow Bruins to embrace the in-between moments of life and make them happy. (Photo illustration by Jeremy Chen/Daily Bruin staff and Emily Dembinski/Illustrations director)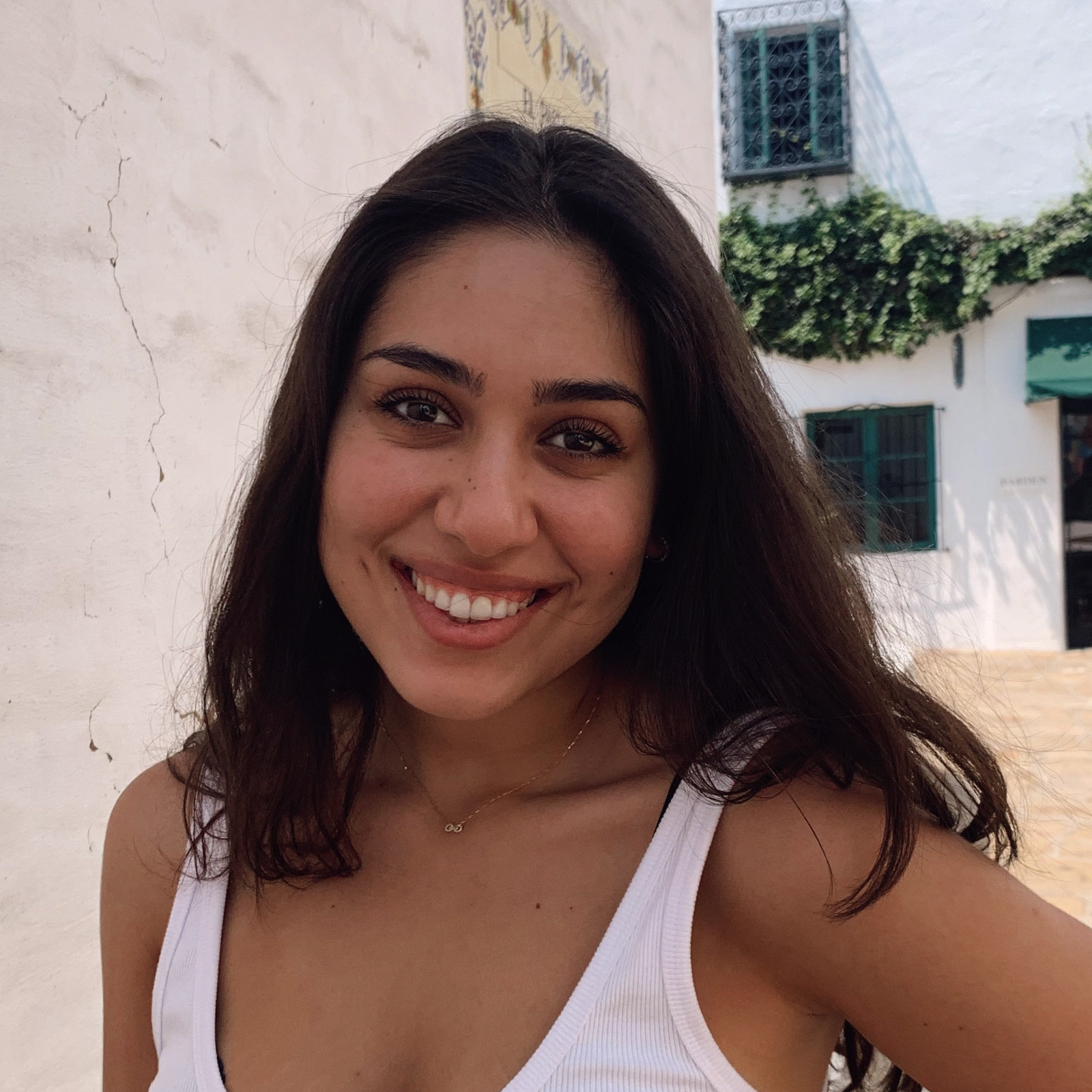 Paravi Das just wants her listeners to smile.
Making her Spring Sing debut, the second-year theater student will be performing her original song "Happy Place." Das said she began writing the song's chorus a year ago and finished it the night before Spring Sing auditions after deciding last minute to sign up for the competition with the encouragement of a friend. And while she hasn't experienced the annual event in person before, she chose to perform "Happy Place" because she felt its message of embracing the in-between moments of life stands as a timely reminder for Bruins.
"I really wrote it about making life your happy place," Das said. "Not living moment to moment, living thing to thing or staying busy all the time – but making every single moment happy."
Originally trained in Indian classical performance, Das said she first began singing in English after joining choir in middle school and eventually in high school and college theater. Combining these influences along with 2000s pop music she grew up listening to, she said her boundless style is reflective of her own experiences with music.
"It's easy for somebody to go, 'Oh that's not authentic, that's not real, that's too many things in one pot,'" Das said. "But I think that's what makes it so authentic, is that I have so many different experiences that make my sound a lot more unique."
With ample time to teach herself how to play piano chords, she said she first began writing her own songs during quarantine. During her songwriting process, Das said she plays chords that sound cohesive, sings a tune and – using the same notebook she used while training in classical Indian performance – writes down lyrics. She also taught herself musical production and how to use tools like GarageBand, connecting the technical aspects of songwriting to the art form she said she has been practicing her entire life.
Taking vocal influence from powerhouse alto artists like Adele and lyricism from songwriters like Hozier, Das said her aim is for her lyrics to match her dynamic musicality. However, she prefers to use real rather than electronic instruments to achieve her own pop sound. Das said using raw instrumentation helps the music's quality go beyond any cultural or generational barrier.
"Having those real instruments and real sounds that you can recreate on stage … and you don't have to play back a track, things like that feel a lot more connected," Das said.
To film her performance, Das said she drove from Virginia to Maryland with two of her friends from high school, trying to find a blooming flower field to match the chill pop vibe of "Happy Place." However, she said they were unsuccessful and had to drive to another part of the state to find a new natural setting with trees and leaves. Despite the sudden change in plans and location, Das said she was smiling throughout the whole production.
One of Das' friends who helped film the video, Nick Horenberger, said Das is very true to herself in front of the camera and doesn't try to put on a show. Her same genuine quality comes through in Das' emotional vocals and candid lyricism, which he said combine to produce a calming energy.
"Any time she sings, everyone has to stop in an instant," Horenberger said. "It's kind of just hits a chord in your head that you're like, 'Okay, it's time to listen.' It hits something deep in your soul."
While this Spring Sing will be Das' first, her friend Judia King – who also helped film and edit the "Happy Place" video – said all of Das' experiences in theater and competing on American Idol have prepared her for the virtual stage. Relating Das' musical style to Billie Eilish, King said the song Das chose for the performance matches the spring season both in its filming location and message on looking forward to the positive.
"(Her songwriting is) very real," King said. "(Das) doesn't write or say stuff about things that don't relate to her. So definitely when I heard the song and when I read the lyrics, it just felt like her."
Moving forward in her musical career, Das said she plans on exploring her Indian influences – like Desi chords and run styles – and incorporating that into her current style. But as for Spring Sing, Das said she hopes "Happy Place" will put a smile on audiences' faces, as the song best represents her as an artist and her outlook on life.
"If I leave anything on this Earth, I want it to be a positive impact," Das said. "And I think this song, being the first original piece of music that people are going to hear from me, is perfect."
Madjidi served as the Lifestyle editor at the Daily Bruin from 2020-2021. She was previously an Arts & Entertainment contributor from 2019-2020.
Madjidi served as the Lifestyle editor at the Daily Bruin from 2020-2021. She was previously an Arts & Entertainment contributor from 2019-2020.