Duo incorporates dreamlike elements in original song for Spring Sing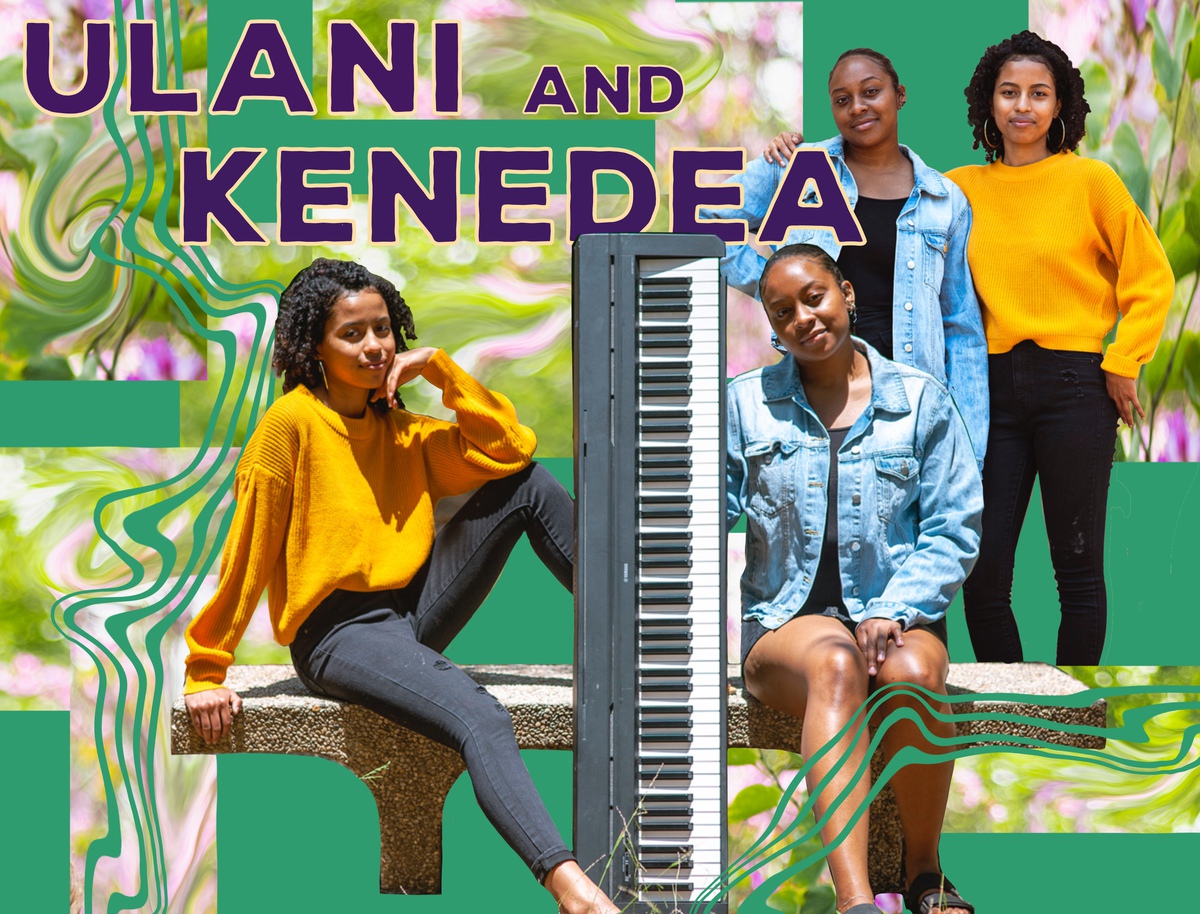 Fourth-year English student Ulani Mafate and fourth-year ethnomusicology student Kenedea Lee will premiere their duet "Strangest Dream," taking listeners on a psychedelic trip. (Photo illustration by Chelsea Westman/Daily Bruin and Emily Dembinski/Illustrations director)
Inspiration can strike at any moment.
Ulani Mafate, a fourth-year English student, and Kenedea Lee, a fourth-year ethnomusicology student, will be premiering their duet "Strangest Dream" at this year's Spring Sing. Written by Mafate with Lee accompanying on the piano, the song feels very much like an anxiety-induced dream, according to Lee, as the lyrics are inspired by the feeling of shouldering the weight of the current climate. Mafate said the goal wasn't necessarily to write a profound song but instead to take listeners on a psychedelic journey.
"We were all just on lockdown this summer … and there were earthquakes one night and George Floyd had just died," Mafate said. "I also had a really weird dream the night of the earthquake. … (I) put all that together in a song."
Mafate said the duo met as first-year students at a freshman summer program session and eventually teamed up to audition for Spring Sing in 2020. They both appreciate gentle musical tones, which she said makes it easier for them to collaborate and achieve their desired musical effect.
Lee, a classical pianist who has been training since the age of nine, said writing piano compositions is an emotional process, as she turns what she feels into sounds. Although Mafate isn't a classical vocalist, Lee said their musical styles work best together when she plays jazz.
"I really like the vibe of jazz," Mafate said. "I feel like (Lee) and I are very old school, and so that's where we're compatible. … It was easy for us to get the vision."
When Mafate gave Lee the lyrics and melody for "Strangest Dream," she said she let Lee have creative freedom with the piano arrangement, only telling her what tone she wanted the song to be – dreamy and eerie. Lee said she took Mafate's vocal track and broke it down to create the chord progressions and form the full arrangement, resulting in a final piece inspired by a blend of jazz and R&B.
"I tapped into just creating beautiful harmonies," Lee said. "At the end, there was some improvisation on my part, which was improvisation really coming from the inside because you're playing … how you feel."
For Mafate, the absence of live performances also takes the nerves out of performing for Spring Sing, and the virtual video format offers an opportunity to be more creative. In particular, Lee said the production in the music video for "Strangest Dream" took on a Tiny Desk Concert look and feel. The set was decorated with dead flowers, wine glasses and bookshelves, and Lee said they used a smoke machine in some shots.
"I came up with something that I knew would fit the mood of the song, which was a little dim and slow and very ominous," Mafate said. "It's also a little open for interpretation because this story that I'm trying to tell … is a little bit confusing, considering that … it's just not in your face. … I just wanted something dreamy."
In 2019's Spring Sing, Mafate took home the award for Best Duet with fourth-year political science student Kevin Jang, who she met when they were both members of Awaken A Cappella. Jang, who wrote the piano accompaniment for the song in 2019, said Mafate's lyrics often feel like a stream of consciousness or dialogue within her own head.
Mafate, who also posts covers of songs on her YouTube channel, said she often comes up with her tracks by listening to reggae beats and humming over them, improvising lyrics along the way. And ever since she departed from her a cappella group to compete in Spring Sing as part of a duet with Jang, she said she has become more confident as a singer and songwriter. Mafate said competing has also given her the opportunity to feel like a professional singer and turn her creative visions into reality.
"It just feels nice to see how far I've come as a singer," Mafate said. "I never thought that I would be a part of something so big like this with so many other really talented people."