Company aims to unite students with humor relevant to all in Spring Sing sketches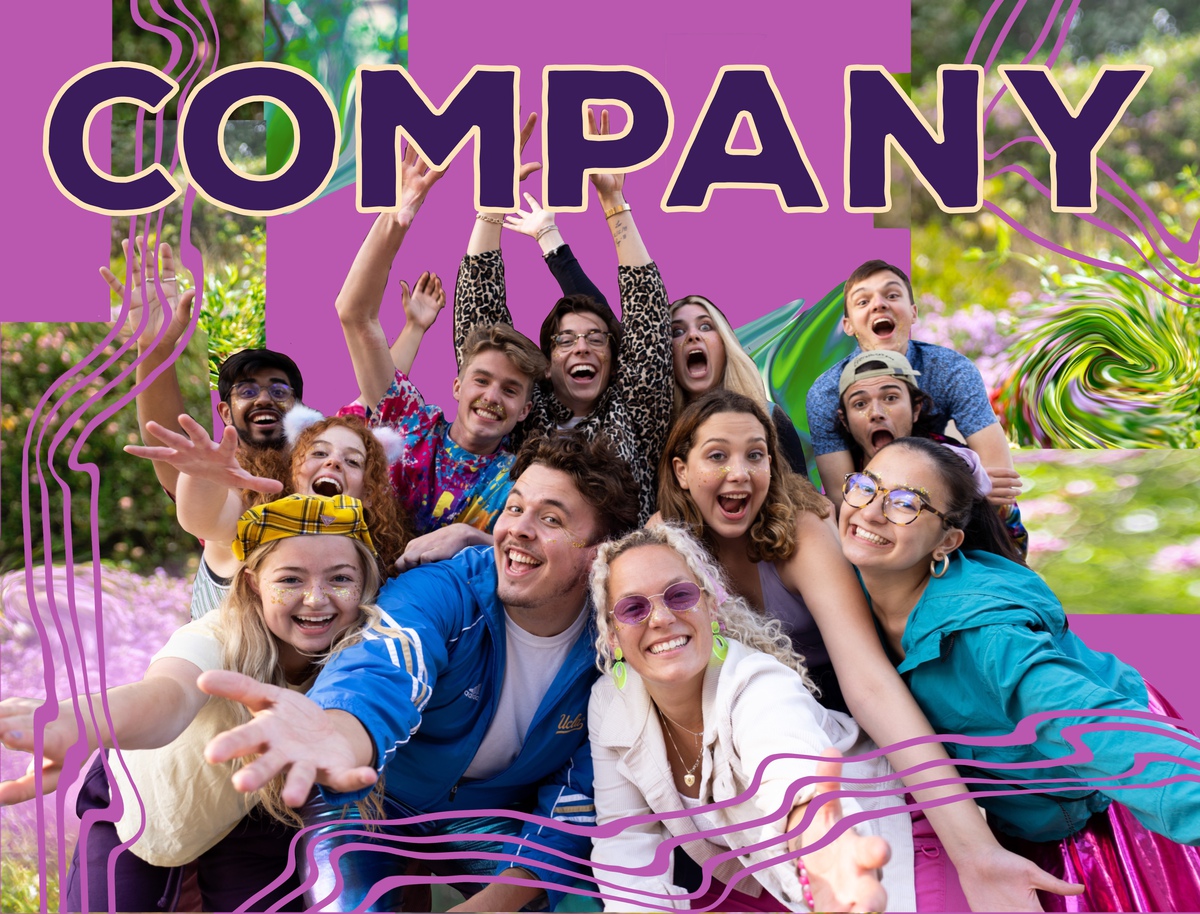 Sketch comedy troupe Company emcee for Spring Sing with sketches that intend to bring an air of levity into the performance. (Photo illustration by Elise Tsai/Daily Bruin staff and Emily Dembinski/Illustrations director)
Company is finding the humor in the awkward.
Twelve Company members will present 14 sketches in between acts at this year's Spring Sing. Co-director and fourth-year economics and public affairs student Kieran McCarthy said this year's sketches focus on the awkwardness that comes with navigating changing COVID-19 regulations, as well as acknowledging that, unlike previous years, UCLA students have not shared the same on-campus experiences.
"We want to make sure it's all sensitive to the fact that this has been a very serious year," McCarthy said. "What we've asked (the writers) to keep in mind is, 'How has COVID changed your lives? What are some of the day-to-day things that you do differently now because of COVID?' And then using those situations as the base of the humor."
The 12 Company members act as the emcees of Spring Sing and present sketches in between each performance to create an air of levity and humor, said co-director and fourth-year cognitive science student Claire Dinauer. While in previous years Company has been responsible for introducing each act, Dinauer said this year the group leaned into their presence as a source of comedy throughout the show.
"(Company helps the audience) feel more connected to campus," Dinauer said. "I think (the sketches) acknowledge what students can expect when they come to campus if they haven't been here before and be excited to understand more about the quirky or weird experiences that UCLA students share."
As Company began the creative process, conducting the writing, revision and rehearsal process over Zoom affected the chemistry that was naturally present during previous years when the group could gather. However, McCarthy said Company was able to foster internal connections by implementing a mentor program. The new digital writing process proved prolific – McCarthy said Company wrote and pitched more than 50 sketches for consideration for this year's Spring Sing.
However, unlike last year's production in which all skits were suddenly shifted to a virtual format, McCarthy said this year's Company team was able to develop all of their sketches with the intention of presenting them in a digital platform. With COVID-19 testing and isolation, he said many sketches for this year's production were filmed in Westwood rather than over Zoom. Dinauer said while sketches have typically focused solely on Westwood and campus happenings, this year's digital platform encouraged Company to think outside of the box content-wise.
"There's a lot of students on-campus or even international students and transfer students and freshmen whose experiences look really different this year, so (we're) trying to appeal to that," Dinauer said.
One sketch, entitled "The Ashe Guide to In-Person Interaction," will inform students how to engage with one another after a year of social distancing, McCarthy said. Filmed in the style of an infomercial, he said the sketch makes fun of day-to-day interactions that have been forgone over the past year. Company will also showcase its musical talent with its own original songs, including one that discusses the experience of having an insufficient internet connection to join a Zoom meeting, Dinauer said.
Another sketch, written by Rachel Stubington, compares the Spring Sing deadlines for contributing groups to the NCAA's March Madness basketball tournament. The third-year theater student said because the sketch writing process begins so far in advance of the actual show, it can be difficult to predict what references will still be fresh in the audience's mind. However, she said references to niche UCLA attributes, like the "Grapes with Egg" skit from the 2019 Spring Sing production, which featured Kerckhoff Coffee House's unusual snack combination of grapes and an egg, brings the student populace together.
"I think that realizing we all find so many of the same things funny because we're all going through this together is a really cool way to unite everyone," Stubington said.
Ultimately, the main goal of this year's Company sketches is to inspire school spirit, which Dinauer said has been difficult to maintain in the absence of in-person activities on campus. For McCarthy, the showcase emphasizes the diversity and talent that UCLA offers.
"Spring Sing for me is a big moment of pride to be a Bruin because of how talented the people in the show are," McCarthy said. "(The performers) are a representation of UCLA as a whole and how our community as a whole is talented in many different ways."