USAC recap – May 11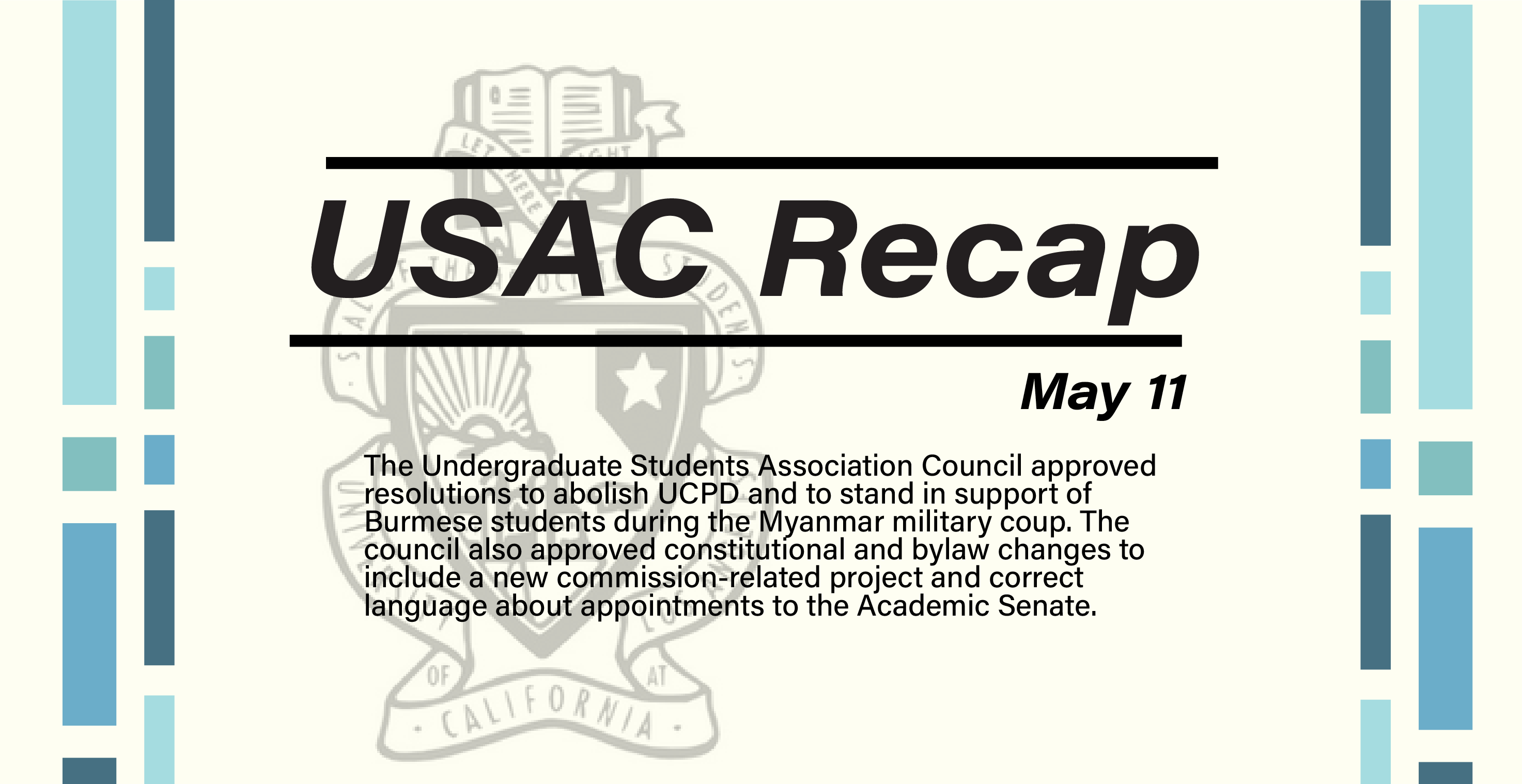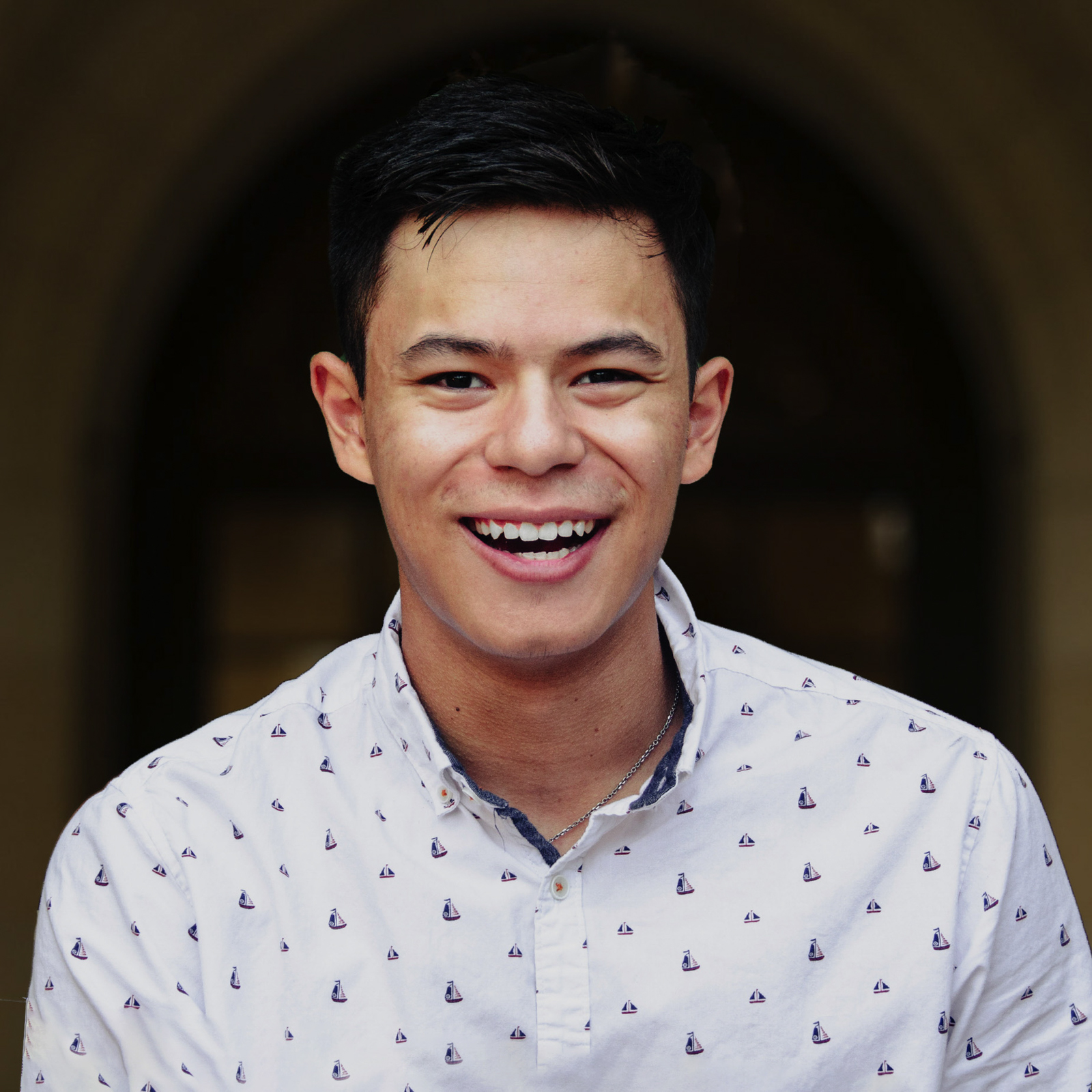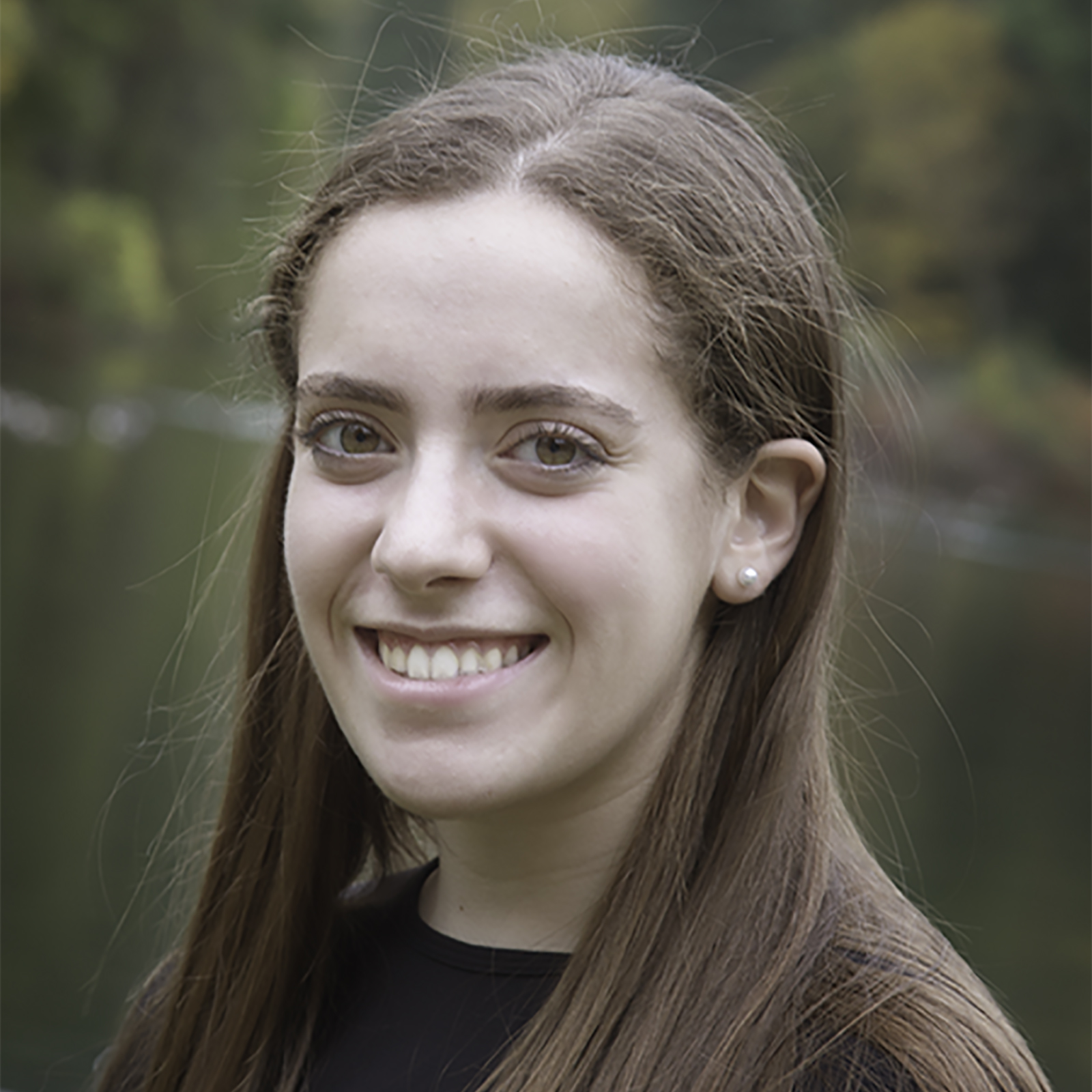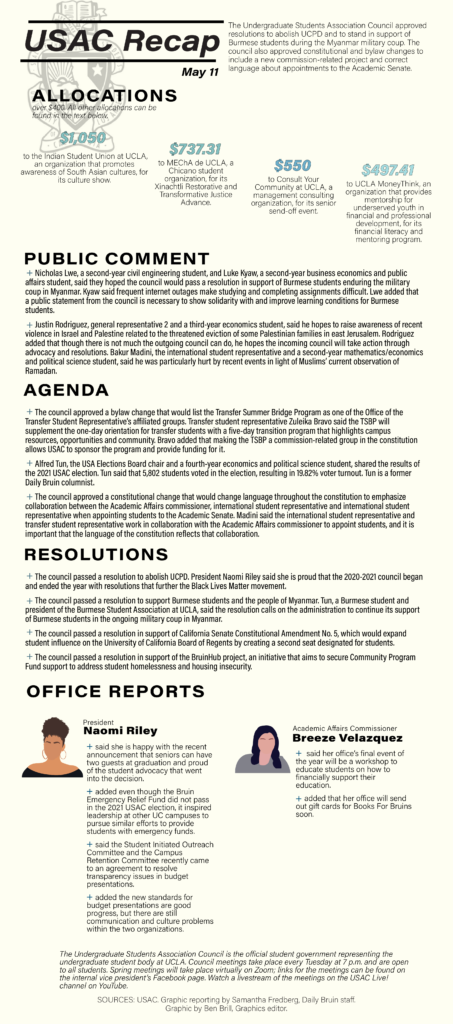 The Undergraduate Students Association Council approved resolutions to abolish UCPD and to stand in support of Burmese students during the Myanmar military coup. The council also approved constitutional and bylaw changes to include a new commission-related project and correct language about appointments to the Academic Senate.
Public comment:
Nick Lwe, a second-year civil engineering student, and Luke Kyaw, a second-year business economics and public affairs student, said they hoped the council would pass a resolution in support of Burmese students enduring the military coup in Myanmar. Kyaw said frequent internet outages make studying and completing assignments difficult. Lwe added that a public statement from the council is necessary to show solidarity with and improve learning conditions for Burmese students.
Justin Rodriguez, general representative 2 and a third-year economics student, said he hopes to raise awareness of recent violence in Israel and Palestine related to the threatened eviction of some Palestinian families in east Jerusalem. Rodriguez added that though there is not much the outgoing council can do, he hopes the incoming council will take action through advocacy and resolutions. Bakur Madini, the international student representative and a second-year mathematics/economics and political science student, said he was particularly hurt by recent events in light of Muslims' current observation of Ramadan.
Allocation:
The council allocated $109 to the Neuroscience Undergraduate Society, an organization that focuses on promoting the field of neuroscience at UCLA, for its Professor Recognition Night and $500 for a team building event for 2021-2022 members.
The council allocated $100 to the Taiwanese American Student Association at UCLA, a Taiwanese cultural group, for its big-little program and $394.58 for their paint-by-numbers event.
The council allocated $497.41 to UCLA MoneyThink, an organization that provides mentorship for underserved youth in financial and professional development, for its financial literacy and mentoring program.
The council allocated $1,050 to the Indian Student Union at UCLA, an organization that promotes awareness of South Asian cultures, for its culture show.
The council allocated $737.31 to MEChA de UCLA, a Chicano student organization, for its Xinachtli Restorative and Transformative Justice Advance.
The council allocated $164 to the Leukemia and Lymphoma Society Club at UCLA, an organization dedicated to raising awareness of and combating leukemia, lymphoma and other blood cancers, for its website and domain costs.
The council allocated $550 to Consult Your Community at UCLA, a management consulting organization, for its senior send-off event.
The council allocated $26.56 to the Pre-Pharmacy Society at UCLA, a professional development club for students interested in pharmaceutical careers, for its spring active membership raffle.
The council allocated $50.91 to Cadenza A Cappella, a student a cappella group, for its week 10 Social.
The council allocated $166.67 to Liberty in North Korea at UCLA, an organization dedicated to securing freedoms for North Korean defectors, for t-shirts for its Hyun-Seung Lee speaker event.
Supplemental Funds for Service allocated $1,169.62 to one USAC Community Service Commission organization and one non-CSC entity.
Agenda:
The council approved a bylaw change that would list the Transfer Summer Bridge Program as one of the Office of the Transfer Student Representative's affiliated groups. Transfer student representative Zuleika Bravo said the TSBP will supplement the one-day orientation for transfer students with a five-day transition program that highlights campus resources, opportunities and community. Bravo added that making the TSBP a commission-related group in the constitution allows USAC to sponsor the program and provide funding for it.
Alfred Tun, the USA Elections Board chair and a fourth-year economics and political science student, shared the results of the 2021 USAC election. Tun said that 5,802 students voted in the election, resulting in 19.82% voter turnout. Tun is a former Daily Bruin columnist.
The council approved a constitutional change that would change language throughout the constitution to emphasize collaboration between the Academic Affairs commissioner, international student representative and international student representative when appointing students to the Academic Senate. Madini said the international student representative and transfer student representative work in collaboration with the Academic Affairs commissioner to appoint students, and it is important that the language of the constitution reflects that collaboration.
Resolutions:
Officer Reports:
Riley said she is happy with the recent announcement that seniors can have two guests at graduation and proud of the student advocacy that went into the decision. She added even though the Bruin Emergency Relief Fund did not pass in the 2021 USAC election, it inspired leadership at other UC campuses to pursue similar efforts to provide students with emergency funds. Riley also said the Student Initiated Outreach Committee and the Campus Retention Committee recently came to an agreement to resolve transparency issues in budget presentations. She added the new standards for budget presentations are good progress, but there are still communication and culture problems within the two organizations.
Academic Affairs Commissioner Breeze Velazquez said her office's final event of the year will be a workshop to educate students on how to financially support their education. She added that her office will send out gift cards for Books For Bruins soon.
The Undergraduate Students Association Council is the official student government representing the undergraduate student body at UCLA. Council meetings take place every other Tuesday at 7 p.m. during spring quarter and are open to all students. Spring quarter meetings will take place virtually on Zoom; links for the meetings can be found on the internal vice president's Facebook page. Watch a livestream of the meetings on the USAC Live! channel on YouTube.