Lessons from the Frontlines: Health care workers reflect on teamwork, empathy during pandemic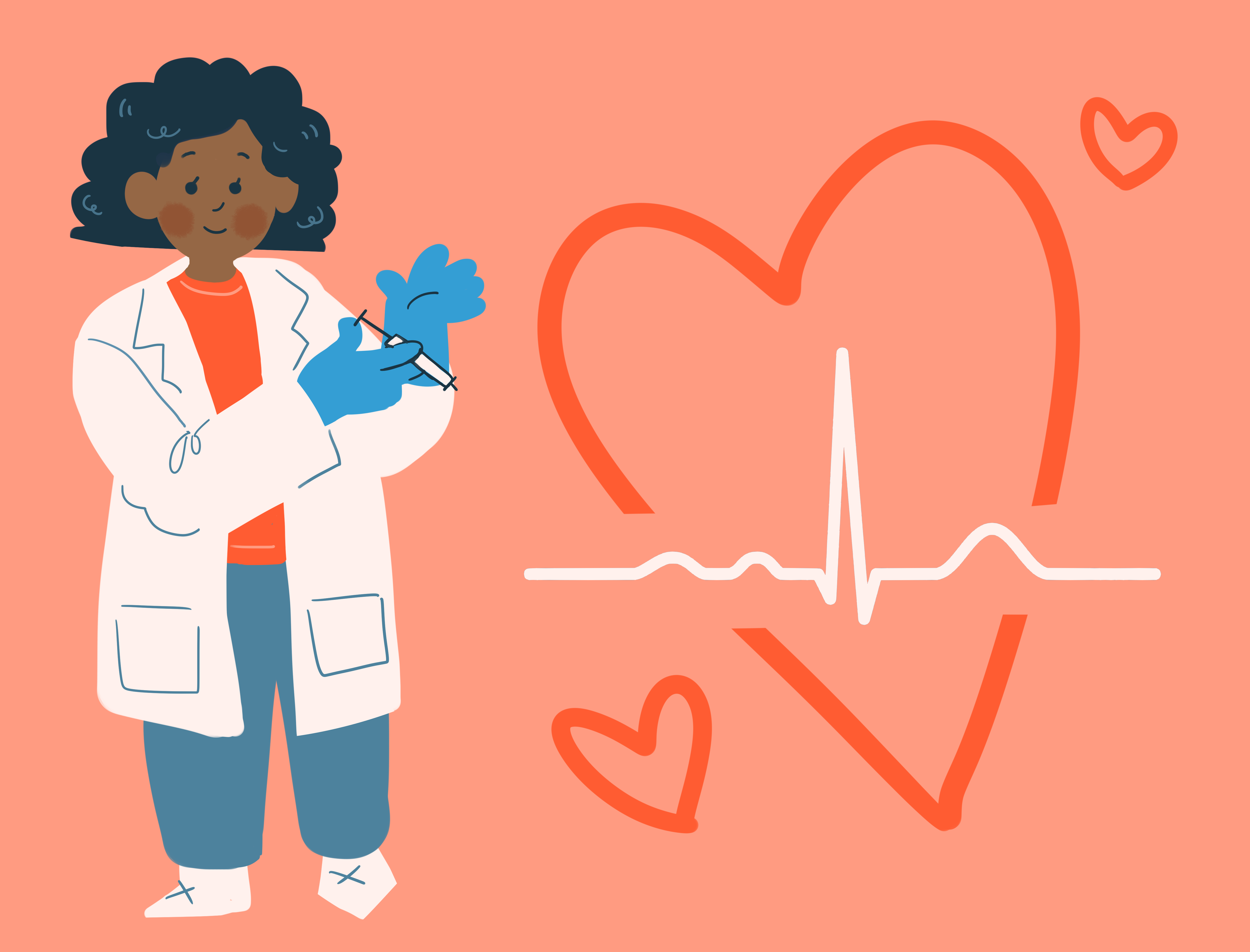 (Katelyn Dang/Illustrations director)
This post was updated May 14 at 8:02 p.m.
As vaccine eligibility increases, the COVID-19 pandemic is slowly coming to a close. Many healthcare workers who have been on the frontlines for more than a year are leaving the pandemic equipped with newfound lessons and knowledge.

James Lee and his colleagues took to social media for the first time because of the COVID-19 pandemic.
Lee, a pediatrician, and an advocacy team at the Ronald Reagan UCLA Medical Center posted cheery pictures of themselves getting vaccinated and promoted healthy behaviors in order to be good role models for their patients.
As vaccinations become more widely available and businesses reopen, some frontline health care workers reflected on what they've learned about teamwork and empathy during the pandemic.
Marguerite Thorp, a resident physician at the Ronald Reagan UCLA Medical Center, said she felt she was plunged into a new world when COVID-19 patients began flooding the hospital. Once she realized the pandemic was not ending anytime soon, she began to appreciate the strength she and her colleagues displayed every day.
The first recorded case of COVID-19 in Los Angeles County was reported in January 2020. Since then, there have been over a million cases reported in the county, according to the LA County Department of Public Health.
At the onset of the pandemic, Thorp said she struggled with the knowledge that she and her colleagues were being exposed to a potentially deadly virus.
Although she was grateful UCLA Health was well-stocked with personal protective equipment, including masks and face shields, she said she felt unsupported in other areas.
There was no COVID-19 testing offered to asymptomatic employees, for instance, even though they could still carry and transmit the virus, Thorp added.
"And obviously there was a system for (asymptomatic testing) in Los Angeles and in the UCLA system," she said. "But I, one of the highest risk, most vulnerable people on campus, … wasn't offered asymptomatic testing by UCLA until well into the final surge."
In response to health care worker concerns, Thorp and the resident union began organizing a movement urging UCLA Health administration to improve working conditions for frontline health workers. Some of those suggestions included hazard pay for employees facing the brunt of COVID-19 patients and the implementation of an asymptomatic testing system, she said.
Working on this initiative opened her eyes to the selflessness and unity demonstrated by her team. Many residents rearranged their vacation time and worked extra hours to support their coworkers' increased patient load, Thorp added.
"(Residents) have proven that they will put themselves on the line to take care of their patients and to take care of their colleagues," she said. "It makes me very proud to be a part of the community."
Outside of the hospital, many people experiencing homelessness are also facing the devastating consequences of the pandemic. According to a study from UCLA researchers and a University of Illinois Chicago researcher, people experiencing homelessness were 50% more likely to die if they contracted COVID-19.
Danielle Munguia, a UCLA alumna, was hired as an administrative assistant by the LA Department of Health Services to work on a COVID-19 task force providing assistance to people experiencing homelessness in their Housing for Health division.
Having experienced homelessness herself, Munguia was familiar with some of the situations of her clients. Yet it wasn't until working with them during the pandemic that she realized the importance of empathy.
She said many clients were experiencing issues she had never dealt with before, like having trouble going to work because of mandatory lockdowns at homeless shelters or attending school remotely.
"It's been hard dealing with frustrations and even comforting people," she said. "How can I help them when they say they lost their job?"
Munguia learned that by taking the time to listen to her clients and attempt to form long-term relationships with them, she has become more patient and empathetic.
"I feel like I used to be very strict on certain things and deadlines," she said. "But with COVID and just seeing the struggles especially with this population, I have become more understanding with my friends and my family."
Collaborating with others throughout the pandemic has been a big part of the past year for many frontline healthcare workers. For some, including pediatric and infectious disease fellow Rachel Martin-Blais, the pandemic has also helped them look inwards and improve aspects of their own lives.
Martin-Blais said she, like many of her colleagues, struggled with maintaining a healthy work-life balance before the COVID-19 crisis. Dealing with an increased workload at the hospital forced her to consider her own mental health during the pandemic and prioritize spending time with her friends and family.
She added that working on solutions to the pandemic also reinvigorated passion for science in a lot of her coworkers. She said it was easy to get caught in the routine of everyday hospital work, but the novelty of the pandemic was a refreshing change of pace.
Ultimately, Martin-Blais said she learned, through the pandemic, to appreciate the strength and resilience of both her coworkers and herself.
"I think it's hard enough to stay resilient in medicine," she added. "I honestly am so inspired by my colleagues who are able to not only stay resilient and to come through (daily) challenges but then do it in the face of additional challenges."