Governor's task force presents plan to make higher education more accessible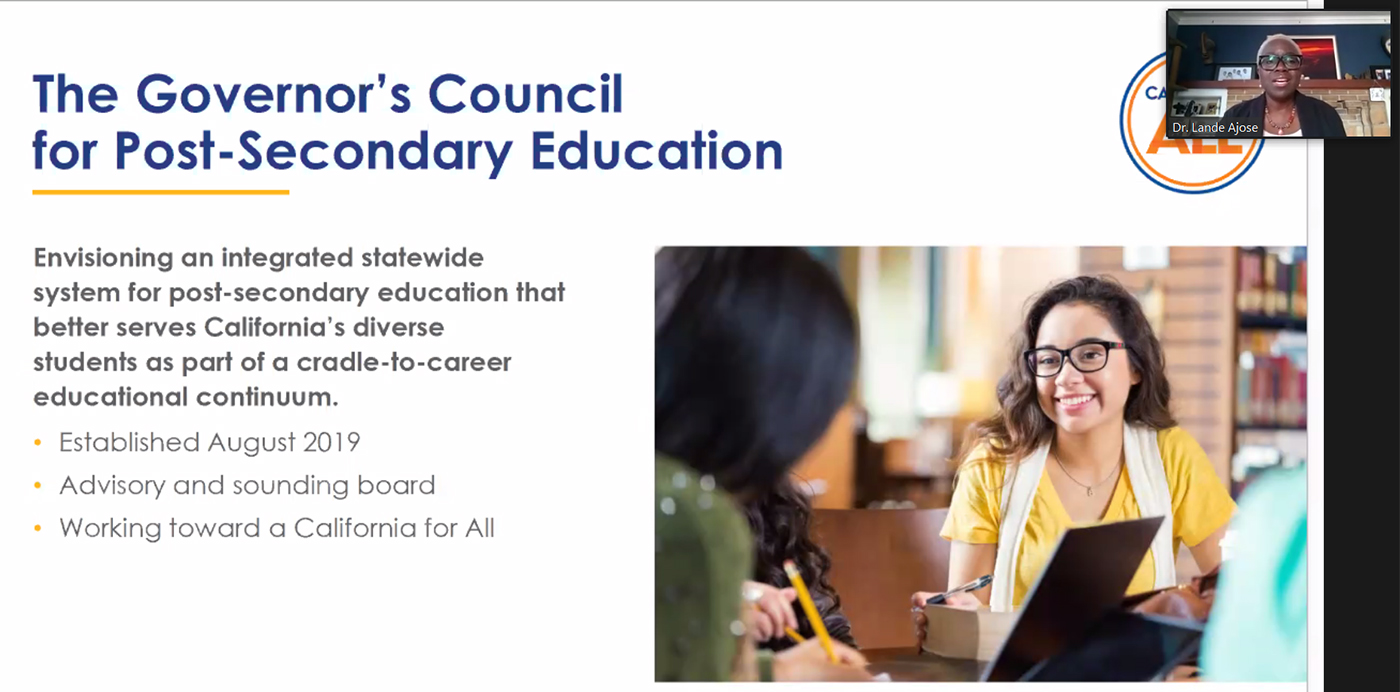 Gov. Gavin Newsom's office presented their recommendations for addressing inequities in higher education following the COVID-19 pandemic in an online event Tuesday. (Courtesy of Kalysa To)
Gov. Gavin Newsom's education recovery task force presented its recommendation for building a more accessible path to higher education following the COVID-19 pandemic at a briefing Tuesday.
The Governor's Council for Post-Secondary Education's Recovery with Equity Taskforce was established in August to devise policies and practices that would guide California's postsecondary educational institutions in serving students after the pandemic.
Lande Ajose, a senior policy advisor for higher education at the Office of Gov. Gavin Newsom and the chair of the Recovery with Equity Taskforce, presented some of the research that informed the task force's proposals.
The research revealed that low-income, first-generation, Latino, Black and Indigenous students face several barriers to obtaining a higher education, Ajose said. These include insufficient support for basic needs and a decreased likelihood of completing high school or the coursework required for UC and CSU admission, she added.
"(The research results) are highly correlated with issues related to poverty, issues related to race and ethnicity," Ajose said. "And so there are some systemic and structural barriers that we face in terms of students having access to the coursework that's required in order to be able to enroll and graduate from college."
Ajose said the task force came up with four guiding principles to address the issues uncovered by the research: fostering inclusive institutions, streamlining pathways to degrees, facilitating student transitions and simplifying support for student stability by subsidizing internet access and integrating state services for students.
The presentation also covered the task force recommendations that were included in the Recovery with Equity report released in February.
The report recommended that educational institutions improve faculty diversity, provide high-tech and high-touch advising, streamline the college admissions process and improve college affordability.
Members of the task force and student leaders at the University of California Student Association, the Cal State Student Association and the Student Senate for California Community Colleges said the report is important for supporting students in higher education.
The report included action items that were measurable and clear in its support for students, said Hayley Weddle, a member of the Recovery with Equity Taskforce. Weddle added that the report's placing the responsibility of labor on educational institutions and its emphasis on assets is transformative.
"I'm personally excited that the report is framed around holding institutions accountable for inequities, as opposed to blaming students," said Weddle, the 2019-2020 UC student regent.
Michael Wiafe, another member of the Recovery with Equity Task Force, said he hoped to devise more equitable solutions through elevating student voices by speaking to individuals and gathering their experiences.
"It was not only (about) the traditional student, but … about the nontraditional student," Wiafe said. "Let's think about the folks who maybe have not been thought about in legislative conversation before."
Stephen Kodur, president of SSCCC, said the COVID-19 pandemic has made basic needs a priority, and the report addresses it accordingly.
"Technology has become a basic need, along with housing insecurity and all these other things that students are experiencing," Kodur said. "Better equipping our students with those tools that they need will help them succeed."
The report's recommendations align with the priorities of the UCSA and the UC, said UCSA President Aidan Arasasingham.
"(The report matched) what students have been feeling for years, what we knew to be true to our experiences, but what might not have been seen by their institutions or by the halls of power by the state," Arasasingham said.
CSSA President Zahraa Khuraibet said the report addresses basic needs and college affordability, many issues that the CSSA has long advocated for. Khuraibet added that student voices are crucial in implementing these changes.
"To our students – your voice and your story is important," Khuraibet said. "You can use them to create policy changes when you engage and share your experiences. We are truly the content experts in our own experiences."