Editorial: Daily Bruin Editorial Board rescinds endorsement of Moises Hernandez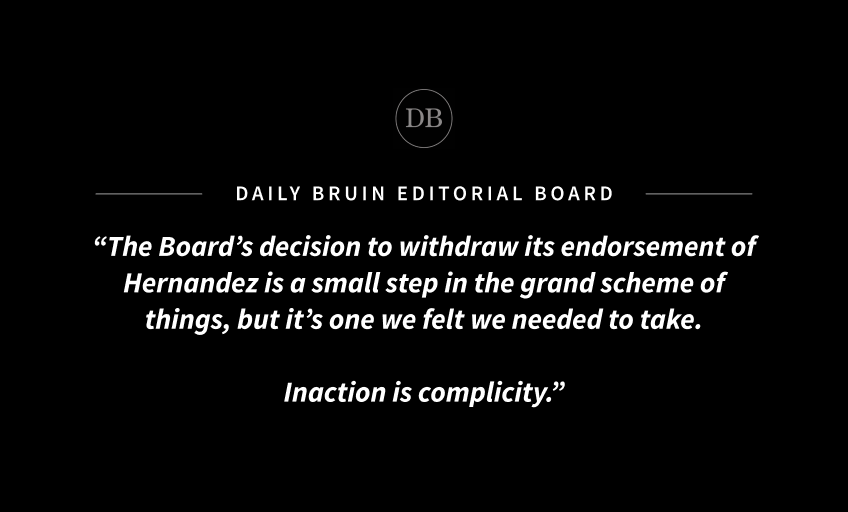 Editor's note: Editorials are intended to serve as the jumping-off point, not the conclusion, to discussion. As part of the Daily Bruin's commitment to its readers, the board hopes to present a responsible and clear analysis of relevant events and news items affecting the lives of those we serve, but our editorials are not representative of the Daily Bruin's views on issues as a whole. We encourage all readers to reach out to our board members and to respond to our editorials.
Black Lives Matter isn't a subject up for debate.
It's something all Bruins, especially those who aspire to advocate for students at the highest levels of power, must stand by.
For this reason, the Board rescinds its endorsement of Moises Hernandez for President of the Undergraduate Students Association Council.
One day after the Board released its endorsements for the 2021-2022 USAC elections, screenshots of a March 2021 text conversation Hernandez engaged in surfaced online. The text in question, which Hernandez sent to a volunteer with the UCLA nonprofit UniCamp, was troubling, to say the least. In his message, Hernandez says "I personally agree and stand with Black Lives Matter," but expresses his uncertainty over whether UniCamp leadership "can take a position, such as being pro Black Lives Matters."
Black Lives Matter is not something to take a position on. It is fact – and Hernandez should have known that.
Hernandez released an Instagram statement Sunday to explain his position, stating he was not aware that UniCamp, an organization that hosts camps for children in Los Angeles, had released a statement in support of Black Lives Matter. He attributed his initial uncertainty to the strict policies the organization has as a result of the groups it works with. Hernandez ended this portion of his statement by saying he agreed with the volunteer who believed UniCamp should clearly communicate to campers that it stands with Black Lives Matter.
It's always difficult to tease out which subjects are appropriate to discuss with kids, but the importance of Black lives and the evil of racial violence are topics everyone, regardless of their age, must understand.
Hernandez went on to respond to two of his tweets from 2015 that contained the n-word. While acknowledging that his actions were wrong, Hernandez, as several students aptly noted in the comments, shied away from issuing an apology and did little to say how he will improve moving forward.
The Board did not know of either of these incidents before the endorsement process, and, if it did, it's safe to say this information would have weighed heavily on its decision. But now that the Board is aware of such events, the only thing it can do is attempt to repair the harm it may have caused.
The Board made a commitment to its readers last June. As protests over the killings of George Floyd, Breonna Taylor, Ahmaud Arbery and countless other Black Americans rocked the nation, the Board did not speak up until June 1 – one full week after Floyd was murdered. We recognized this misstep and unequivocally stated that we support Black Lives Matter.
This commitment stands and has never been more urgent, as the nation reels from the recent police killings of Ma'Khia Bryant, Daunte Wright and Anthony Thompson Jr. The Board's decision to withdraw its endorsement of Hernandez is a small step in the grand scheme of things, but it's one we felt we needed to take.
Inaction is complicity.