Editorial Board Q&A with Afrikan Student Union talks protesting, allyship at UCLA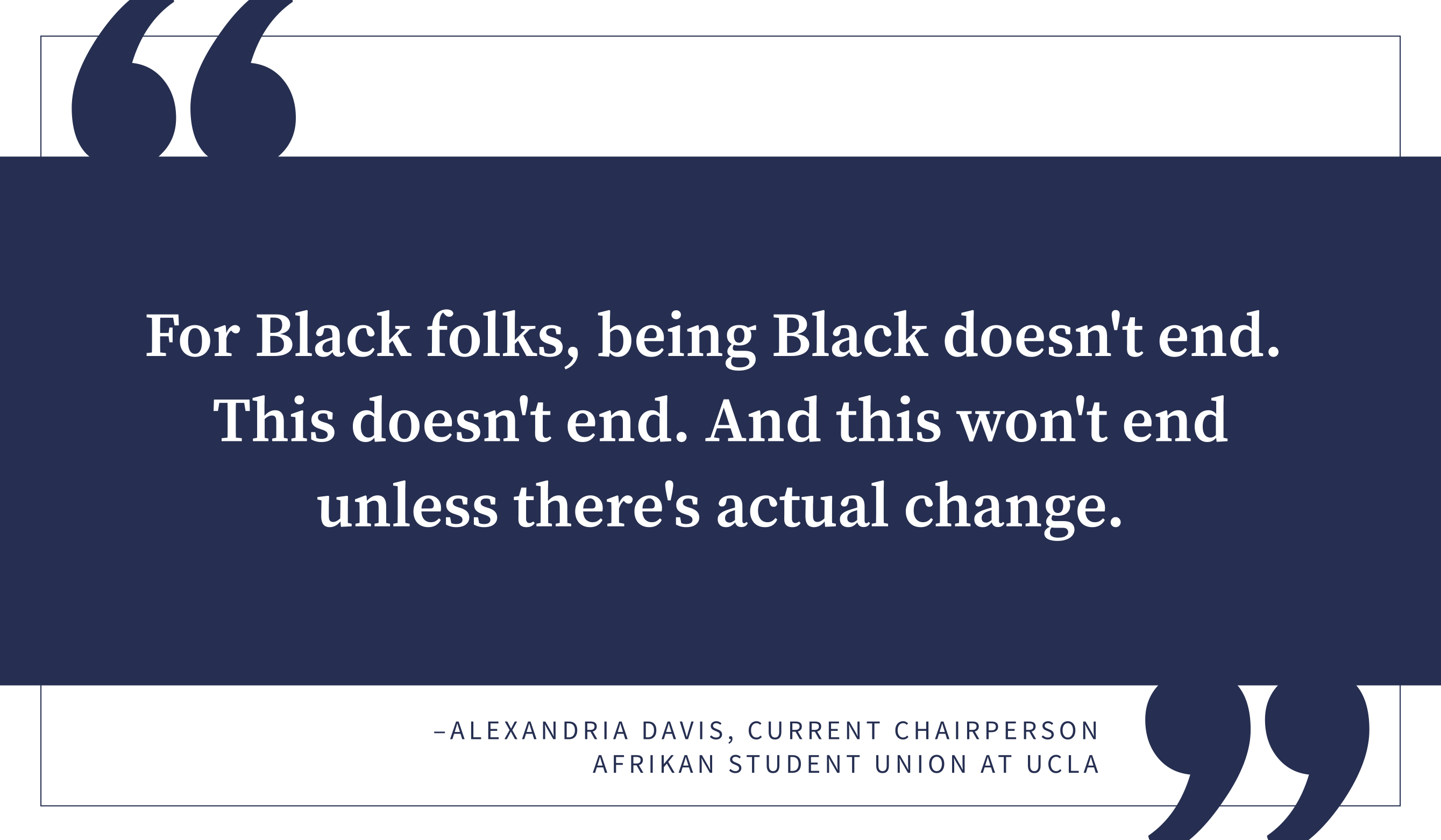 The Daily Bruin Editorial Board supports Black Lives Matter and should have said so sooner amid the national turmoil in the aftermath of George Floyd's death.
The Editorial Board does not have any Black members. In fact, our newsroom has historically been and continues to be largely devoid of Black student journalists. We recognize that this lack of inclusion is an unacceptable disservice to the UCLA community, and for this we apologize. 
The long process as we attempt to remedy our own lack of inclusivity and diversity, however, is no excuse for silence on our part in the present. 
We recognize that these protests are not only the result of Floyd's death, but the result of ongoing institutional racism and generations of police brutality and racially motivated killings that took the lives of Ahmaud Arbery, Breonna Taylor, Philando Castile, Trayvon Martin, Tamir Rice, Sandra Bland. The list goes on, even though it should not.
Rather than speak on these pertinent national issues with a glaring lack of Black voices, the Board asks that our readers reflect on the work and guidance from the Afrikan Student Union in the following Q&A.
We thank ASU for their time and energy and hope the UCLA community finds value in this dialogue.
—————
The following is a lightly edited Q&A between representatives from the Afrikan Student Union and Daily Bruin Editorial Board. ASU is represented by its current chairperson, Alexandria Davis, and its incoming co-chairperson, Alexander Dunkwu. The 2020-2021 Daily Bruin Editorial Board is represented by editor in chief Melissa Morris, managing editor Lucy Carroll, opinion editor EJ Panaligan and outreach director Marilyn Chavez-Martinez. 
EDITORIAL BOARD: What have your experiences been like as leaders of the Afrikan Student Union during this time?
DUNKWU: I think it's just been in our communities, a lot of exhaustion. As students it's a trifecta and we're getting hit from every angle of our identity. I just think there's just a lot of exhaustion in our community specifically, starting with regards to schools, and if you look on the news, all you see is these protests that are nationwide in response to the death of George Floyd. And so I think it's just a lot of exhaustion, I would say. I would say, just fed up, I feel like.
DAVIS: For me it's a lot of exhaustion, frustration, lack of positivity, lack of being able to see positives gain, positive things gaining. On one hand, I'm proud to see Black folks organizing, I'm proud to see non-Black allies organizing as well, but I do wish we were organizing for not another murder of Black life at the hands of police. It's been frustrating, being a leader because I wish I could just – sometimes I wish I could just prioritize my emotions and my mental health being a Black person, but I also have to be considerate of the student population that we engage with and uphold and how they are as well and making sure our voices are heard.
It's difficult managing being an advocate while at the same time being a student. Being a student leader is the perfect phrasing of that just because we say being a student comes first, but a lot of times that leader role has to come first. It's really been hard, especially that it's finals – especially that police brutality has been consistent, for most of my life. So it's really hard to see positivity. And it's been hard to come together around these issues too because there's been some division in the community in talking about protesting and looting and understanding those things too. But I do think it's a point in time where people can really engage (and) educate themselves and some people are taking on that cause and other people are not.
EB: How do you feel about UCLA and UCPD's response to the national and local news and unrest?
DAVIS: Has there been a response?
EB: Or lack thereof.
DAVIS: There was that email that (Chancellor) Gene Block sent, and then that tweet that (Block) sent saying Black Lives Matter. I do think the response has been rather lackluster. I think it's very face value, surface level, and there's a lot of depth to what's going on and we need to deal with that. (Block) will say, "Black Lives Matter," while simultaneously telling us that there's no real space for a Black resource center on campus and I feel like those things are connected because they impact Black life. So I think there could have been a better job of a response. I also think there's been a lack of understanding on how to proceed during this time with finals. We're trying to figure out how that is and we put together a petition regarding that and are waiting to hear a response from the Academic Senate to figure out what finals are going to be like. But I think it's been rather lackluster, very surface level.
DUNKWU: Yeah, I just think it's very hypocritical, I would say. For one, in the email that was sent, you have the head of UCPD signing the email. Just the police thing in their entirety just is something anti-Black. You can't be hearing me say "Black Lives Matter" and have this institution that is the cause of this, cosign that. So I feel like that's a little hypocritical. I've seen (Block)'s tweet, saying Black Lives Matter and stuff like that. It's hypocritical again, because you have Bunchy Carter and John Huggins, who were two Black UCLA students that were murdered on this campus and they were not given any recognition by the university. The only recognition they were given was by students or faculty. So it's just, it's a little hypocritical to say that Black lives do matter at UCLA when (its) history, the university's history that it has failed to correct, shows that that's not true.
DAVIS: Yeah, keeping those things in mind, just responding that way, like (Dunkwu) said, is very hypocritical. There's so much more to be done, and there's so much that hasn't been done.
DUNKWU: Also, to say that you've been meeting with UCLA, specifically, you're talking about admin. Because we've tried to reach out, and it's very – it's not ill-intentioned – it just doesn't seem to get anywhere.
DAVIS: Right, and they said that they've been reaching out to leaders and stuff like that, but where's your reaching out to the Black community or either reaching out to the Afrikan Student Union to have a conversation with the Black community that hasn't happened at all. And it's not very likely to happen.
EB: To jump back to something that you were just talking about: Can you tell us more about the petition that you've been circulating calling on UCLA to adjust finals?
DAVIS: Yeah, so the petition came out of the understanding that mental health isn't normally prioritized on this campus, but it was prioritizing Black mental health and it's the result of the work of my successors, Simone (Walker) and (Dunkwu). But, I would say that Simone did a lot of work to advocate and put this out.
DAVIS: I don't know how many signatures it's gotten, but we just used the petition to allow people to express their grievances, and not only students – community members, alumni, whoever wanted to engage and express why or how this is affecting folks, how these times are affecting folks and their ability to complete normal tasks or their ability to complete assignments as large as finals. On Sunday night I know we reached 10,000 responses, and I know it's more than that at this point. I did send those responses as well as a letter to the Academic Senate demanding that finals either be postponed or at least transitioned into low stakes assignments for students.
DUNKWU: I feel like UCLA also prides itself on accessibility in regards to its education, and education right now as a Black student I feel is a bit inaccessible. We are in the middle of a pandemic. You literally turn the TV on and you see, yet again, there's another murder of somebody who looks just like us, and this time it was a trifecta. So I think it's a little hard for a Black student who has to juggle everything else, while also thinking about finals. I think it's inconsiderate as well for professors, departments, the entire institution to act like it's not that big of an issue to our community
EB: What advice, if any, do you have for students who want to show their support for anti-police brutality and Black Lives Matter causes, but aren't sure how?
DUNKWU: I would say, avoid performative allyship. I know there's been a lot of things like Black Lives Matter chains, and although awareness is key, I feel like there's a way to move in respect to the community that's going through this. So just reaching out to somebody who's Black, asking, "How can I support you," "How are you" – things like that. Just being there for people, I feel, and also the idea of awareness and avoiding performative allyship.
DAVIS: Yes, I agree completely with what (Dunkwu) said. Avoid performative allyship, inform yourself of what actually is going on, and the history of police brutality – but also the history of what the police are and where they come from, which is rooted in slavery. I think it's important not to depend on information that you're receiving by asking your Black friends – so not depending on them to educate you, but rather you educating yourself. 
And I understand some allies to the community have felt the need to take it upon themselves to engage in action – or they're so angry and frustrated that they want to engage in action. But imagine how angry we are, and ensure that these actions and things that you're engaging in are rooted in supporting the safety and the needs of the Black community, rather than just disregarding that completely.
Social media is not it. That's not where it stops. Making a post on social media is not it, posting in those social media chains, saying Black Lives Matter online is not it. You can also donate to the multiple sources and bail funds that exist across the country for things that are going on. 
You can engage in calling legislators and talking to folks – like the Los Angeles budget was being approved today and I encourage folks to call offices to change the budget that funds the police more than any basic needs within the budget. So just acknowledging and understanding these things, but also I want to emphasize checking in on Black folks too. People love to engage in Black culture but refuse to check in on those Black people that create this culture, so check in with those friends that you say you value so much, and just do a general mental health check. That's important too.
EB: Are there any resources, like places to donate or anything else, that you'd like to bring to students' attention?
DUNKWU: A lot of these freedom funds that are popping up, a lot of these projects are happening. I know a big one is the Minnesota Freedom Fund. If you look at our demands, we list some – I think it was the Minnesota Freedom Fund and it was a lot of other freedom funds in a lot of these other cities where these protests are happening. As well as that, I would say, trying to – and it gets a little bit tricky because you don't know what's official – but just giving back to the families of the victims. 
DAVIS:  Yeah, I agree with that. 
EB: If the activism and donations start to slow down over the next few weeks, what do you think students should continue to do to show their support for these causes?
DUNKWU: I think just continuing to apply pressure onto a lot of these, like I think (Dunkwu) was saying, applying pressure to like the mayor's office, or like these government things. But I think specifically for UCLA, I would say, try and just email professors on behalf of Black students, just trying to invoke them to be conscious that there's a lot going on in this world right now, and finals should be the last thing Black students have to worry about.
DAVIS: Yeah, I completely agree with what (Dunkwu) says. But, also I feel like for Black folks, being Black doesn't end. This doesn't end. And this won't end unless there's actual change. This doesn't end for us. So the same way it doesn't end for us, it shouldn't end for allies or people that say that they care about Black lives. So my hope is that the posting does not stop. My hope is that the protesting does not stop until there's actual change that's made and not just a change specifically with George Floyd's murder, with everyone that's been murdered by the police, with the police as an institution. So, yeah, that's my hope. This work isn't done until it stops, and it doesn't stop for me, because I'm still Black at the end of the day.
EB: Is there anything that you wanted students to know generally, or anything we haven't asked that you would like to address?
DAVIS: I would say, I know there are some concerns and questions about how specifically people in the Westwood area or people around UCLA can get engaged in something that's supporting Black folks that also centers (around) Black folks, especially after the protest today was canceled. I will say that ASU is in the works of something for folks to be able to support, but we're not going to give out definites right now. But we will definitely keep y'all posted on what is going to come next, and what that looks like, and make sure all of the necessary precautions are made in whatever action is done, seeing the violence and different tactics that have been utilized by both the police and the National Guard across the country, with the current protests right now.
And we also want to affirm we engage in this, not because we are ASU and we feel like we are the organization that's going to get everything done and we have to take a stake in this and we're better than folks because we're engaging in ASU. It's simply a priority to us because we are Black, and we know that these things and changes need to be made.
DUNKWU: (Davis) kind of hit everything on the head. I would just say be informed. I feel like we already touched on this, but just be informed of what the impact of something as small as a Black Lives Matter chain that people put on their Instagrams can have on Black students. Or even just being mindful of sharing these graphic videos of these victims being killed, it's traumatic. And it's repeated trauma. So I think just being conscious of that, I would say.
DAVIS: Yeah, I especially echo what (Dunkwu) just said, for those non-Black folks that are allies. And I also want to emphasize we're supportive; and when I say we – we, I, ASU – are supportive of protesting. We're supportive of taking action against police brutality and the current political climate that is basically taking our lives away. In no way, shape or form are we not encouraging protesting. But we are emphasizing being conscious when you're protesting and safely protesting and protecting yourself. It's very difficult to be safe in conditions where the organizations that are in place don't want us to be safe. So remembering to take those precautions when you do decide to engage in protests is also an important point we want to make.