Students, faculty anticipate return to campus as vaccine rollout continues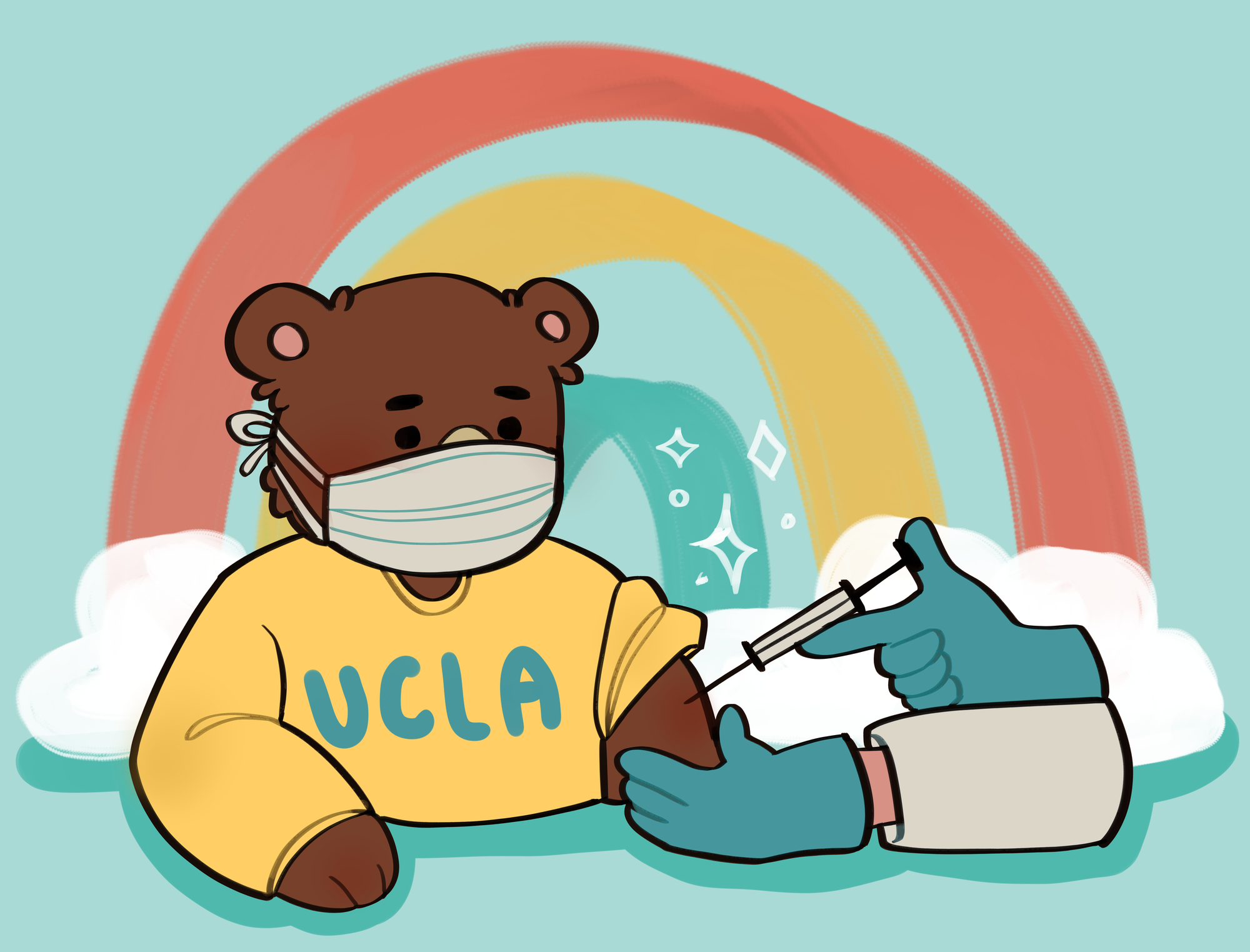 (Katelyn Dang/Daily Bruin)
Rainey Williams saw dozens of parents taking pictures of their children who were admitted to UCLA on a recent visit to campus. It was a sign of life returning to normal, the second-year linguistics and computer science student said.
Amid increasing vaccination rollout rates in the United States, UCLA students and faculty are excited to resume pre-pandemic activities – from live music performances to in-person lectures. As of publication, the Centers for Disease Control and Prevention reported that around 30% of the national population has been fully vaccinated.
As of publication, fully vaccinated people amount to nearly 38% of California's population that is eligible for the vaccine, with LA County administering the highest number of vaccinations among the state's counties, according to data from the official California state government website.
Michael Rodriguez, the vice chair of the Department of Family Medicine in the David Geffen School of Medicine, said he was amazed by the U.S. vaccination distribution rates. He added that COVID-19 deaths and hospitalizations are significantly less now compared to January.
Duane Benjamin, a global jazz studies lecturer and jazz trombonist, said he has not performed live on stage for more than a year, losing connections with fellow musicians and audience members, as well as a stream of income.
Then, on April 8, Benjamin returned to the stage, playing with a full orchestra. The players were almost in tears, feeling a return to normal, Benjamin said.
"As a performer, you really need that live experience, that energy you get from performing with people," Benjamin said.
For Williams, the end of Zoom university is exciting. She said she used to make friends during lectures when the campus was fully open.
"Those people I sat next to I ended up starting a small conversation with, and then maybe I would talk to them after the class," Williams said. "Now there's really not that opportunity after a class ends. Everyone logs out of Zoom."
Jacky Li, a first-year mathematics of computation student from China, said he chose to limit his extracurricular activities this year because he said the online experience would be different from in person. Li hopes to get involved in campus life in the upcoming academic year, he added.
Tejas Patel, a third-year biochemistry student, said people sometimes turn off their cameras at his club meetings. Patel has found it difficult to talk to a screen, adding that he eagerly anticipates talking to people face to face.
Patel, who is fully vaccinated, said he also plans on visiting his mother in New York when spring quarter ends.
While some await the end of Zoom university, Marissa López, an English and Chicana/o studies professor, said Zoom classes offered opportunities that in-person lectures did not provide.
Currently, López prerecords her lectures and makes herself available during scheduled lecture times to meet her students. López said around five to eight people come each time for one class, which she considers a decent turnout.
"This format allows strangely for more intimacy. … I say, 'Come if you want, I'm going to be here, and we can talk about the material in an informal way,'" she said.
UCLA plans to reopen most housing and hold mostly in-person classes in fall quarter. However, large undergraduate lectures will likely remain online and classes may have restricted enrollment availability to limit classroom size, administrators said.
But, López said she is excited to attend the UC Berkeley family camp near Yosemite with her family. López, who received her undergraduate and doctoral education at UC Berkeley, said she consistently attended the camp except for last year because of the pandemic. She also plans to see her grandmother, who is almost 100 years old.
Ottavia Zwillenberg, a first-year public affairs student from England, said she wants to meet her friends in her home country after COVID-19 travel restrictions are lifted. Zwillenberg has been in the U.S. since the start of the pandemic.
"I'm excited to be able to just enjoy life like it was before without having to worry so much and having to be so careful," Zwillenberg said.
At this point, Rodriguez said people should continue wearing masks and practicing social distancing even after getting vaccinated.
However, a higher level of herd immunity can further loosen safety measures, Rodriguez said. LA County moved from purple tier, the highest COVID-19 risk level, to red tier March 14 and orange tier March 30. Officials announced Tuesday that the county could enter the least restrictive yellow tier in early May.
"If the student body and faculty are all vaccinated, then yes, there's reasons to be reassured that we can do some relaxation and be able to be in classes together and have more interactions in a safe way," Rodriguez said.
California Gov. Gavin Newsom announced April 6 that if vaccine supplies are sufficient and hospitalization rates continue to remain low, then the state could fully reopen its economy June 15.
The University of California plans to require all students to be vaccinated before returning to campus in the fall. The UC will not enforce the policy until the Food and Drug Administration fully approves a vaccine. Currently, the Pfizer, Moderna and Johnson & Johnson vaccines are authorized for emergency use.
"Take this moment of transition to develop gratitude for everything that we have, all the in-person things and all the people you get to meet," Williams said. "I know it's difficult, but whenever there is a hard time, you really appreciate that we can be together and be in person."