North Westwood Neighborhood Council to hold fully mail-in election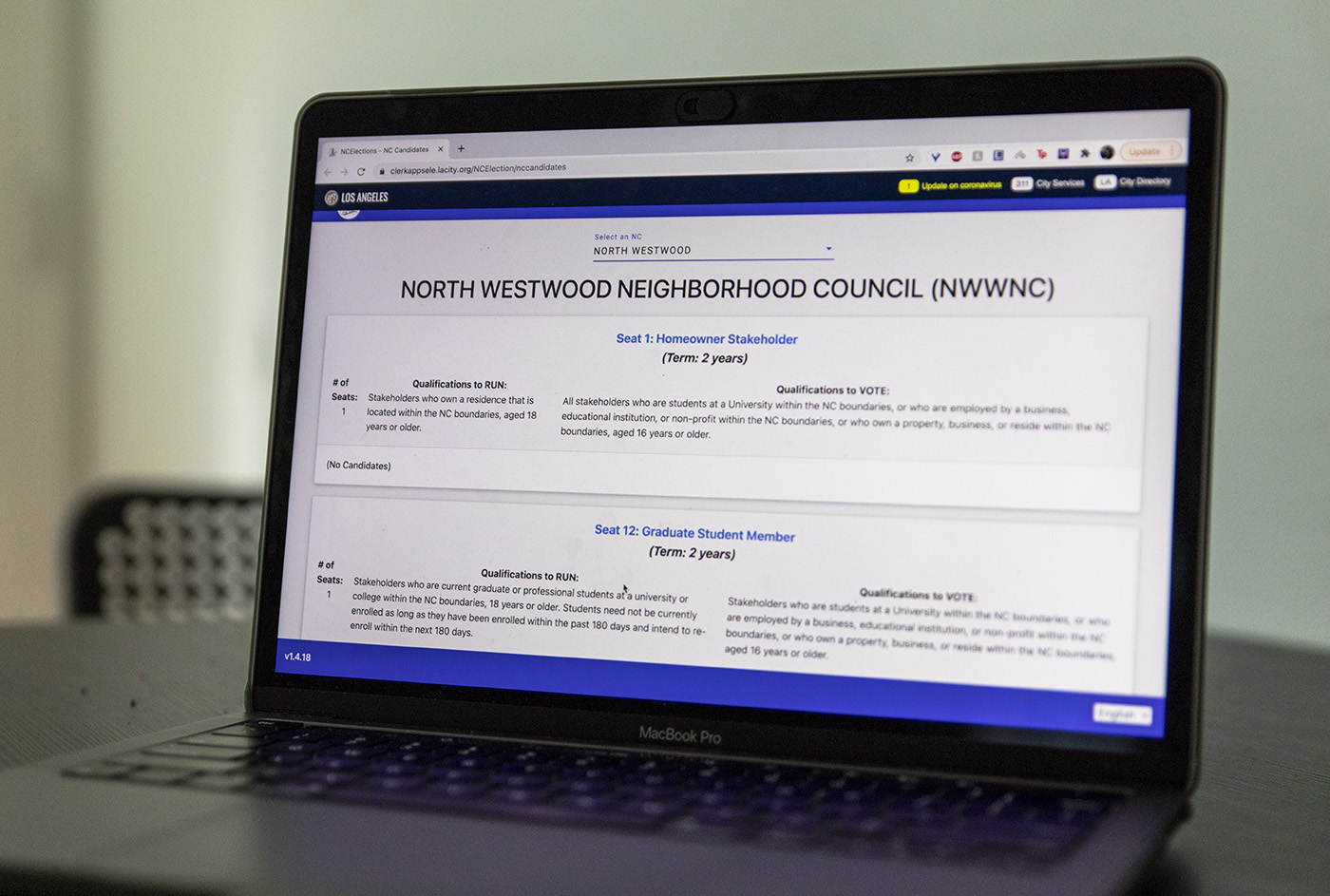 The North Westwood Neighborhood Council is holding its biennial election on May 11. Voters must request absentee ballots and send them by election day. (Ashley Kenney/Assistant Photo editor)
The North Westwood Neighborhood Council's first entirely mail-in election in May may result in higher voter turnout but has also created candidate registration issues.
The NWWNC represents UCLA and Westwood in the Los Angeles City Council. It holds elections every two years. Any individual who is 16 or older and lives, works, owns a property or business, or has substantial local commitment in North Westwood is eligible to vote. All UCLA students, including those who are not legal U.S. residents, are eligible to vote as well.
In response to the COVID-19 pandemic, the Los Angeles City Clerk substituted in-person voting with mail-in ballots. Voters must request a ballot by May 4 and ballots will be accepted until May 21 if they are postmarked by May 11, election day.
Ann-Marie Holman, the public information officer for the Los Angeles City Department of Neighborhood Empowerment, said implementing mail-in ballots was the only way to carry out the regular two-year election cycle with social distancing measures in place.
Certain neighborhood council districts that have held elections in the past year benefited from pandemic-related changes, such as virtual meeting platforms, and have seen an increase in voter turnout, Holman said.
"If you look systemwide, voter numbers are up because it's easier," she said. "What would happen before was if you were not available on a Saturday or weekday evening, there was no way to vote absentee."
Despite prospects of higher voter turnout in the district, Michael Skiles, president of the NWWNC, said the city clerk had issues registering candidates on the ballot.
The city clerk's office did not certify six NWWNC board candidates this election cycle, and they were subsequently not notified of their rejection by the city clerk, Skiles said.
In a letter addressed to the Office of the City Clerk, the NWWNC Elections Committee expressed concern for the potentially grave consequences the exclusions could have on civic engagement.
"Six people who wanted to serve the community in this capacity were effectively disenfranchised," Skiles said. "These candidates should have been notified by the city clerk – because they didn't find the documentation sufficient – … to give them a chance to remedy it rather than just disqualify them."
However, Skiles said the six individuals who intended to run can be appointed during the first NWWNC meeting in the upcoming term after the election, as their seats are currently uncontested.
"Anybody who qualifies for the seats will be allowed to apply … and the council can choose to appoint them or somebody else at the council's first meeting," he said.
Andrew Lewis, the incumbent candidate of the General Resident Stakeholder seat, said he encourages students who are concerned about issues such as housing affordability and transportation to vote.
"Almost all large issues that affect students … we opine on, issue recommendations and send community impact statements," Lewis said. "Hopefully our council can have a hand in helping out the community where it needs help, where UCLA can't or won't step up, or the city of LA can't or won't step up."