Music students combine compositions, visual components in virtual spring showcase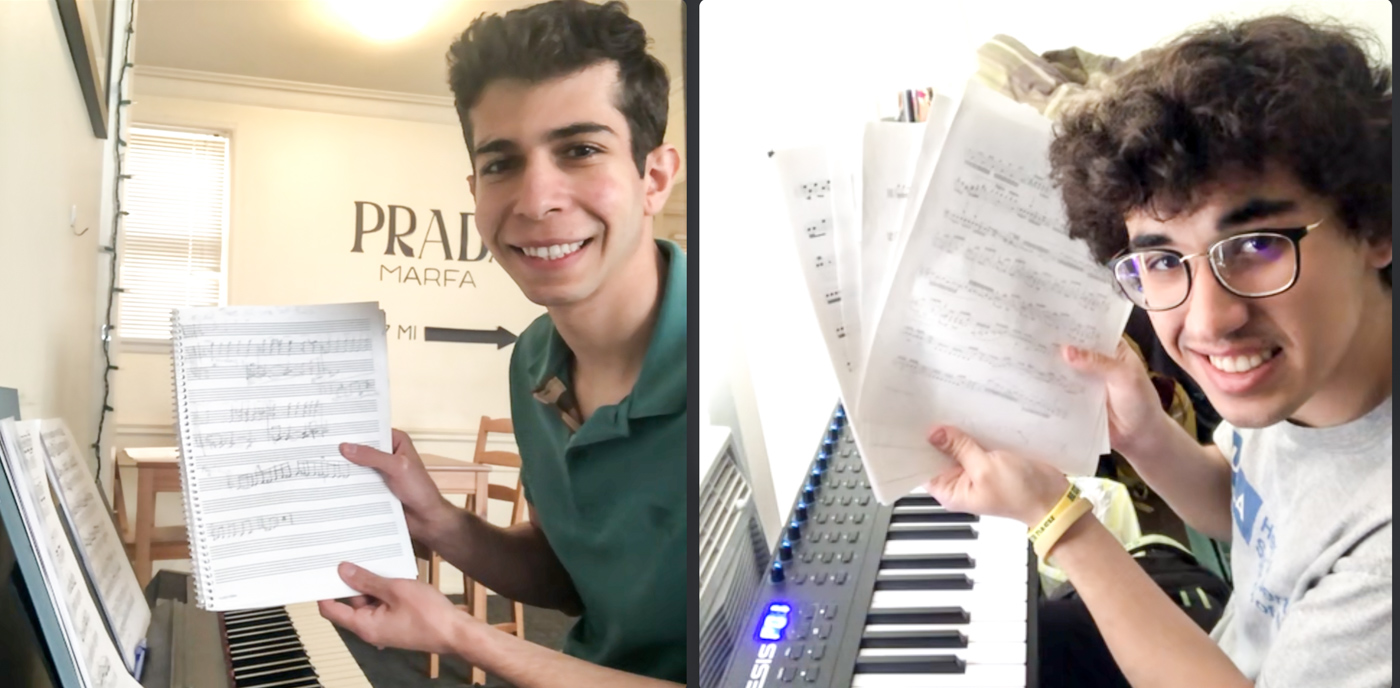 Third-year music composition student Alex Barsom (left) and third-year music composition and music performance student Robby Good (right) debuted their pieces at UCLA's Spring Undergraduate Composers Concert. (David Rimer/Daily Bruin staff)
April 27, 2021 11:47 p.m.
Rev up those speakers – original compositions by UCLA music students just dropped.
The UCLA Herb Alpert School of Music hosted a livestream of the Spring Undergraduate Composers Concert on Tuesday. This event took place virtually as opposed to in person because of COVID-19 restrictions. Third-year music composition student Alex Barsom said the shift to remote learning has changed the way music students produce work and receive feedback.
"It's so important that we're able to perform together, and, unfortunately, we can't do that," Barsom said. "But the upside is that in manufacturing that experience of performing music together, I have to learn how to produce a piece."
The quarterly showcase featured five pieces by four undergraduate students and was open to submissions from all UCLA students studying music composition. Barsom said he began writing his composition "A Jelly-Fish" during winter quarter. In terms of visuals, Barsom said he overlaid the lyrics of the song, taken from the poem "A Jelly-Fish" by Marianne Moore, onto footage of the eponymous sea creatures.
The piece featured second-year music performance student Tivoli Treloar, who said remote learning has taught performers how to record themselves on a microphone, which could be technologically challenging but is a good skill to have. Barsom said his specific work is an art song, a piece set to text for the purpose of performance in a concert. Moore's text jumped out to him because it is unstructured, brief and ambiguous, he said.
"As far as pieces I write, … (I use) really any range of instruments, any range of ensembles – solo instruments, chamber music, even orchestral music," Barsom said. "I know some peers of mine also incorporate electronic music into their pieces."
[Related link: A cappella group Resonance wins ICCA semifinal with music video submission]
Third-year music composition and music performance student Robby Good, who writes for a number of instruments, showcased his piece "Bacchus (Rescore)" at Tuesday's event. The piece is a rescore for an animation, "Bacchus," which was originally written for the Marvin Hamlisch International Music Awards, he said. The animation is a story about a woman living a monotonous life until she enters an alternate world that embodies her desires, he said. Good said he wrote music to express the two distinct worlds that parallel each other in the film, asking himself during the process how the audience can experience the changes in tone throughout the piece.
The "Bacchus" animation will play on screen during the composition, an example of the visuals some composers had accompanying the audio in lieu of watching musicians perform live. Similar to how Barsom used Moore's poem as a framework for his piece, Good said he formed his composition around the narrative of the animation. He said composing a score to accompany a visual story gives a musician more distinct guidelines than composing a piece to be appreciated on its own.
"In terms of dealing with animations or films, you have a medium that you're supporting," Good said. "In a live concert setting, you're writing for the performer, … whereas if you're scoring for an animation or film, your music is meant to support and lift up."
At a live concert, Barsom said a virtuosic performance can be impressive – but there is a higher expectation for a polished sound on a recording because listeners can hear everything more carefully. In contrast with a recorded performance, Treloar said someone singing live may not have a microphone, meaning singers must project their voices loudly so those in the last row will be able to hear.
"When you're sitting in that environment, it is very different than when you're singing and there's a microphone 6 feet away," Treloar said. "I think (Barsom) did a great job of mastering the audio, the voice and the piano together, so it was really wonderful to see the final product come out."
[Related link: School of Music panel to discuss storytelling in a film's musical composition]
While Barsom combined the piano and vocals into one piece, Good said he found instrumental samples to make his score come to life. Good did not write his piece specifically for a musician, though he said the saxophone track was performed by his friend Kosta Kutay. The other instruments in his piece are from a database, programmed to play Good's score.
Exemplified in Tuesday's event, Barsom said it is essential for composers to collaborate with peers who are performance majors. Treloar said it has been wonderful meeting her peers who are composers because they are the people who will write the music of the future. As far as the event, she said she is grateful for the opportunity to be part of a performance of contemporary music.
"(This performance) gives these students an opportunity to show their work," Treloar said. "Being such prolific artists during this time, it's wonderful that they have the opportunity to share what they've been creating."