Divest/Invest UCLA Faculty Collective talks abolition in Q&A with editorial board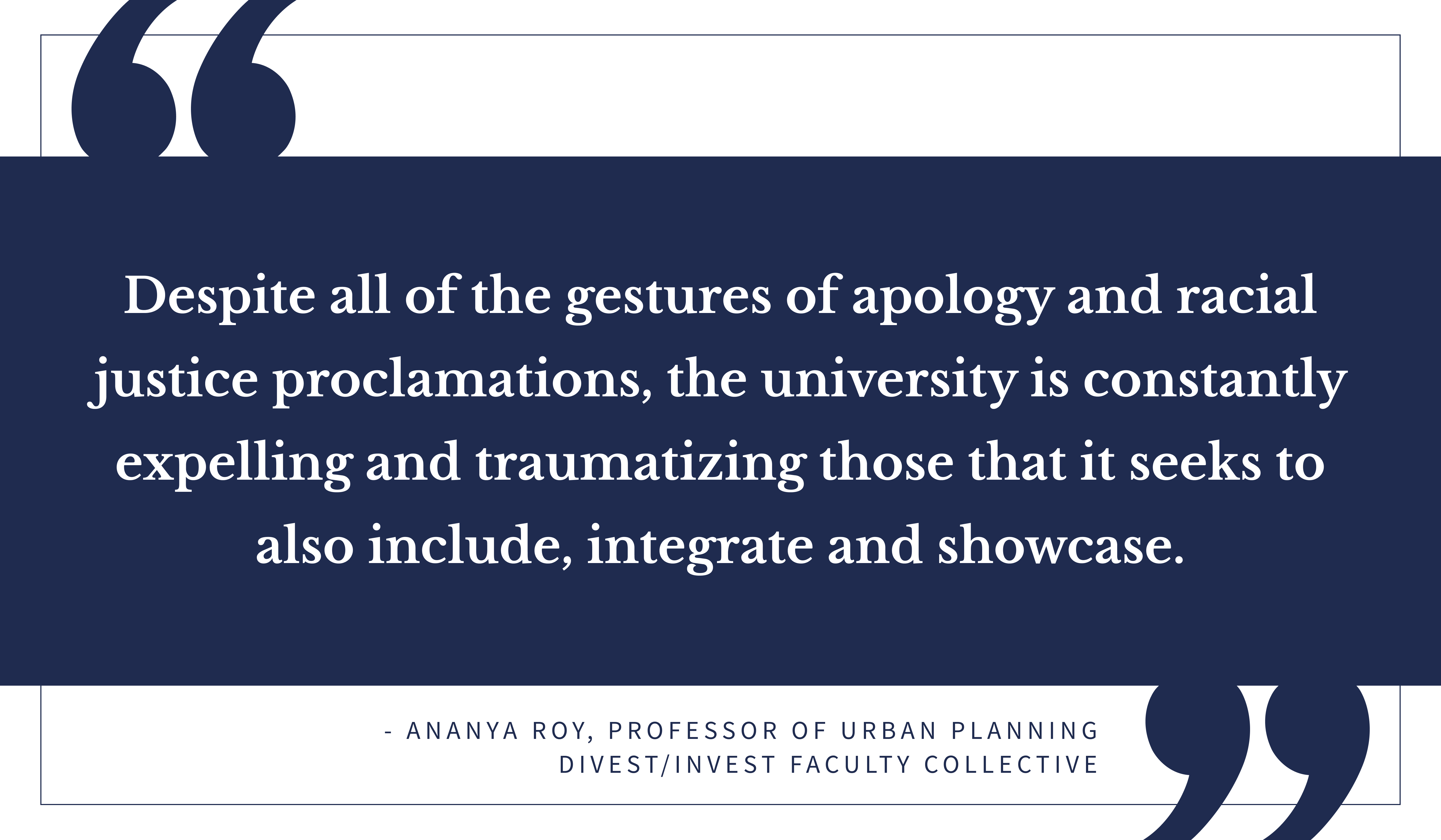 While former Minneapolis police officer Derek Chauvin faced trial over the death of George Floyd last May, police shot and killed Daunte Wright, a 20-year-old Black man, just miles away from where Floyd lost his life. On April 20, police shot and killed Ma'Khia Bryant, a 16-year-old Black teen, in Columbus, Ohio, as the verdict was delivered on the Chauvin murder trial.
Conversations about police brutality, killings, trials and reform should not come and go at the convenience of the national zeitgeist when another Black individual loses their life at the hands of police.
For that reason, the editorial board spoke with representatives of the Divest/Invest UCLA Faculty Collective to discuss their initiatives regarding divestment from police forces on campuses, broader goals of complete abolition and how students can remain involved in continual advocacy efforts against police brutality.
——————–
The following is a Q&A between representatives from the Divest/Invest UCLA Faculty Collective and Daily Bruin Editorial Board. The coalition is represented by professors Ananya Roy, Shana Redmond and assistant professor SA Smythe. The 2020-2021 Daily Bruin Editorial Board is represented by Managing Editor Lucy Carroll, Opinion Editor EJ Panaligan and assistant News Editor Genesis Qu. This Q&A has been edited for length and clarity.
Editorial Board: What are divestment and abolition, and what would a future without police look like – both at the University of California and UCLA, and more broadly?
Shana Redmond: Divestment is one means by which we get closer to abolition, so they are not synonymous. Divestment is a procedure by which we pull resources from policing structures as a means of shrinking it. And that is towards the project of abolition, which is a world without policing structures, without the prison, without the infrastructure that actually makes for vulnerability and precarity, on a universal, although uneven, scale.
For the purposes of divestment, it means that we have to get cops off campus. It means that the university actually has to commit to a future without disproportionate vulnerability for their students, staff, faculty and surrounding communities, that they actually have to take seriously their charge as a public good.
SA Smythe: I think it's useful to know that abolition is not the ending point – we don't stop at abolition because it's a set of practices and strategies for building the world that we want. And that doesn't end at any point, it's actually a place to begin.
And if we actually begin to start with abolition, we can actually find ourselves in a really good position to build a world where we can all be free – and free as not some floating signifier, but free from the kinds of constitutive racialized harms of violences (and) free to imagine a world otherwise, a world where we're not constantly beleaguered and fatigued and just one-sided or asymmetrical warfare against Black and brown peoples.
Ananya Roy: I think what the work of abolition exposes is the ways in which the university is the liberal purveyor of police violence, and many other forms of racialized violence. Despite all of the gestures of apology and racial justice proclamations, the university is constantly expelling and traumatizing those that it seeks to also include, integrate and showcase. The work of abolition exposes those logics and makes a very different case for what presence might mean – for what it might mean for all of us to actually be here, and what the role of the university is in the world.
EB: What evidence does the faculty collective stand upon that shows skeptics a future without police is possible?
Smythe: The fact of the matter is that police and policing are structures of harm, reinforcing white supremacy. And if we want to find our way otherwise, we can give abolition a chance, which has never actually received one.
I was really disgusted on Tuesday to hear (Rep. Nancy Pelosi) talk about George Floyd as a martyr. He's not a martyr, he's a victim. He's a Black man murdered. Ma'Khia Bryant, as Shana named – these are not martyrs to the cause to shackle and shake up the consciousness of the white moderates in their imagination. These are lives lost in the struggle.
Roy: In much of the rest of the world, schools and universities and colleges don't have police forces, let alone armed police forces. So as with the deliberate perversity of mass incarceration, the U.S. remains exceptional here. And I think it's always good to remind ourselves of that and the ways in which the institution of policing, while often justified under the sign of safety does not, in fact, bring safety.
There have been so many beautiful experiments of life without policing in our communities – the Unión de Vecinos movement is based in organizing by women, many of them undocumented women who lived in public housing projects in Pico Aliso. Those women organized not only to preserve public housing, but organized against police. They basically kicked police out of their neighborhoods and said, "Don't use the justification of gang violence to be in our neighborhoods." So communities know, in fact, what it means to keep each other safe, and why the presence of police makes them deeply unsafe. This is a moment for all of us to learn much more about those practices, histories and possibilities, and make them real.
EB: What are some tangible things students can do to continue advocating against police brutality?
Redmond: I think telling our stories is really important. I'm a system-impacted person, my father was incarcerated for almost a decade. (These stories) can be held up as evidence for why policing is not working, why policing has become an epidemic in people's lives such that it is something that is on the minds of certain communities every minute of every single day.
But of course, there are more organized ways in which students might be able to collectivize and move towards some of these abolitionist practices and ideas as well. That is joining one of the many organizations on campus, being present in many of the student organizations that are organized around race and social justice. All of these things are part of the abolitionist strategy and world-making potential. So I think that there are many, many different ways to plug in if you think about abolition in its fullest sense.
Smythe: Abolition May is a month-long series of actions on campuses across Turtle Island. (Abolition May) begins with a day of refusal. On May 3, we're calling everyone everywhere within the sound of my voice, to refuse the status quo and the day to day of police brutality (and the) violence of policing. So this means no emails, no classes, no work, no asynchronous lectures, no cops on campus. But this is (only) the beginning. One day of refusal to actually cause a pause and say, we're going to reckon with and ramp up to prepare for actions, resisting the concerted power that police and policing have on our campuses and in our impacted communities.
And so we start there, in unison, in tandem collectively across Turtle Island to make this sort of demand. And then from that day, until May 25, in honor of the police murder of George Floyd, when we will be continuing to dissolve and dismantle the border between the university and the community because we imagine that we will be out in the streets with all of the people who wish to protest the police killing of George Floyd and also all other forms of police brutality and violence of this white supremacist settler state. And so we will join them in the streets in solidarity.
But between that, there'll be direct actions, again, across Turtle Island. UCLA's will be May 21. And so if people are interested, we have social media handles at @copsoffearth, @UC_FTP or @divestUCLA.
EB: In a more immediate sense, what would you say to community members who are concerned that the LAPD will become more involved with calls from campus with more violent tactics if the community is successful in abolishing UCPD?
Redmond: We are in control of what our responses to harm look like. And if we create an environment such that mutual aid and mutual kindness and care are practiced first, then we will need not be concerned with the presence of the city on our campus. I think too, though, we have to consider and understand that the fight for cops off campus is part of this grand abolitionist project, which means it's a tandem fight not only to get them off of our kind of relatively insulated space of learning and employment, but it is to actually take on the structure anywhere that we touch down.
Roy: I think most of us would be hard pressed to think of incidents where LAPD needed to come to campus for a safety issue. What people love to invoke is mass shootings. If you are going to talk about mass shootings, we need to talk about police forces as mass shooters. What the Jackie Robinson Stadium incident showed us is just the reverse, that UCLA has permitted its spaces to become extensions of LAPD and of the LA Sheriff's Department. And we don't know how much of that has been going on, how many of these staging areas, how much of this is underway.
But this really takes me to the question of the proposed expansions of policing in the UC system. Because in some ways, the conversation around UCPD and LAPD are almost rendered irrelevant by the proposed expansions that are on the table now and that have been on the table since February, except none of us knew about it. Because what the UC-wide system is proposing is the UC's version of a national guard with full access to military-grade weaponry for "riot control," concealed carry without permits for retired police officers on all our campuses, including UCLA.
The administrative apparatus that enables and expands policing is not that concerned about these divisions between UCPD and LAPD. This is one continuum. This is one system. And those distinctions are somewhat meaningless. We saw with Jackie Robinson Stadium, the distinctions are truly meaningless. And it means that everywhere has been turned into spaces of detention. Everywhere has been turned into spaces of potential death. And that is what we are challenging.
EB: What have conversations with UCLA administrators and the UC Regents looked like, if they've been happening at all?
Smythe: The collective (doesn't) talk to police. That is our stance and that is a line that we hold. Every time a Black person is murdered in these United States, we are now being socialized into a customary pat response from the EVC or the chancellor or even somebody's president. Those are a pablum, a delightful word to say exactly what this is. It is words, it is an empty vest.
Roy: Every single communication from our collective (and the) No UCPD (Coalition) has been clear. Make a commitment to divestment. We understand that divestment might not happen tomorrow, but make a commitment. There has been no commitment, no good faith commitment on the part of this regime to divestment from policing. And so the Divest/Invest UCLA Faculty Collective will not meet with or be in conversation with UCLA administration until there is such a commitment. Because if we were to do so, we then become a part of that absolute hypocrisy and farce.
EB: What is the collective's stance toward the recently announced safety commission and the investigation into the Jackie Robinson Stadium incident?
Redmond: I anticipate that the system will always find itself not guilty. This is a commission that is led in significant portion by a former federal prosecutor. This is someone who is not impartial. This is someone who has built a career based on incarcerating people, on relying on police as trustworthy witnesses, and who now in their current position defending large corporations from efforts at dissent and accountability. So this, from its very first steps cannot be trusted, as an effort toward clarity, toward true, impartial – as if that ever existed – accountability around these issues. And so I don't have any expectations of that committee.
We have to be clear about the fact that this is set up to be a limit, not a horizon. This is set up to be a limit by which they will establish four, six, or even a dozen reforms that might be met. And every time that box is checked from their report, the institution will pat itself on the back and tell you that everything is fine. You have to reject that narrative and you have to reject a process that would seek to forward that kind of narrative.
Roy: This is a moment when the seduction of those reforms is all around us. And I think universities and those of us who are part of universities are in fact, both seduced and distracted. And we can't be. Because all of us are doing this labor – it's often joyous labor – but it's labor of (working toward) transforming the university.
These public safety symposia (and) task forces are a tremendous distraction, because they often require a response from us. And we should not be having to spend our time and energy in this way.