2021 Oscars celebrate diversity in Hollywood with night of historic wins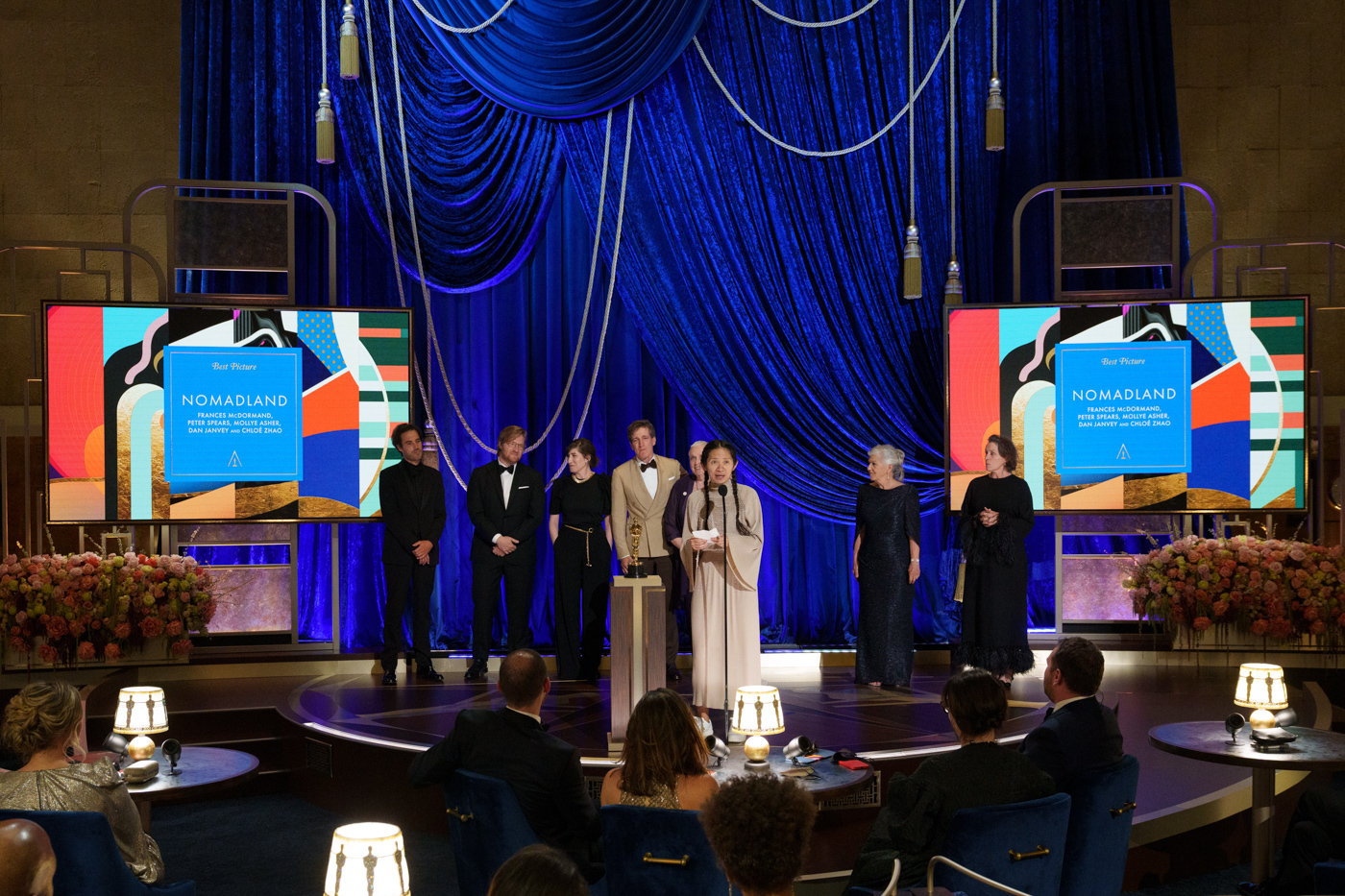 Director of "Nomandland" Chloé Zhao (center) receives the award for Best Picture at the 93rd Academy Awards, held in multiple locations including LA's Union Station. (Courtesy of Todd Wawrychuk/Academy of Motion Picture Arts and Sciences)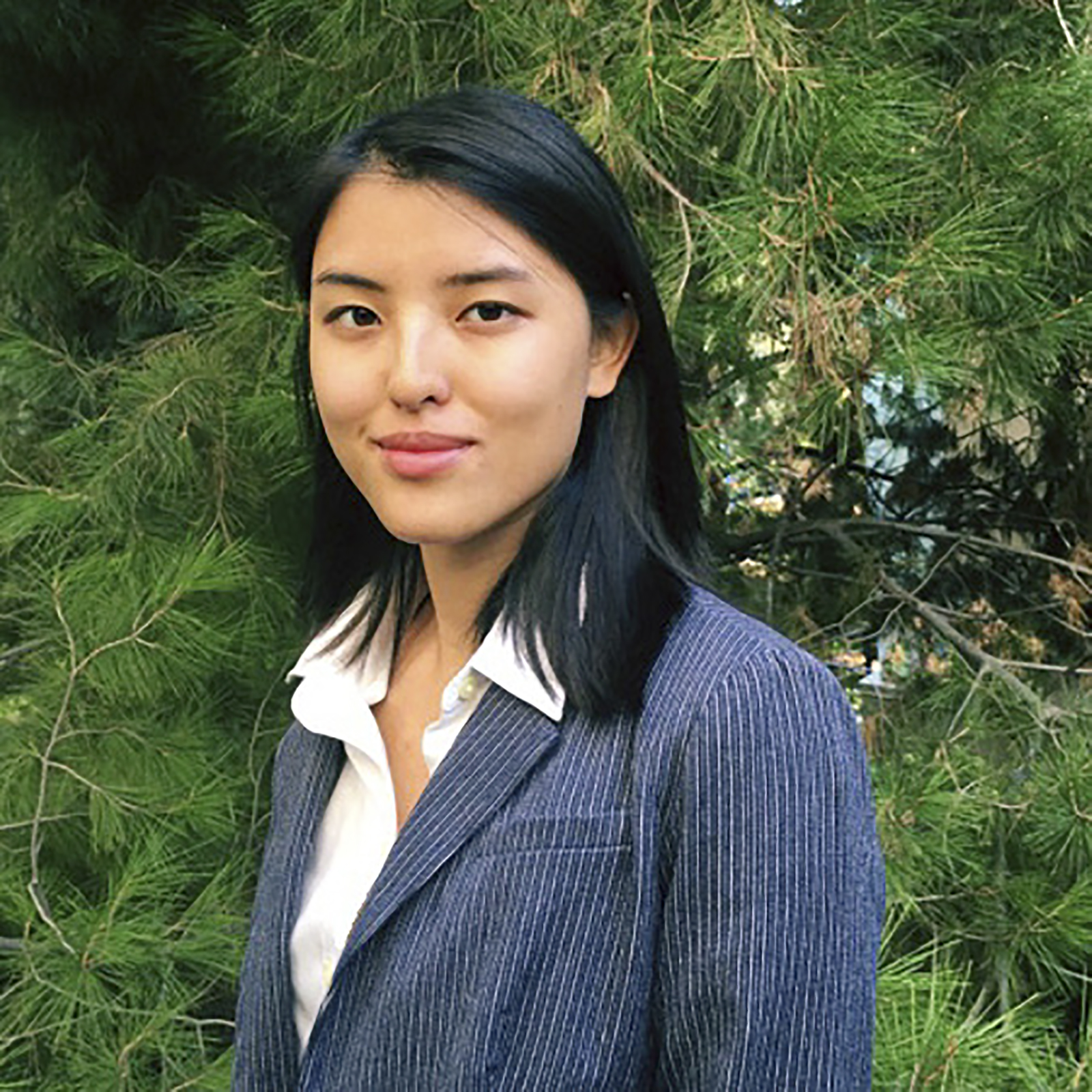 April 26, 2021 12:56 a.m.
After being hard-hit by the pandemic, Hollywood's biggest night delivered a delightful number of firsts.
The 93rd Academy Awards traded its flashy, decadent golds of past ceremonies for the stripped-down ambiance of the historic Los Angeles Union Station and Dolby Theatre. The show was also supplemented with a live feed of overseas presenters and nominees, proceeding one again without a host. And amid the atypical and difficult backdrop of the COVID-19 pandemic, the running theme for tonight's Oscars was one of enduring optimism for the industry's future.
The biggest winner of the night went to "Nomadland" for Best Picture, making it the second film in Oscars history to win the title with a female director. The feature also took home Best Director, making Chloé Zhao the first woman of color to win in the category. Commenting on her historic win, Zhao said she's extremely fortunate to be able to pursue her love for filmmaking and hopes her win can inspire others like her to also live their dreams.
[Related: Oscars 2021]
"For Asian filmmakers – I think for all filmmakers – we have to stay true to who we are, and we have to tell the stories that we feel connected to," Zhao said. "We shouldn't feel like there's a certain type of story we have to tell, but it's a way for us to connect with other people."
And like any good plot twist, the Oscars dropped unexpected bombshells in the last two categories of the night for Best Actress in a Leading Role and Best Actor in a Leading Role. "Nomadland's" Frances McDormand won the former in an upset win over "Promising Young Woman's" Carey Mulligan, while "The Father's" Anthony Hopkins took home Best Actor over Chadwick Boseman in his role in "Ma Rainey's Black Bottom."
But as for a more predictable and highly anticipated win, "Judas and the Black Messiah's"'s Daniel Kaluuya took home his first Oscar for Best Actor in a Supporting Role, delivering an energetic albeit cheeky acceptance speech – punctuated with a comment about his parents' sex life. But on a more serious note, Kaluuya said he hopes this win will bring more people to engage with Fred Hampton's life and legacy.
Another historic first of the night comes from "Ma Rainey's Black Bottom's" Mia Neal and Jamika Wilson, who became the first Black women to win the Best Makeup and Hairstyling category.
"I think that everybody benefits from diversity … and also, I think everybody wants it to be honest," Neal said. "Time has kind of sped up in a way in terms of technology and just people being more connected, also people not being afraid to speak up. … So I think that things are happening, and I think it's being well-received. … The beauty of it is that I don't sense any resistance."
And along similar thematic lines, Tyler Perry, who won the Jean Hersholt Humanitarian Award, brought the crowd to its feet in his impassioned talk that dug deep at the global issues of diversity and social unrest. Perry said he hopes his speech can motivate those who feel polarized and isolated to meet others in the middle so change can happen and empathy can be exchanged.
[Related: 2020 Oscars overcomes 'one-inch' barrier in celebration of diversity on screen]
In respect to UCLA alumni's presence at the Oscars, a number of accolades were received throughout the evening. The drama "Sound of Metal" – produced by alumnus Sacha Ben Harroche – won Best Sound and Best Film Editing. In addition, executive producer and former student Laura Dern's film "If Anything Happens I Love You" won Best Animated Short Film.
And as for the most nominated film of the night, Netflix's drama "Mank" – produced by alumnus Eric Roth – won Best Production Design and Best Cinematography out of its 10 nominated categories.
Accolades aside, the most endearing speech of the evening was undoubtedly Yuh-Jung Youn's, who became the first Korean performer to win in an acting category for her supporting role as Soonja in "Minari." Blunt and to the point, Youn's acceptance speech began as she forgivingly quipped about Brad Pitt's mispronunciation of her name and also humbly accepted her win as a matter of luck.
"Sometimes it's happy, very happy when you get it," Youn said. "I don't believe in competition, especially in our field, because we are comparing different movie, different role. So I'm just … luckier than the other nominees. And maybe, who knows, it's American hospitality for the Korean actor."
And though Hollywood royalty Glenn Close didn't win in her category for Best Actress in a Supporting Role, she still managed to steal the show with a twerking showcase to the song "Da Butt" from Spike Lee's film "School Daze."
GLENN CLOSE TWERKING AT THE #OSCARS SEND TWEET https://t.co/JtPgJ8Jjtg pic.twitter.com/axdHXfoTuj

— E! News (@enews) April 26, 2021
In the end, this year's Oscars felt quite different compared to its predecessors. From the stage design to the winners, the 93rd Academy Awards had revamped its production both to accommodate for the constraints of the COVID-19 pandemic and to make a good faith effort to embrace inclusivity.
The time for such historic wins to become the norm may be far off, but Hollywood is slowly but surely inching its way toward progress.
Kong served as the Theater | Film | Television editor for the Daily Bruin from 2020-2021. She was previously an A&E reporter from 2019-2020.
Kong served as the Theater | Film | Television editor for the Daily Bruin from 2020-2021. She was previously an A&E reporter from 2019-2020.