UC community discusses potential UCPD reforms at Future of Campus Policing event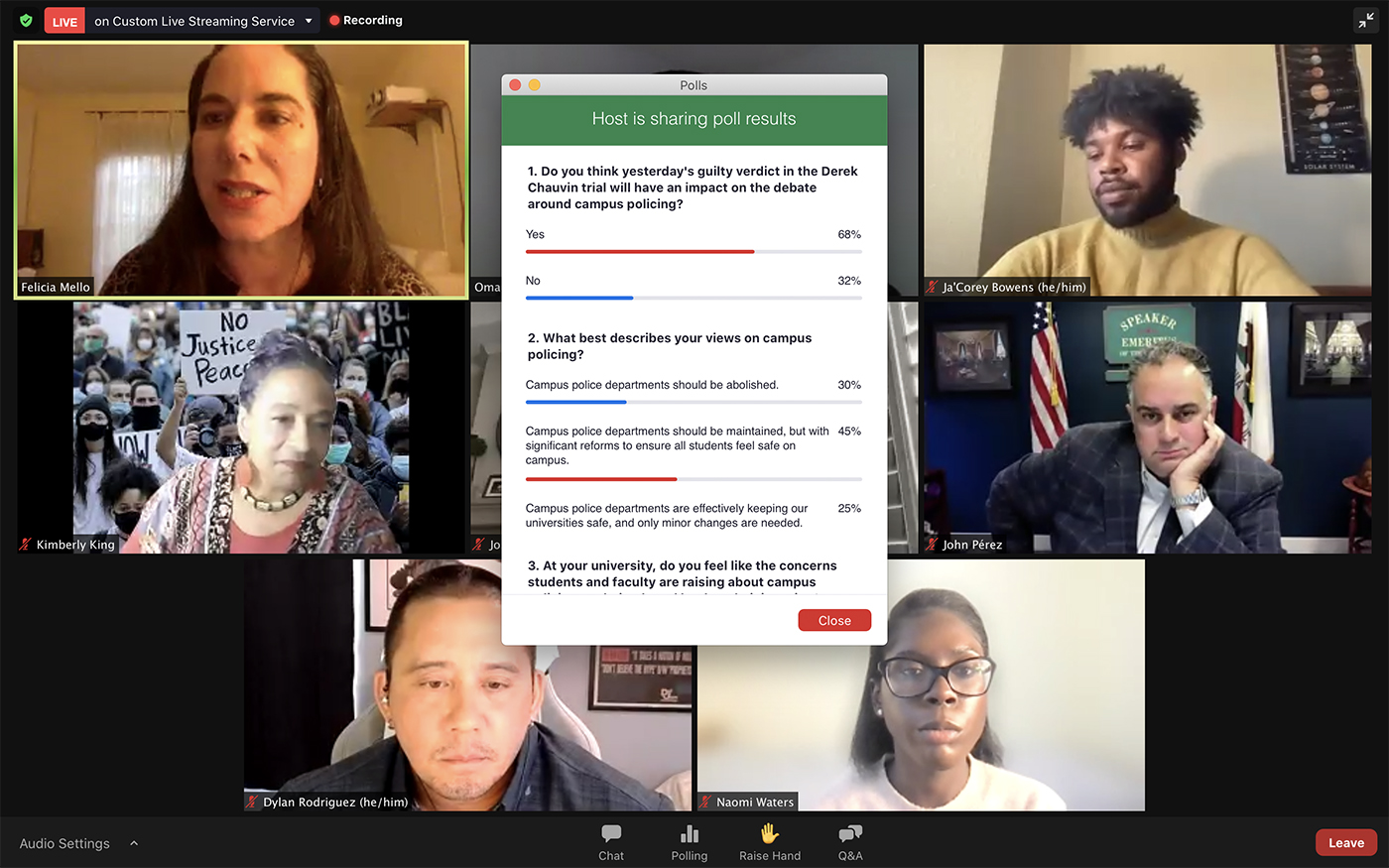 CalMatters and KQED hosted an event Wednesday night to discuss policing on California campuses. During the event, University of California officials rejected demands to abolish campus policing but instead said they should reduce their budget and reshape officer's roles. (Screenshot by Esther Ma/Daily Bruin)
University of California officials rejected demands to abolish the university police but said the university should decrease the police budget and reshape officer roles for more accountability at an event Wednesday.
John Pérez, the UC Board of Regents chair, and Joseph Farrow, the UC Davis chief of police, discussed the future of campus policing with students and professors over Zoom at a Wednesday event hosted by CalMatters and KQED, two California journalistic organizations.
Participants all agreed during the discussion that the conduct of police officers on campuses has been prejudiced and confrontational but were split over whether abolition of campus policing is a necessary step.
Leading students in organizations including the UC Student Association and the Associated Students at San Francisco State University said they call for abolition because any amount of police presence is harmful.
"(UC should) change what the expectations of law enforcement officers are – stop rewarding people for stops, arrests, infractions (and) start rewarding people for positive interactions and for disengagement," Pérez said.
Ja'Corey Bowens, the ethnic studies representative for the Associated Students at San Francisco State University, said at the event that abolition will solve current campus policing issues and help students feel safe.
"You cannot reform a system that's inherently anti-Black and based on white supremacy," Bowens said.
He added that reallocating funds to help students experiencing homelessness and unemployment will create a safer environment without the presence of police officers.
A UC Berkeley poll in 2019 showed that two-thirds of Black and transgender students did not feel protected or supported by the campus police, said Felicia Mello, a host of the event and college journalism network editor at CalMatters.
Farrow, chief of police at UC Davis, said at the event that police departments can implement reforms to track officer actions and to build reliable security systems. He added that there is a certain level of protection police bring to universities which should not be taken away.
"I do not believe that our students or our community needs to be policed, however I do believe that they need the service for security that our police departments provide," Farrow said.
Farrow said the UC Davis Police Accountability Board, which makes recommendations to improve police conduct, has been useful in promoting transparency and community engagement for the UC Davis Police Department.
However, the student leaders at the meeting said true campus safety cannot be achieved while maintaining police presence.
Naomi Waters, Racial Justice Now Campaign vice chair for UCSA, said at the event that many students understand the need for abolition of UCPD better than institutions do.
Waters said UCSA is recommending the UC to disarm 40% of police officers on duty, send out undergraduate experience surveys, create a public dashboard for viewing police actions by race, freeze hiring for new police officers and commit more funding to support students in areas of housing, food security and mental health.
Restorative justice programs, where trained professionals facilitate meetings between victims and offenders for healing discussions, should also be started on UC campuses, Waters added.
UC leadership expressed openness to increasing investment in student well-being and reform UCPD, but does not plan to fully abolish campus policing.
Pérez said at the event that he would be open to discussion of cutting the UCPD budget by 30 to 40% and directing more money toward welfare services for students. However, he said full abolition of UCPD would result in more aggressive external police forces answering calls on campus.
Pérez said the university can still transform campus policing while maintaining minimal police presence to protect community members from violent crimes.
Abolition of armed security on a college campus was achieved recently when sheriffs were removed from Laney College in Oakland, where Kimberly King, one of the speakers, is a psychology professor. Without police, colleges can breed social and racial justice and provide support for basic needs of neglected communities, King said at the event.
Removing policing is feasible because there is not much crime on campuses to begin with, King said. If a dangerous situation were to arise at Laney College, people can easily call the Oakland police, she said.
The situation cannot be solved by adjustments to a repressive system that is a threat to Black people, people with disabilities, undocumented people and the formerly incarcerated, said Dylan Rodríguez, a media and cultural studies professor at UC Riverside, at the event.
Rodríguez said that as a public university, the UC should serve the community by redistributing resources to promote safety for all groups rather than using force to provide safety for some of the population.
Throughout the discussion, many attendees criticized Farrow and Pérez in the comments for their defense of the police system and requested to hear more progressive student commentary from Waters and Bowens.
Bowens had only been given the opportunity to speak once after 45 minutes of the event had passed, he said. He added that he and Waters, as Black students, had crucial perspectives to contribute to the conversation and should be asked to comment more.
Bowens said that while some would equate more police presence to greater safety, that is not the case for many student communities who have felt targeted by officers and would feel safer in their absence.
"It's very clear that safety is subjective," Bowens said.