Increased COVID-19 vaccine accessibility brings hope to address health disparities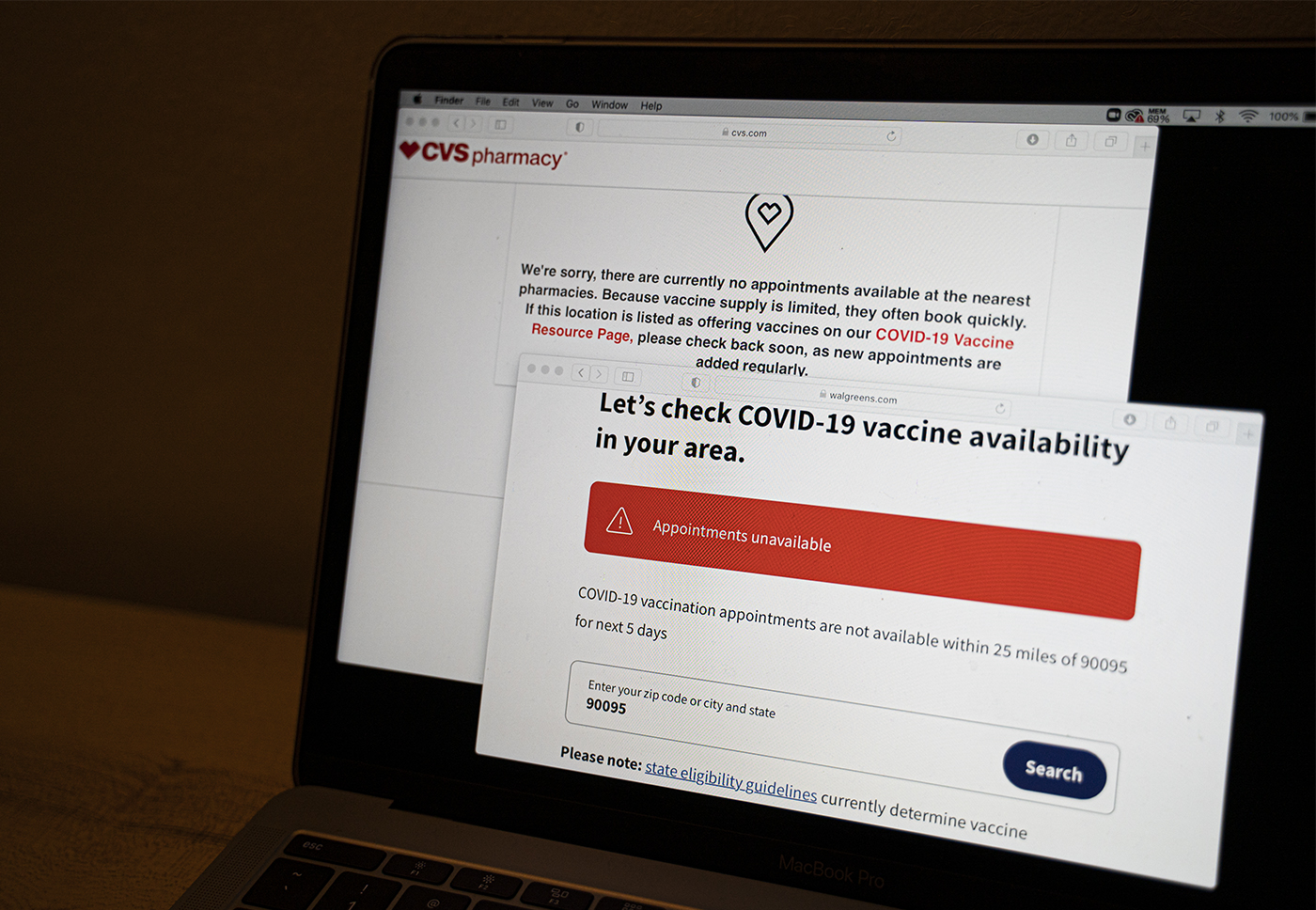 Several UCLA professors and students are feeling hopeful about returning to normal because of the increased vaccination eligibility in LA County, but think minority groups have been disproportionately affected by the COVID-19 pandemic. (Esther Ma/Daily Bruin)
UCLA professors and students are optimistic about the increased vaccination rates in Los Angeles County, but think minority groups have been disproportionately affected by the COVID-19 pandemic.
California expanded vaccine eligibility to all adults in April. The state's vaccine allocation initiative will expand vaccine access for the hardest-hit communities as California works to reduce disparities in how the COVID-19 pandemic has affected different groups of people, according to a statement from Gov. Gavin Newsom's office.
Black individuals in LA County have died of COVID-19 at almost double the rate of white individuals, while Latino individuals have died of COVID-19 at almost triple the rate of white individuals, according to the Los Angeles County Department of Public Health.
Yohualli Anaya, an assistant clinical professor of family medicine, said the Latino community was disproportionately affected by the COVID-19 pandemic. She said increased vaccine eligibility can improve the disparities that minority communities have faced, but added that the healthcare system must take extra steps to help the most vulnerable communities.
"The community was largely still out there working in the trenches and the first line," Anaya said. "There was increased exposure for our community, and as a result we saw both the morbidity and mortality disproportionately affect our Latino community."
According to the Centers for Disease Control and Prevention, health care discrimination, health care access, occupations with higher risk of exposure, education, income and wealth gaps and housing difficulties are among the several factors that affect health care disparities in the COVID-19 pandemic.
Anaya said not having access to health care and working in high-exposure environments are contributors to the challenges many people in the Latino community face when trying to get vaccinated. She added that not having the time or resources to navigate the online system of booking an appointment is a hurdle for many of her patients.
"I think that care needs to be taken to ensure it's not just the folks that are the most tech savvy that are able to make their appointments, so that we increase accessibility to the vulnerable populations and find creative ways to increase that accessibility," Anaya said.
Asim Dasgupta, a microbiology, immunology and molecular genetics professor, said offering COVID-19 vaccines to more people will slow the spread of COVID-19.
He also said the more people get the vaccine, the less drastic the spread of COVID-19 will be throughout the population. This will have a dual effect of also reducing the number of variant strains, as the virus will have fewer chances to mutate, he added.
"By vaccinating more and more people, the infectability of my breath onto another person is lower because the number of (virus particles) is low," Dasgupta said.
Herd immunity, a state at which at least 70% of the population has gained immunity to COVID-19, can be achieved through either protective vaccination or prior infection, according to Johns Hopkins Bloomberg School of Public Health.
Laysha Macedo, a second-year American literature and culture and psychology student, shared her feelings of disappointment and resignation over the disparity between the high COVID-19 infection rates and low vaccination rates for minority groups.
"People of color don't have the same opportunities," she said. "It's unfortunate and discouraging but, at the same time, it's kind of expected."
Some UCLA students said they are excited to get vaccinated and are hopeful for a return to campus in the fall.
Erin Hu, a second-year bioengineering student, said she has already signed up to receive the vaccine. She added that seeing her friends posting pictures of their vaccination cards on social media gives her hope that life will return to normal soon.
"I think opening up the doors and making it so there aren't as many loopholes to jump through to get access to the vaccine might make it easier for us to reach the number of people we need for immunity," Hu said.
Macedo also said she has hope that the increased vaccine eligibility will help individuals overcome the challenges they have faced in obtaining vaccines.
"I'm hopeful that the numbers will improve because there's an eagerness to get it done and make it happen so we're all protected," she said.