Q&A: Producer Peilin Chou discusses cultural authenticity, symbolism in 'Over the Moon'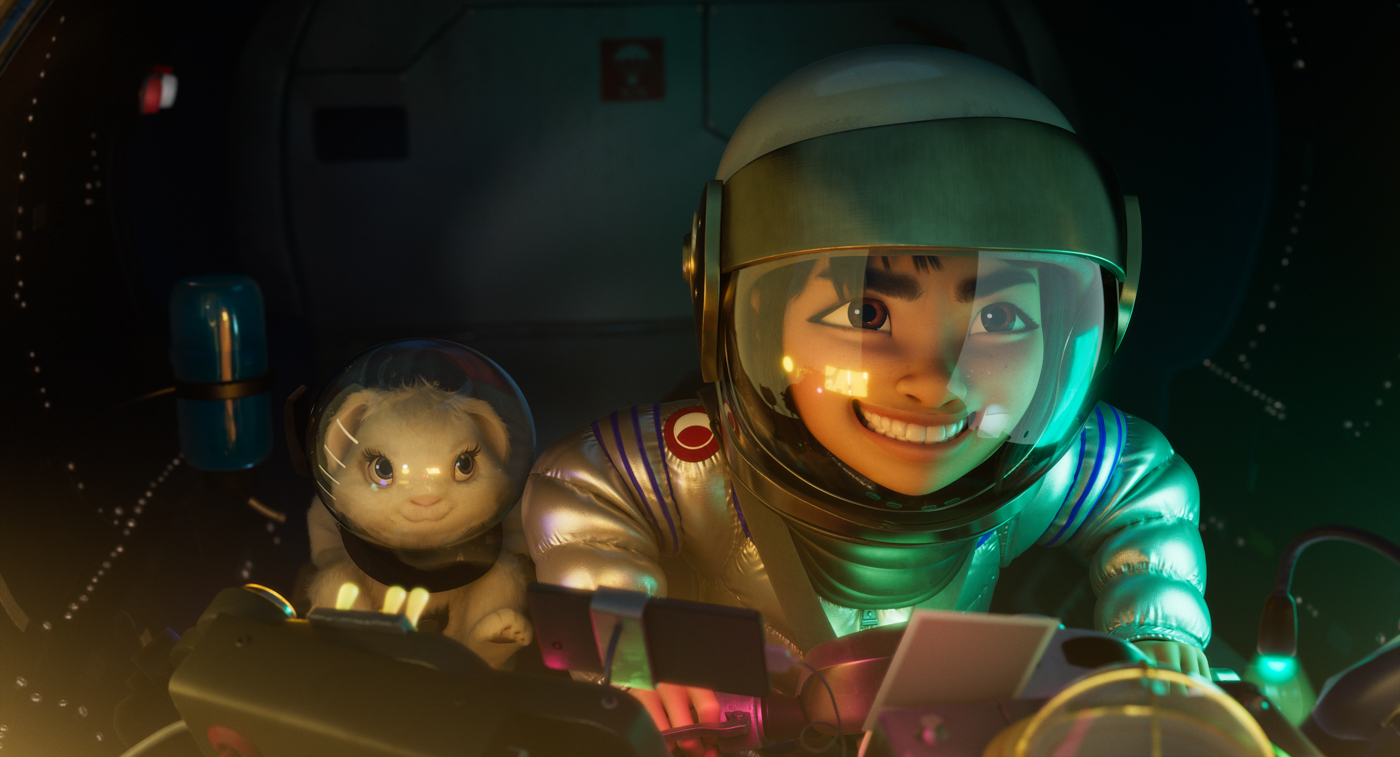 Fueled by an out-of-this-world storyline, the message of loss and healing in "Over the Moon" remains pertinent and grounded.
A modern retelling of the Chinese Chang'e myth, the film frames the story of the immortal moon goddess longing for her lover who was left on earth through the eyes of Fei Fei, a 14-year-old girl whose mother recently died. Determined to prove the existence of Chang'e and everlasting true love, producer and alumna Peilin Chou said Fei Fei builds a rocket to the moon where she meets talking mooncakes and a singing glowworm, ultimately learning that accepting loss can catalyze healing.
Weaving in the film's folklore with its production, Chou spoke with Daily Bruin's Zinnia Finn on the storyline development, parallel symbolism and timely sentiment of "Over the Moon."
[Related: Movie review: "Over the Moon" fails to shine but manages to share feel-good message]
Daily Bruin: The script was written by the late Audrey Wells. As a producer on this film, how has the story's original vision changed throughout the production process?
Peilin Chou: The script went through a lot of development in terms of (its) characters and journey, but in this particular case a lot of (the vision) was there from very early on. Audrey used to say that all of her stories are about healing and this film's obviously no exception. She was the one (who) came up with the idea of Fei Fei losing her mother and not being able to cope with that grief, and (eventually) using this journey to the moon as a way for her to learn and grow and, ultimately, heal. For her to encounter Chang'e on the moon and for those two characters to have this parallel journey of grief and healing, … all that was there from the very first draft of Audrey's script.
DB: Since the film's storyline draws directly from Chinese culture, how did the studio maintain authenticity alongside a perspective for a global audience?
PC: The authenticity of it was something we spent the most time and energy on. It's a co-production with Pearl Studio, which is based in Shanghai, and had a team of artists at Pearl that worked on the film and integrated so much of their personal experiences into the movie. All the food on the family dinner tables are their own favorite foods, and the lion dancing on the street is (to) one of the most popular lion-dancing songs in China. We really leaned into all the cultural aspects of the film, feeling like the more we did that, the more it was going to be globally appealing.
DB: At pivotal moments in the film, Fei Fei is visited by a white crane. Does the bird symbolize the spirit or a reincarnation of her mother?
[Related: Q&A: Alumni shed light on production of Oscar-nominated 'Soul']
PC: It's definitely her mom, and there's a beautiful story about that actually. Audrey (and) her family each had an animal that represented them, and she was always a white egret. Audrey passed away during the making of this film. She wrote "Over the Moon" as a love letter to her daughter to share the message that even though they could not always be together, the love that they shared would last forever, and that she would always be with her.
During (the making of the film) her daughter was on a ferry, and there was a moment where a white bird landed near her on the ferry and stayed with her for a moment and then flew away – almost exactly like in the movie. It was so moving to us and obviously cements that the crane is definitely her mother.
DB: "Over the Moon" came out during a period of great loss, both worldwide as a result of the COVID-19 pandemic and specifically within the Asian American community because of the rise of violence and discrimination. How do you see the film's message of loss and healing fitting into this current landscape?
PC: I am just so humbled that this film came out at a time where it feels like the world could not need it more. When we started this journey in 2015, I had no idea that when this film came out it would be in the current climate that we're in. With regard to the rising hate crimes against the Asian community, that has been something that has hit us all so deeply, and I think has really made us so grateful to have had the opportunity to tell this story. I really believe that what stories get told and how they're told have such a strong impact.
Fei Fei is this amazing girl who is smart and strong and fierce and determined but also has flaws and gets mad and doesn't make right decisions all the time. She's just a very full, real person and you can't help but root for her and love her. When you watch someone like her, how could you take her into your heart and then want to hurt someone like Fei Fei? I believe so deeply in the power of films and storytelling, and my hope is that this film helps create greater understanding and empathy and helps our world feel smaller and more connected.
Finn is the 2021-2022 lifestyle editor. She was previously an Arts columnist and reporter from 2020-2021 and was a member of PRIME's first intern class. She is a third-year neuroscience student from San Francisco, California.
Finn is the 2021-2022 lifestyle editor. She was previously an Arts columnist and reporter from 2020-2021 and was a member of PRIME's first intern class. She is a third-year neuroscience student from San Francisco, California.