Oscar-nominated film 'Mank' aims to authentically portray 1930s Hollywood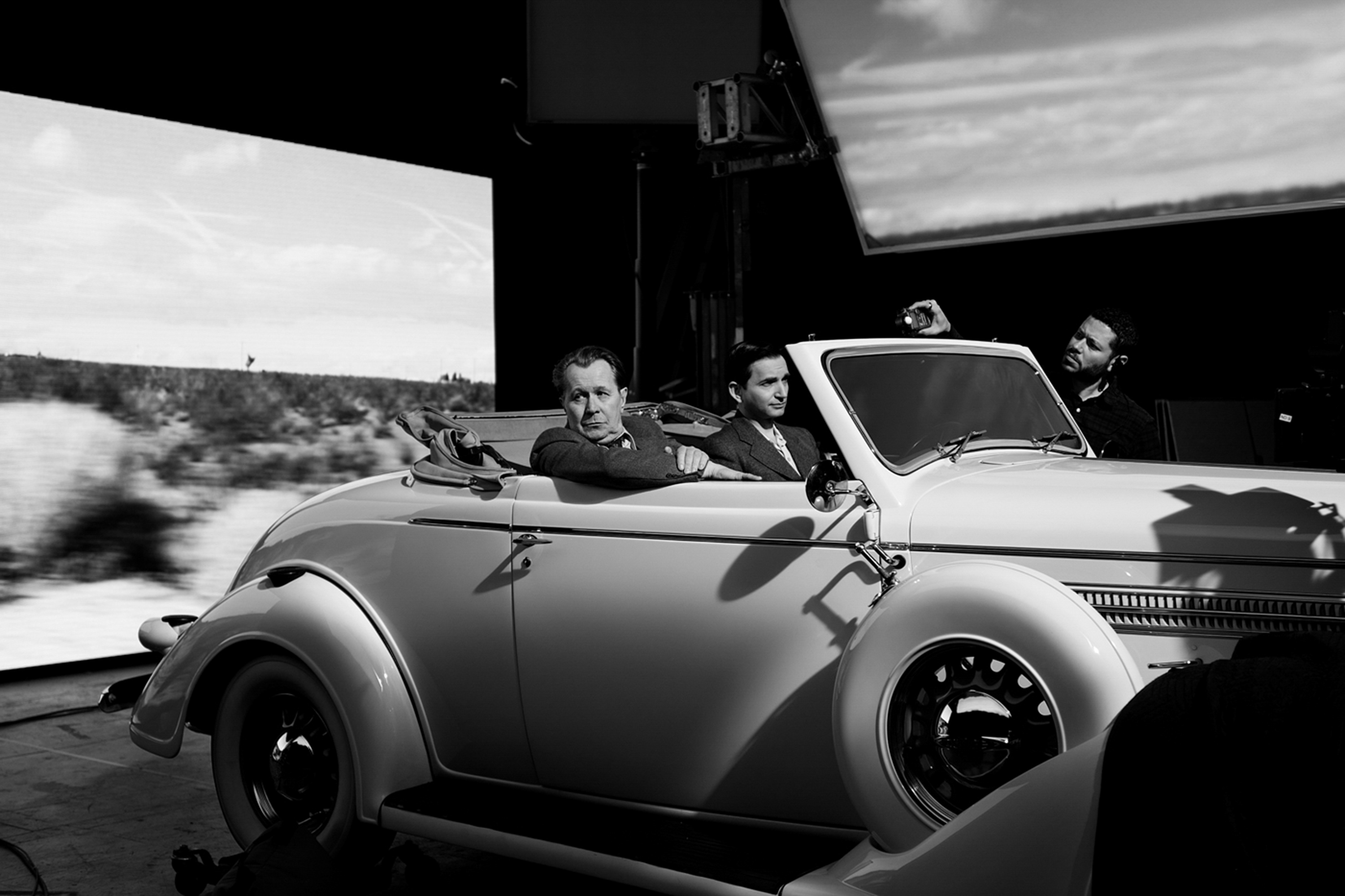 (Courtesy of Gisele Schmidt/NETFLIX)
The Golden Age of Hollywood is back just in time for awards season.
Up for 10 Academy Awards, "Mank" tells the story of screenwriter Herman "Mank" Mankiewicz as he deals with alcoholism while writing the screenplay for "Citizen Kane." Director David Fincher had been trying to make "Mank" since the 1990s, but production designer Donald Graham Burt said it wasn't until Netflix supported the project that it became a reality. With the film set against the backdrop of 1930s Hollywood and shot in a stylized black and white, Burt said portraying the old Hollywood era accurately was essential. Tasked with bringing a distant version of Los Angeles to the big screen, he said the film used a combination of computer-generated scenery and still-standing city locations.
"(Wilshire Boulevard) was all (computer-generated)," Burt said. "We showed the Glendale Train Station, which in the day was as it exists now. … Everything changes in LA so quickly. You have to be judicious in your framing and in selecting what you want to see and what you don't want to see."
[Related: Creators share a deeply intimate story of grief and healing in 'Pieces of a Woman']
Burt – who is nominated for an Academy Award for Best Production Design – said he did most of his research at the Margaret Herrick Library, finding old black-and-white photographs of Los Angeles film studios. He also watched the 1950 film "Sunset Boulevard," which shows The Studios at Paramount Pictures, the same place some scenes in "Mank" were filmed. Accuracy was essential to both Fincher and Burt, and Burt said the pair ensured every element – including all the door handles on set – were accurate to the time period.
"(We'd notice) every little detail that needed to be addressed, whether it was a fire hydrant, a security light or a metal door instead of a wooden door," Burt said. "There was a laundry list 2 miles long of little things that we needed to address. … The pedestrian who watches it doesn't understand that these have been touched, but they have to be."
Knowing the film would be shot in black and white, Burt said Fincher began photographing the set with the noir filter on his iPhone to envision how a scene would look until eventually his colleagues working on set followed suit. Burt said as he continued working on the film, seeing the world in black and white came naturally and helped him make creative decisions such as which colors to paint the sets.
While "Mank" was inspired by classic cinema, director of photography Erik Messerschmidt said modern techniques were also used to transport the audience to the 1930s without being too distracting. The film's soft pearlescent visuals were at first difficult to achieve in black and white, but he aimed to make the film look similar to platinum print photography.
"We were very cautious about (having) people in tones that wouldn't blend into the background too much or not be distinguishable from one another," Messerschmidt said. "We use color … to separate the actress from the background – that was obviously not a technique we could have used in black and white, so we used contrast and lighting."
[Related: 'Sound of Metal' reminds its audience about power of silence]
Though shooting in all black and white was a challenge, Messerschmidt, nominated for an Oscar for cinematography this year, said he never felt creatively constrained. And while some visual and stylistic elements of "Mank" pay homage to "Citizen Kane" – such as camera angles and shots with a tremendous depth of field – Messerschmidt said he and Fincher never attempted to replicate anything about "Citizen Kane" and only used it as a point of inspiration.
But before "Mank" went into production, Fincher approached UCLA alumnus and screenwriter Eric Roth about a script his father, Jack Fincher, wrote about Mankiewicz. Though Jack Fincher died in 2003, Roth said the final version of the script was true to the version written decades ago. And although he had no experience producing films, Roth said he was still able to offer his advice on choosing actors and crew members throughout the filmmaking process.
"I think (David Fincher) wanted my eyes and ears on it because I am a screenwriter and the movie's about a screenwriter, and I know Hollywood quite well," Roth said. "I've been involved with it for so long that he felt I could add some ingredients of truth to that and some understanding of the creative struggles of a writer."
The draft of "Mank" from the 1990s eventually made its way to Ferdinand Kingsley, who portrays the former production manager of Metro-Goldwyn-Mayer, Irving Thalberg. Kingsley said Roth and David Fincher worked with him to fine-tune Thalberg's character during rehearsals, including revising his lines to strengthen the overall storyline.
Kingsley and Fincher also talked about the dynamics between Mankiewicz and Thalberg's characters to deepen their understanding of Thalberg's overall role in the film. Fincher saw the two characters as opposite sides of the same coin, Kingsley said, so his character was used to bring out Mank's seemingly lost potential.
Ultimately, the film's politics and story are still relevant to today, Roth said. But while "Mank" finds its narrative in the man who wrote "Citizen Kane," Roth said it's not actually about the classic film at all.
"This was more about this really creative man trying to tell a story," Roth said. "At the heart of it, it's about this guy … trying to do something of value in his life."