The Quad: Anti-Asian hate crimes surge during pandemic, stem from history of discrimination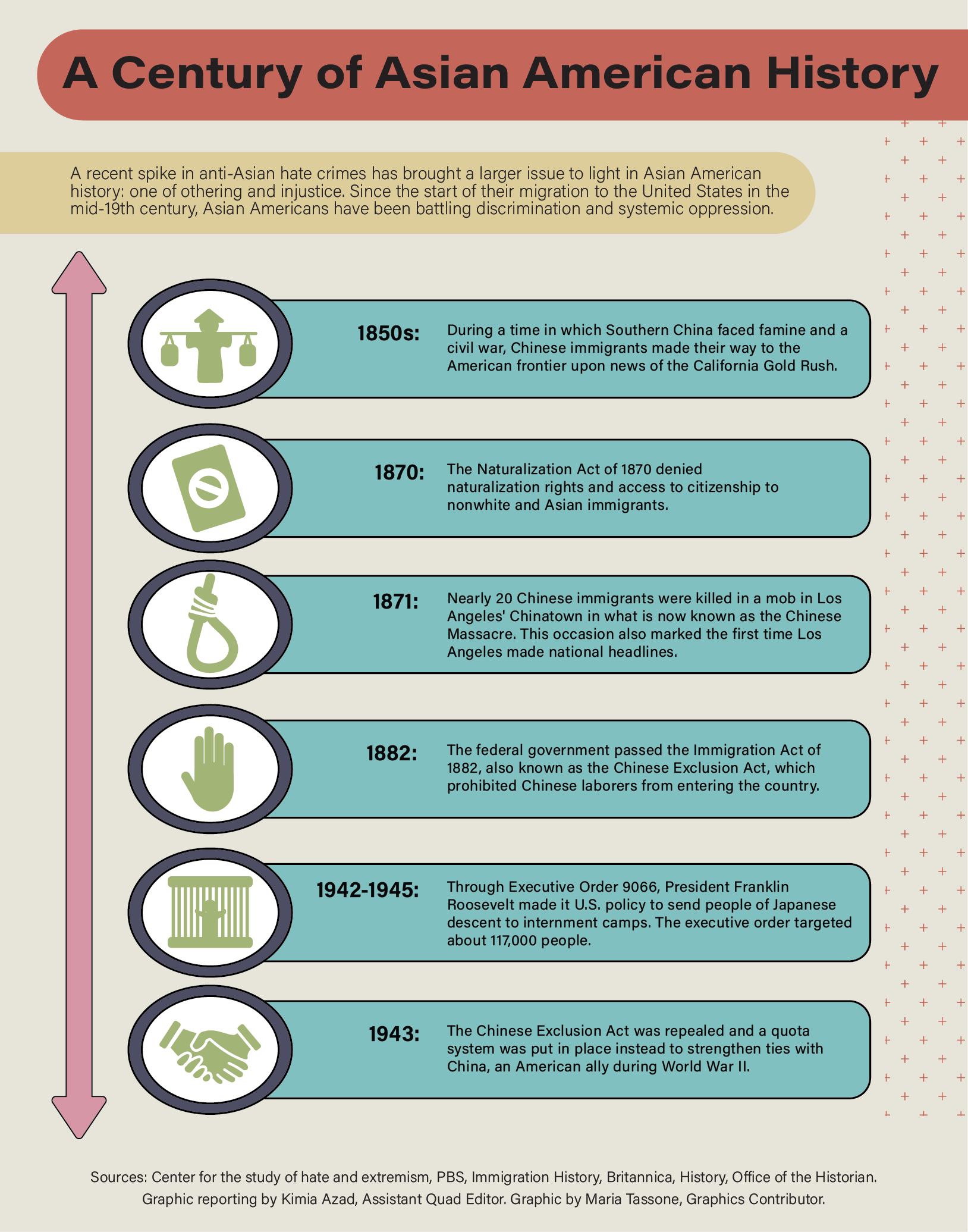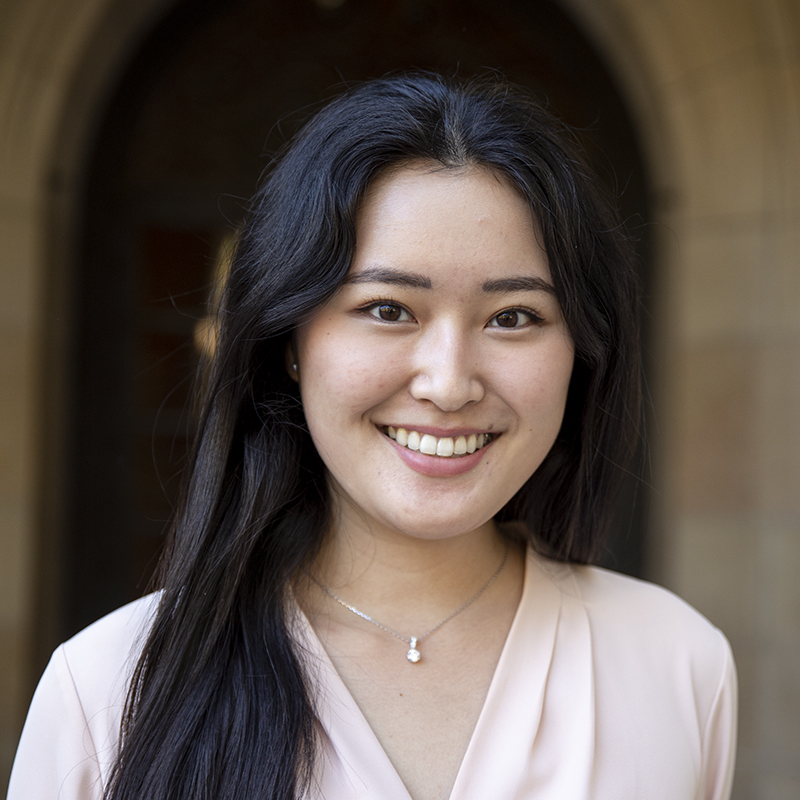 This post was updated April 11 at 8:05 p.m.
While this nation has been fighting off a yearlong battle with the COVID-19 pandemic, it also has been battling the pervasive hate targeting the Asian American community during the pandemic. This battle, though recent in its rise to mainstream media, exposes the deeply rooted history of Asian American discrimination.
Since the start of 2020, anti-Asian hate crimes surged 145%, according to the Center for the Study of Hate and Extremism. New York alone reported an 833% change in anti-Asian hate crimes compared to 2019, while Los Angeles reported a 114% change in Asian-hate hate crimes from the previous year.
Angela Li, a fourth-year Asian American studies and political science student and the director of the Asian Pacific Coalition, said that although a trend in Asian American and Pacific Islander hate has been reported since the start of COVID-19, the rise in anti-Asian hate is merely an intensification of the longstanding issues Asian Americans face.
Asian American studies and history professor David Yoo said that while racism and violence against the AAPI community can be linked to the pandemic, the root cause of these issues comes from a history of conflict since at least the 1850s and especially during the 20th century.
Yoo said historical events like the Philippine-American War can be linked to other empire-expanding motivations such as the Spanish-American War, which influence the way Americans view their relations with Asian countries. Other events which influenced racist ideology include World War II in Japan, the Korean War and the annexation of Hawaii, Guam and Samoa.
"There's this way in which empire building frames a lot of the connections to Asian countries and Pacific Islander spaces that shaped the way that Americans … think about Asian Americans and Pacific Islanders," Yoo said.
Yoo said that hate speech and Western empire building also connect to the role of white supremacy in America – in this way, the hate the Asian American community has faced can be connected to a larger theme in American history.
"Racism and violence directed toward Asian Americans and Pacific Islanders is connected to these larger frameworks around native and Indigenous populations, African Americans and Latinos, as well as other factors, such as race and ethnicity, gender, sexuality and religion," Yoo said.
Associate professor in anthropology and Asian American studies Kyeyoung Park said events like the Chinese Massacre of 1871 – one of the worst mass lynchings in Los Angeles and U.S. history, where nearly 20 Chinese immigrants were killed – speak to the history of anti-Asian violence in the country despite its recent surge in media representation.
Sumi Dutta is a campaigner at 18 Million Rising, a national organization aiming to bring Asian American communities together to build community power and fight injustice. Dutta said in an emailed statement that the rise in anti-Asian sentiments has been seen throughout a myriad of historical events, such as the Chinese Exclusion Act of 1882.
"Racist responses to the spread of the virus are consistent with a history of treating Asians as a foreign threat. Part of undoing the power of Yellow Peril is confronting the history of empire, capitalism and white supremacy," Dutta said in the emailed statement.
Yoo said Asian exclusionary perceptions can date even further back to the Naturalization Act of 1790, which ultimately stated that only free white persons can become citizens.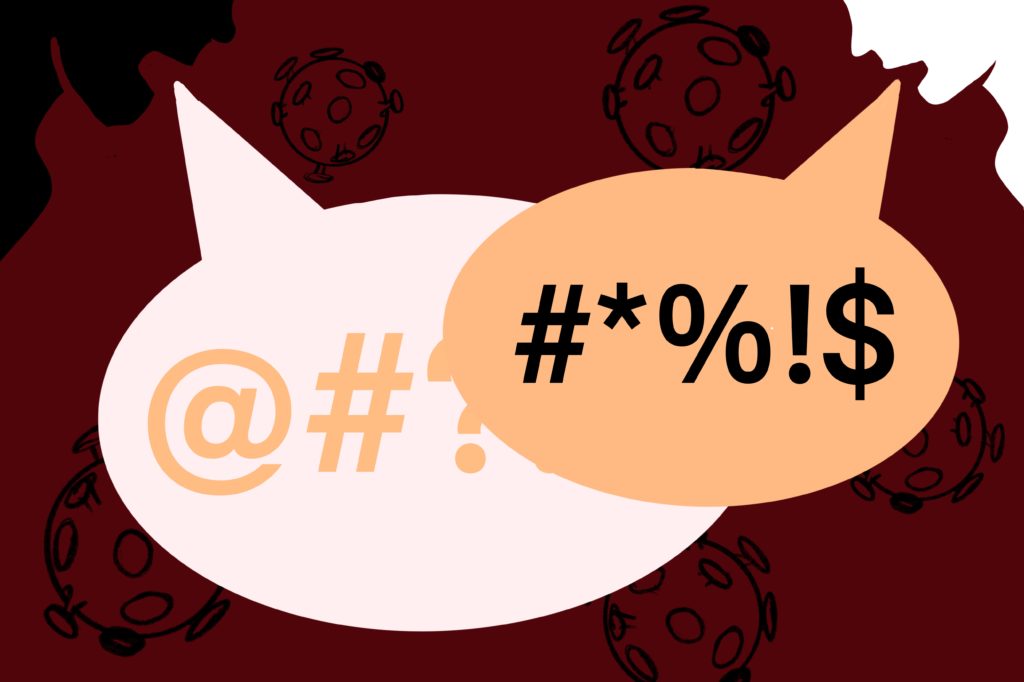 Almost 4,000 reports of Asian hate were reported to the Stop AAPI Hate reporting center since March 2020, yet this is only a fraction of the true number of hate incidents that have occurred, according to the Stop AAPI Hate organization.
Yoo said a few key factors regarding Asian American stereotypes can be attributed to the lack of coverage anti-Asian hate has on the mainstream media.
"There's this notion that Asian Americans … (are) perpetually foreign, that regardless of how long Asian Americans have been in the U.S. they're always seen as foreign," Yoo said.
Yoo said perpetuating notions of the model minority myth are also linked to the lack of coverage anti-Asian hate has on media platforms.
"It's been used as kind of a wedge, like wedge racial politics. In other words, Asian Americans are often used as a way of pointing to other racial ethnic groups, and say, 'Why can't you be more like them?' And it takes the focus off of structural racism and structural inequality and why those inequalities exist. And then, instead, it pits one minority group against another," Yoo said.
In order to minimize the racism against Asian American communities and reshape the way anti-Asian hate is perceived, Park said it is important to sustain the social movement that has especially gained momentum in the past year and remember that the Asian American community is not a monolith.
"I think the Asian American community tends to be a bit isolated, and I think it's so critical to work together, fight together in solidarity with other communities," Park said.
Not only should the movement be sustained with the help of allies but also from within the Asian American community. Park said many Asian Americans are unaware of the Asian hate that has persisted throughout history.
"I think even Asian Americans and Pacific Islanders themselves are not necessarily aware of what has been done to Asian Americans throughout U.S. history," Park said. "I think even Asian Americans themselves internalize the minority myth."
Dutta said anti-Asian hate could be combated through reforming education, a key goal in the 18 Million Rising activist agenda.
"So much of Asian American history is purposefully left out of U.S. school curricula because it wouldn't portray the government and white Americans in a positive light," Dutta said in the emailed statement. "Students often end up learning that Asian Americans are foreigners, are aggressors and competitors, or benefited from the 'help' of the U.S. government."
Dutta said it is also important to create a safer community through focusing on affordable housing, mental health services and health care access.
Yoo also suggested reforming education and said K-12 may be a more important demographic than university level.
"What studies have shown is that the sooner and earlier that people can be exposed to ethnic studies, the better it would be in terms of how people are able to understand each other's stories and histories," Yoo said.
Along with working with UCLA faculty, Yoo said the ethnic studies research centers under the Institute of American Cultures at UCLA have been working with the School of Education and Information Studies on curriculum development for ethnic studies in K-12 schools.
"I think that all the effort is really about trying to envision a community that would be marked by equity and all these other kinds of values that we would want to have," Yoo said. "There are ways in which individuals and communities and organizations are mobilizing in a way to hopefully move toward a different kind of place."
Chea is currently the Quad editor. She was previously a contributor for The Quad from 2018-2021. She is also a third-year political science student with a minor in global studies.
Chea is currently the Quad editor. She was previously a contributor for The Quad from 2018-2021. She is also a third-year political science student with a minor in global studies.