Week one: Students celebrate basketball win, LA County eases restrictions, protests in Echo Park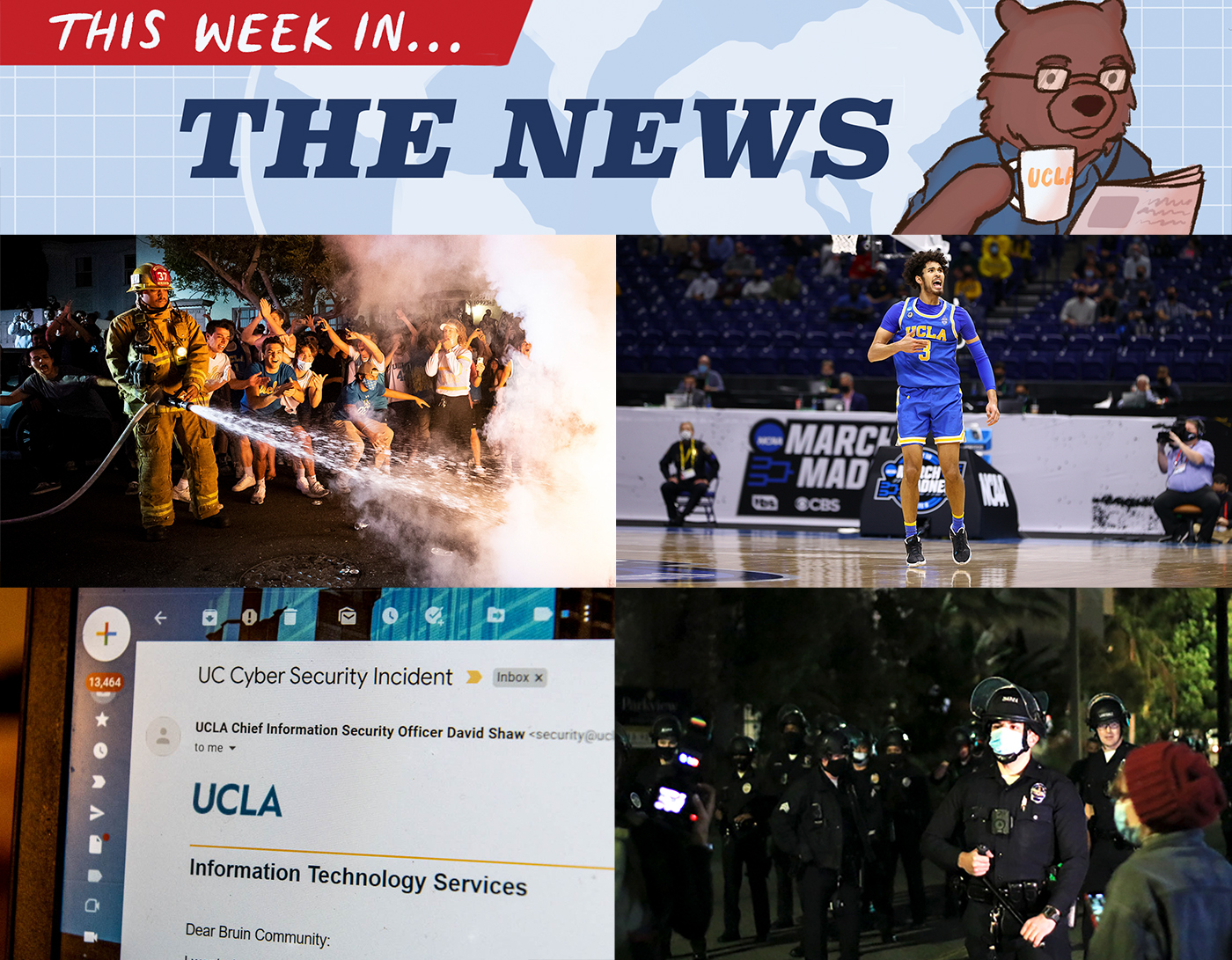 (Clockwise: Photo by Jamie Schwaberow/NCAA Photos via Getty Images, Finn Chitwood/Daily Bruin, Lauren Man/Assistant Photo editor, Andy Bao/Daily Bruin staff)
This Week in the News serves as The Quad's space for reflection on current events at and around UCLA. Every week, Daily Bruin staffers will analyze some of the most significant stories to keep readers up to speed.
The first week of spring quarter started off with a bang as the UCLA men's basketball team advanced to the Final Four. Los Angeles was anything but quiet these past few weeks as celebrations and protests were taken to the streets. To top it all off, a nationwide cyberattack jeopardized the personal information of many members of the UC community.
No. 11 seed UCLA men's basketball was triumphant with a 51-49 win over No. 1 seed Michigan Tuesday night in the Elite Eight.
Students took to the streets to celebrate the men's basketball team's advancement to the Final Four of the NCAA tournament, a feat that hasn't been accomplished by the team since 2008.
The streets, littered with beer cans, were filled with crowds of students who lit fireworks, blasted music on speakers, set a couch on fire and stood atop cars – all while many ignored mask-wearing and social distancing guidelines.
At least two fires were started on Roebling Avenue. After LAFD firefighters extinguished the first fire and left, a second fire was set, and firefighters returned to the scene along with LAPD officers.
The men's basketball team will face the undefeated No. 1 seed Gonzaga on Saturday.
New data released Tuesday moved Los Angeles County from the red to orange tier. The new classification would allow for the reopening of more businesses and less stringent indoor capacity limits starting Monday, according to an announcement made by state officials.
However, restrictions are not fully relaxed as of yet. LA County is waiting until Monday to revise its health order as it continually monitors COVID-19 cases, said LA County Public Health Director Barbara Ferrer at the Tuesday press conference.
Loosened restrictions would consist of retail stores opening to 75% capacity, amusement parks to 15% capacity, and indoor dining to 50% capacity or 200 people, depending on which of the two is less. Places of worship, museums, zoos and aquariums can accommodate 50% capacity. Hair salons and barber options can open to 75% capacity, and outdoor live events can open to 33% capacity.
UCLA is continuing to reopen facilities in response to relaxed state restrictions, as the Ackerman Union A-Level, Bruin Café and De Neve dining hall can now accommodate indoor dining with limited capacity.
UCLA plans to return to full operation in the fall.
The displacement of 200 individuals experiencing homelessness at Echo Park Lake prompted protests Wednesday and Thursday, amounting to clashes between 400 police officers and about 200 demonstrators.
LAPD apprehended 182 individuals, including three members of the media.
Waves of protesters refused to let LAPD SUVs through and chanted, "Services not sweeps," and "House keys not handcuffs," on Wednesday. The night's activities came to a close when a protester declared victory and LAPD Chief Michel Moore said Echo Park's inhabitants had 24 hours to leave the premises.
On Thursday, social workers helped relocate 161 individuals to other housing alternatives. That same day, around 200 activists and advocates gathered to further protest the displacement of the remaining individuals.
LAPD soon declared the gathering unlawful, causing protestors to barricade themselves behind dumpsters as LAPD fired projectiles into the crowd, sparking brawls between demonstrators and police officers.
Police officers did give a 24-hour vacancy notice, as mandated by the law. Several organizations and activists said sweeps could be harmful to unhoused communities.
The final two individuals experiencing homelessness who remained at Echo Park were arrested March 26 but have since been released. According to a statement made by LA District 13 Councilmember Mitch O'Farrell, at least 209 people experiencing homelessness who previously lived at Echo Park were relocated to shelter programs.
Nationwide cyberattack targets personal information of some in UC community
University of California officials announced Wednesday that the personal information of some UC community members was compromised because of a nationwide cyberattack.
A UCnet press release said that other universities, government agencies and private companies had also been attacked. The report said the anonymous perpetrator acquired personal information by exploiting a weakness in the file transfer service of Accellion, a file transfer company utilized by the UC.
UCLA chief information security officer David Shaw said in a campus-wide email Wednesday that those involved in the cyberattack were sent messages threatening to release the recipients' personal information, The emails also contained a link to a website that had a sample of UC employees' personal information.
The press release added that not everyone whose information was stolen received a threatening email, and as such, the university is attempting to alert all the victims of the cyberattack.
It is still uncertain as to how many UC employees had their information compromised or how many of them received threatening emails.
The UC said the attack might be financially motivated and the perpetrators may have already posted the information online. Federal law enforcement has been briefed on the incident and an investigation has commenced.