Men's soccer looks to notch first Pac-12 win in game against California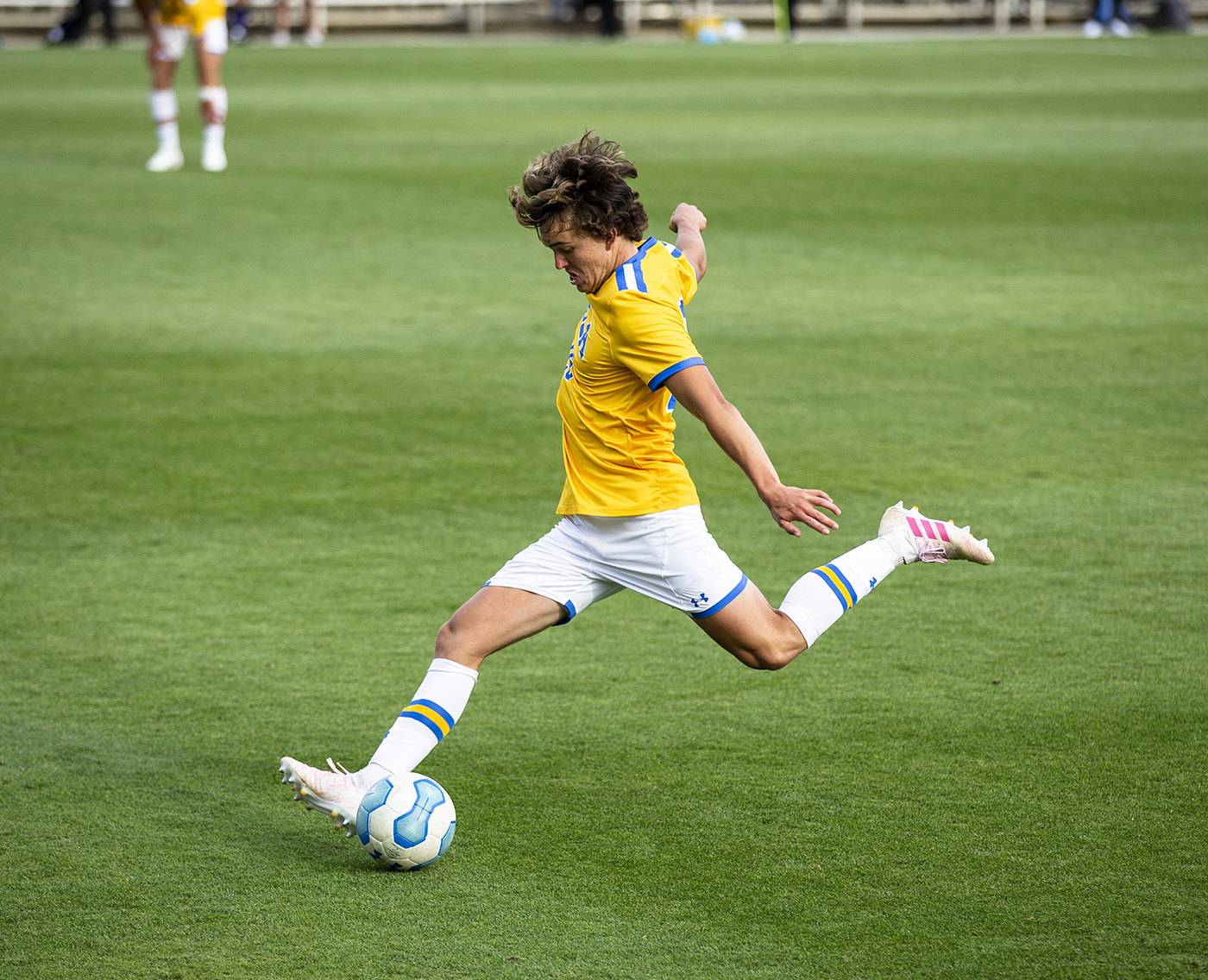 Freshman defender Tommy Silva picked up an assist on the Bruins' first goal of the campaign and will enter Saturday's match with five starts in his debut season.(Andy Bao/Daily Bruin staff)
Men's Soccer
---
Team
Saturday, 1 p.m.
Berkeley
No TV info
With half of the 2021 season in the books, the Bruins have an opportunity to record their first Pac-12 conference win Saturday.
UCLA men's soccer (1-4-1, 0-3-1 Pac-12) will travel to Witter Rugby Field to face California (1-3-0) and kick off its final back-to-back road trip of the season. The prior two consecutive matches the Bruins played on the road resulted in 2-1 and 4-0 losses to No. 10 Oregon State (6-1-0, 3-1-0) and No. 3 Stanford (6-0-0, 4-0-0), respectively.
California is coming off its first win of the season March 13 against San Diego State. Forward Arman Samimi scored the Golden Bear's game-winning goal in the 81st minute, earning him Pac-12 Player of the Week honors.
While this is the first time UCLA and California will meet this season, coach Ryan Jorden said the Bruins' experiences playing against top-15 teams have helped his squad gain confidence against the Bears. In 2019, both meetings between the two sides resulted in a 3-3 draw.
Sophomore forward Ollie de Visser said UCLA has been working in training to solidify its defensive performance.
"It's really going to be about how to counteract (California's) playing out with our pressing and trying to find a way through that," de Visser said. "We've been working on that all week, so I think we're prepared, and I think defensively, we've definitely improved since last year so we're definitely not looking to concede three goals again."
This season, the Bruins' backline has started transfer junior defender Ahmed Longmire and senior defender Ben Reveno in every game. Freshman defender Tommy Silva – who has gotten the start in five of the six matches – said earning minutes has helped him gain confidence playing at the collegiate level.
"It's nice to be a young guy with the older guys," Silva said. "The rest of our backline is pretty experienced. They give me pointers, and it's definitely helping me improve individually as well."
Aside from Longmire and Silva, freshman forward Grayson Doody has also gotten minutes during his first season in Westwood. Doody leads the team in points with three and notched his first collegiate goal against Oregon State in February.
Jorden said regardless of the team's results, exploring different lineups and formations that incorporate this year's recruits as well as returning players has helped him find the best relationships within the squad and push players to perform to the best of their potential.
"For a team that that is relatively new together – that's been learning and growing – I've been super pleased with our development and progress," Jorden said. "While the record may not stand out right now, our progression has been really good. I'm excited about going to play this weekend. It's a big game."
UCLA will kick off at 1 p.m. in Berkeley on Saturday.
Vu is currently a Sports contributor on the men's soccer beat.
Vu is currently a Sports contributor on the men's soccer beat.