Week 10: Reopening campus facilities, spring break travel advisories, men's basketball loss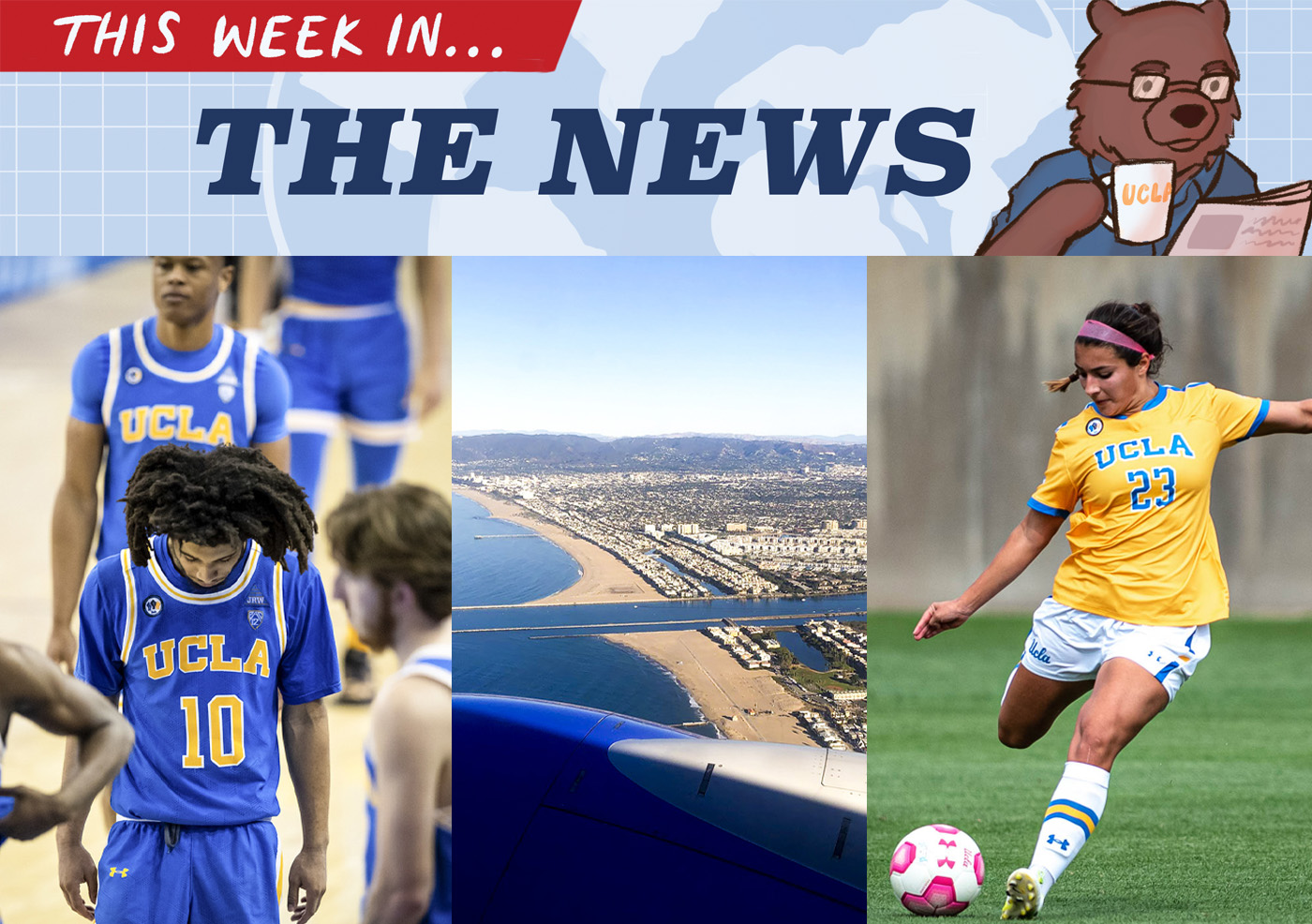 (Left to right: Andy Bao/Daily Bruin staff, Kanishka Mehra/Photo editor, Lauren Man/Assistant Photo editor)
This Week in the News serves as The Quad's space for reflection on current events at and around UCLA. Every week, Daily Bruin staffers will analyze some of the most significant stories to keep readers up to speed.
With finals week ahead, Bruins can look forward to the reopening of some campus facilities after their closure for a year because of the pandemic. Meanwhile, UCLA sports saw both triumphant victories and brutal losses. Join The Quad as we take a look at the news of the week.
UCLA is beginning to reopen its facilities after nearly a year of COVID-19 pandemic-related closures.
Some libraries, recreation facilities and art studio spaces have already reopened. Administrators announced Tuesday in a campuswide email that other facilities will reopen by next week.
According to the email, the Charles E. Young Research Library will open March 15 for students, faculty and staff. The Hugh & Hazel Darling Law Library is currently open for law students at 25% capacity. Both libraries will mandate reservations, and a COVID-19 symptom monitoring form must be filled before entering.
Come March 16, some UCLA Recreation services at the Sunset Canyon Recreation Center will open for students. Though a reopening date is yet to be announced, Drake Stadium and pools at the Sunset Recreation Center are also planned to reopen.
Music practice rooms will only be available for UCLA Herb Alpert School of Music students to reserve and theatre students can reserve rehearsal rooms for up to four people. Face coverings and COVID-19 symptom monitoring clearance certificates are required to gain access to these facilities.
Instructors can now request space at 12 outdoor locations to hold discussions for students. This will be limited to groups of up to 10.
Administrative Vice Chancellor Michael Beck and former Academic Senate Chair Michael Meranze encouraged students, faculty and staff to limit travel and outings during spring break to minimize the spread of COVID-19 in a campuswide email Monday.
On-campus housing will remain open through spring break. Even if students do not travel over break, those living in on-campus housing and university apartments will be required to isolate 10 days after March 28, the last day of spring break, according to UCLA Housing guidelines.
The daily reported percentage of COVID-19 positive tests in Los Angeles County has decreased since the beginning of the year, from around 20% in late January to less than 3% this week, according to the Los Angeles County Department of Public Health.
The UCLA community has had 22 active COVID-19 cases over the past two weeks, according to the UCLA COVID-19 case location dashboard.
No. 3 UCLA women's soccer (6-0, 3-0 Pac-12) extended their undefeated season Sunday after defeating Oregon State (2-4, 0-3) 2-1.
In the first period, the Bruins' first goal was scored via a one-touch header by sophomore forward Mia Fishel off a corner kick by senior midfielder Marley Canales.
A foul was called on the Beavers when Fishel was elbowed in the penalty box during the first overtime period. Canales delivered the winning goal with the penalty kick.
On Friday morning, UCLA began a two-game road trip with a victory, defeating Colorado 1-0 in Boulder.
UCLA men's basketball (17-9, 13-6 Pac-12) lost its fourth straight game against crosstown rival USC (22-6, 15-5) 64-63 on Saturday.
UCLA scored just two points in the final five minutes. The game ended with a fadeaway corner 3-pointer by USC guard Tahj Eaddy with 1.4 seconds remaining.
Junior guard Jules Bernard came up empty on a 1-and-1 chance in the final minute as the Bruins led by two with 11 seconds left on the clock.
Coach Mick Cronin, who has yet to beat USC since coming to Westwood, tried to use one of his two remaining timeouts to draw up a last-second play but to no avail.
Saturday marked the Bruins' third straight game of blowing second-half leads. UCLA lost again 83-79 to Oregon State (15-12, 10-10) in Thursday's Pac-12 quarterfinal matchup and exited the tournament.