UCLA women's soccer continues winning streak, bests Oregon State in overtime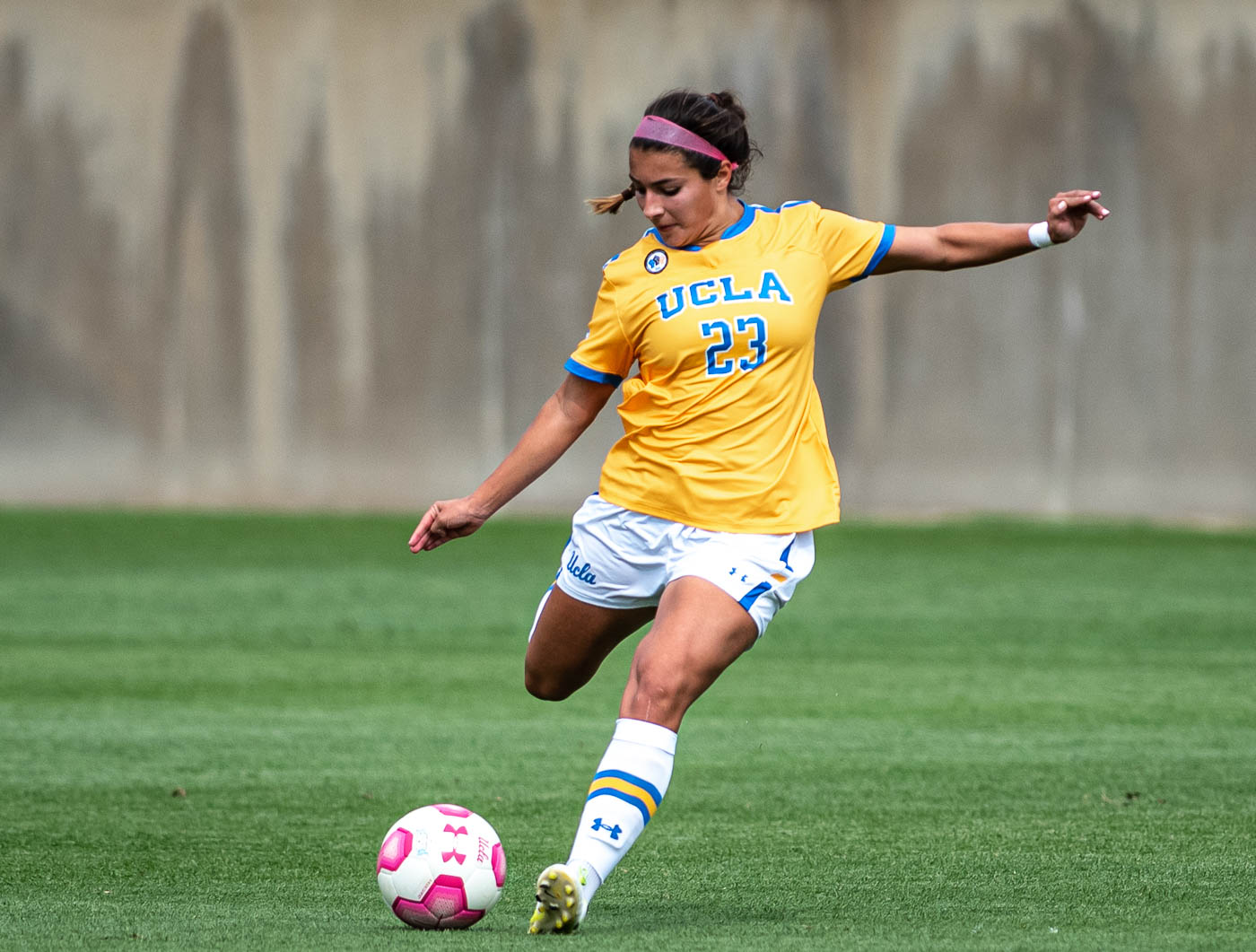 Senior midfielder Marley Canales' second goal of the season – a penalty kick in the 100th minute – secured No. 3 UCLA women's soccer's victory over Oregon State on Sunday. (Lauren Man/Assistant Photo editor)
Women's Soccer
---
| | |
| --- | --- |
| Oregon State | 1 |
| No. 3 UCLA | 2 |
The Bruins have completed their sweep of the Oregon schools.
No. 3 UCLA women's soccer (6-0, 3-0 Pac-12) defeated Oregon State (2-4, 0-3) 2-1 on Sunday afternoon. The Bruins extended their undefeated season to six games and their home winning streak to 12 games, courtesy of an overtime penalty kick by senior midfielder Marley Canales.
"We have the players that can win in overtime," said coach Amanda Cromwell. "We're dangerous and can get in behind them. All we need is a half-chance, and we got one."
In the first period, the Bruins were stymied by the Beavers' defense until the 45th minute when a one-touch header by sophomore forward Mia Fishel off a corner kick by Canales found the back of the net without coming into contact with goalkeeper Bridgette Skiba.
The goal was the product of UCLA's fourth corner kick of the half.
"We're always trying to pay attention to detail, see what the other team offers us and capitalize off that," said senior defender Karina Rodriguez. "We knew their zone likes to shift to the front, so when (Canales) got that great service to the back post and (Fishel) got a head on it and finished it off, it really was a job well done in that regard."
Oregon State midfielder Sydney Studer jeopardized UCLA's perfect season when she leveled the game in the 67th minute of the match with a rocket that blew past every Bruin defender and into the lower-right corner of the net.
The goal was redshirt junior goalkeeper Lauren Brzykcy's third concession in six games this season.
"I know (Brzykcy) would probably tell you she wishes she did something different on that corner kick that they scored on," Cromwell said. "But there's a reason she's been player of the week a couple of times. She's just been tremendous all season."
The Bruins had a pair of chances to avoid overtime in the 80th minute, taking their sixth and seventh corner kicks of the game consecutively on either side of the Beavers' goal, but neither found the back of the net.
After tallying only 19 corner kicks in five games prior to Sunday's competition, UCLA totaled 10 corner kicks against Oregon State.
"Set pieces are always important," Canales said. "We play a really good style of soccer, so we want to make sure we are always efficient and able to get on the end of them when they come to us."
The Bruins had played more than nine minutes of their first overtime period when Fishel was elbowed in the penalty box, and a foul was called on the Beavers. Canales delivered the golden goal with a penalty kick to the lower-left corner of the net that was misjudged by Skiba.
Canales said she was hoping she'd get to take the shot for her team.
"I always want to be put in those situations," Canales said. "I've been doing it since I was little, so I knew I was prepared to put away for the team. It was a grind of a game, but I thought we really deserved that win."
Late in the first period, senior defender Lucy Parker collided with Studer, leading to a stoppage of play and causing her to leave the game.
Rodriguez, who made her season debut on Sunday after spending the first part of the season on Mexican National Team duty and quarantining during UCLA's match against Oregon on Friday, said the Bruin backline made an adjustment after Parker's removal.
"(Losing Parker) wasn't what we expected," Rodriguez said. "But the communication on the backline has been everything we've needed and more, and working together means anyone can slide in there seamlessly, and it makes us super successful."
The Bruins will begin a two-game road trip with a game against Colorado in Boulder on Friday at 11 a.m.
Hunt is currently a Sports staff writer on the softball and women's soccer beats. She was previously a reporter on the gymnastics, women's water polo and swim & dive beats.
Hunt is currently a Sports staff writer on the softball and women's soccer beats. She was previously a reporter on the gymnastics, women's water polo and swim & dive beats.