Men's soccer remains winless in conference games after road loss to Stanford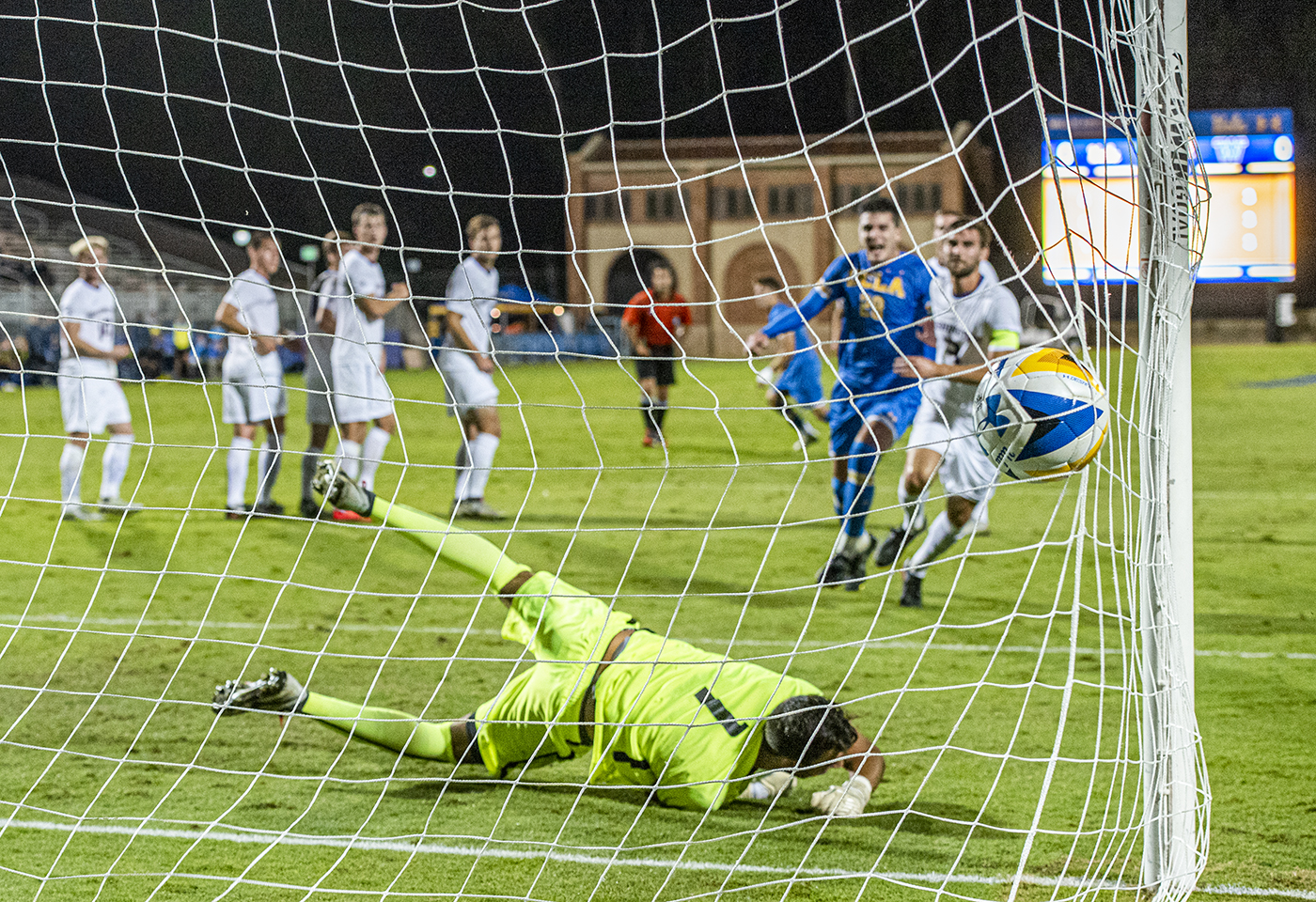 Junior goalkeeper Justin Garces recorded a season-high six saves against Stanford on Saturday but conceded four goals in the Bruins' loss at the hands of the No. 3 team in the country. (Liz Ketcham/Daily Bruin senior staff)
Away from home, the Bruins fell once again.
In Saturday's afternoon contest against No. 3 Stanford (5-0-0, 3-0-0), UCLA men's soccer (1-3-1, 0-2-1) took a 4-0 defeat at Laird Q. Cagan Stadium. This result marked the third time this season the Bruins faced a top-15 opponent – the last being the team's 2-1 loss to No. 10 Oregon State last week.
While UCLA was able to strike first early against Oregon State, it was Stanford defender Keegan Tingey who opened the scoring in the 40th minute to hand the Bruins a 1-0 deficit entering halftime. Redshirt junior defender Eirik Baekkelund recorded UCLA's only shot of the half.
Aside from the goal, the Bruins were able to hold the Cardinal to a single corner kick and junior goalkeeper Justin Garces was forced to make a single save in the opening 45.
"It's all about communication – talking to guys on the team that need that extra lift or that extra support or talking to yourself as a player if you feel like you're not doing your role or playing to your highest ability," Garces said. "Whenever there's an issue on the field, we have to figure it out and solve it."
Entering the second half, the home side continued to put pressure on UCLA's backline.
In a 14-minute span, Stanford netted three more goals past UCLA to put it up four goals up with 15 minutes left to play. Stanford forwards Jack O'Brien and Charlie Wehan scored in quick succession in the 62nd and 68th minutes, respectively, with forward Zach Ryan notching his fifth goal of the season with a header into the top right corner right after the 75th-minute mark.
The Bruins were unable to answer despite a late-game attempt on goal from sophomore midfielder Riley Ferch in the 89th minute.
Freshman forward Grayson Doody said despite UCLA being unable to score, there were positives to take away from the defeat.
"Stanford historically is a good team, and it was a good test for us," Doody said. "Intensity and how the game went about was a good teaching point, and I think as a group we all need to improve."
Garces – who recorded a season-high six saves against Stanford on Saturday – said the loss to the Cardinal helped the Bruins realize the importance of teamwork and encouragement on the pitch.
With the exception of one change in the Oregon State match, the backline has remained consistent with defenders Baekkelund, junior Ahmed Longmire, freshman Tommy Silva and senior Ben Reveno starting in the first five games of the season. Up until the team's performance against Stanford, the most goals conceded in a game were two.
"We feel really good about the guys who are playing in those (defensive) roles and feel pretty comfortable with it," said coach Ryan Jorden. "We're still trying to gain relationships and solidity, and establishing both those relationships and the ideas of functioning together, we hope, continues to grow for us."
UCLA will face another top-15 ranked team – No. 8 Washington – for its next match back at Wallis Annenberg Stadium on March 14.
Vu is currently a Sports contributor on the men's soccer beat.
Vu is currently a Sports contributor on the men's soccer beat.