Editorial: UCLA Health must be more transparent following termination of nurse midwives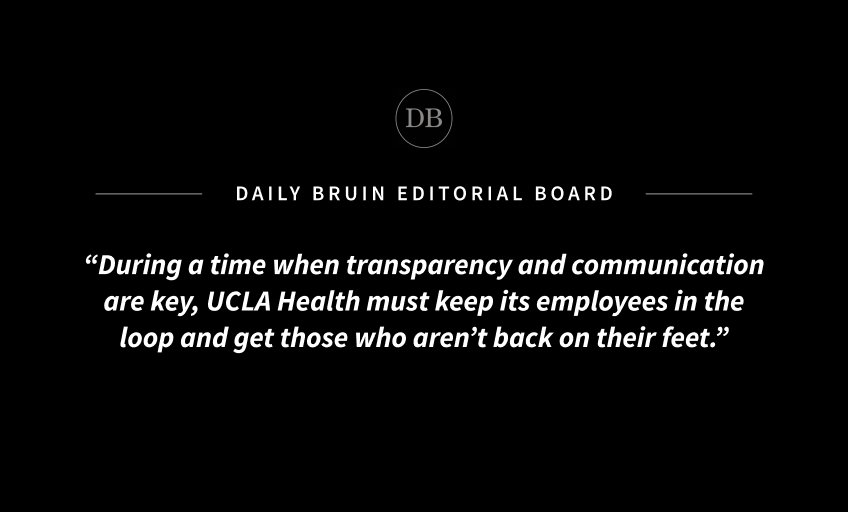 It would ideally go without saying: UCLA should not harm the financial stability of its health care workers during the worst pandemic in a century.
Today, though, the editorial board writes in response to just that.
UCLA Santa Monica Obstetrics and Gynecology fired all its nurse midwives Feb. 12 without warning. Several of the firings were effective immediately, with the rest of the program to be terminated by May. UCLA reversed its decision and reinstated all midwives a week later.
On its face, this might seem like a victory – the midwifery program will continue. But that doesn't erase the fear, pain and confusion of those affected by this kind of whiplash decision-making. For these midwives, the department's abrupt decisions were a real kick in the gut.
During a period when unemployment systems are overloaded, it is a betrayal to subject health care workers to brutal financial uncertainty at the unexplained whims of UCLA administrators.
UCLA Health must make this right.
Termination, especially without any wrongdoing or prior notice, is a bitter pill to swallow. Not only are employees left to fend for themselves in a grueling job market, but they also can never come to terms with their dismissal. If UCLA Health has done this once, it may very well do this again.
In an emailed statement, UCLA Health did not detail the reasons for their termination nor the reinstating of the program. An apologetic email is not enough. A simple "sorry" and expecting the midwives to let bygones be bygones after losing their livelihoods is utterly distasteful. These employees deserve an explanation for the whole situation, but by then it'll be too little, too late. The damage has already been done.
Of course, this miscommunication may have just been an honest mistake, and these midwives had a stroke of bad luck. The pandemic has overwhelmed the health care system, and workers have been under continuous pressure to deliver. Mistakes are bound to happen now and then.
But when they do, UCLA needs to own up to them. Because of UCLA Health's failure to communicate with its employees, the institution has lost its position of trust. After sitting through a week of silence, these midwives can't give UCLA Health the benefit of the doubt.
The department should have established an open line of communication with its employees just in case a mistake was made or further clarification was needed. Before any managerial decision, the department must ensure all related parties have signed off on it. This goes for all future interactions within the department and between the department and its employees.
During a time when transparency and communication are key, UCLA Health must keep its employees in the loop and get those who aren't back on their feet.