UCLA report shows voting pattern variations across racial groups in California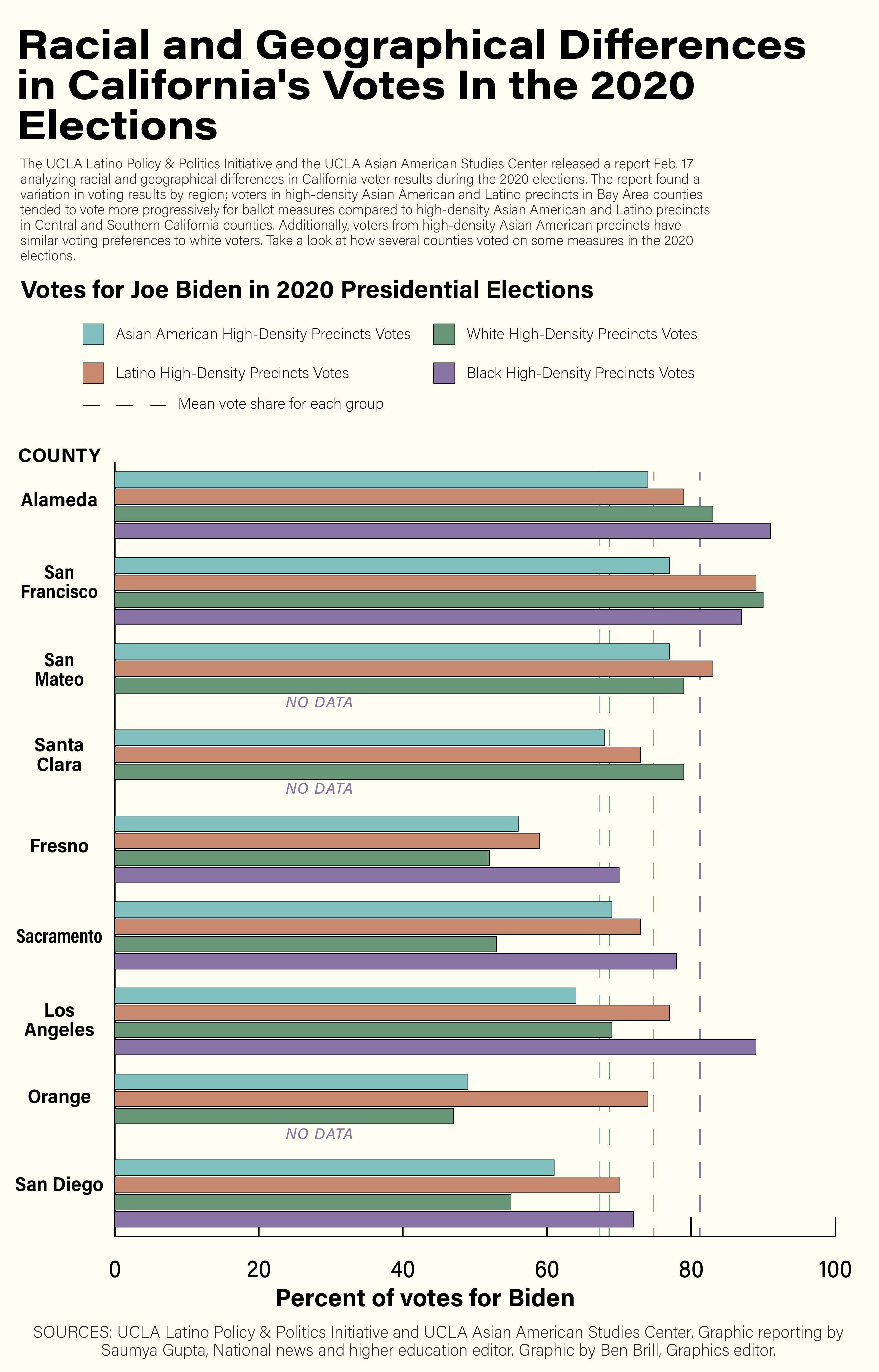 Asian American and Latino voter decisions in California are not as predictable or progressive as previously thought, UCLA faculty said.
Voters of color can significantly affect California politics but changes must be made in voter education and political advertising, according to a report published by the UCLA Latino Policy & Politics Initiative and the UCLA Asian American Studies Center on Feb. 17. The report gathered voting statistics from nine counties, including Sacramento, San Francisco and Los Angeles, to analyze voting behavior within Asian American-, Black-, Latino- and white-predominant precincts.
The report found that voters of color have the potential to decide elections by forming coalitions, but their voting patterns are often split.
Rodrigo Dominguez-Villegas, director of research at LPPI, said that voters are often oversimplified if their opinions are predicted based on race and the assumption of a correlated political ideology.
"I think one of the main findings of this report is that regardless of race, California voters are more complex, and they're not just a liberal monolith," Dominguez-Villegas said.
When voters are grouped by race, they may exhibit trends that show support for policies on implementing affirmative action, introducing rent control or reforming the criminal justice system, said Natalie Masuoka, a co-author on the report and an Asian American studies and political science associate professor.
But for Asian American and Latino voters, it is more likely their opinions will vary than show decisive patterns, she added.
Masuoka said the proportion of immigrants in Asian American and Latino populations may be an indicator for the fluctuation in voting preferences. According to the Public Policy Institute of California, around 50% of Asian Americans and 30% of Latinos who were likely to vote from September 2019 to July 2020 were immigrants.
Since immigrants have not had the same political background knowledge and ideological formation as people born in the United States, voter education and campaign advertising have a lot of influence on how they perceive political issues, she said.
The importance of voter education for immigrants stems from the fact that many new citizens may come from representative democracies that do not have direct voting for legislation as California does, Dominguez-Villegas said. This means that they haven't taken part in ballot initiatives where citizen votes sometimes have the power to change the Constitution, he said.
Educational resources on propositions are thus important parts of the formation of immigrants' political preferences, Masuoka said.
She added that advertisements from high-spending political campaigns can impact voters' support for initiatives, but can be misleading when the true nature of a proposition is hidden by a persuasive message.
The campaign for Proposition 22, which established app-based drivers as independent contractors, is an example of how companies such as Uber, Lyft and DoorDash, influence voting results, according to the report. The pervasive ad campaigns received support with little variation between racial groups and the regions of Central and Southern California, the report stated.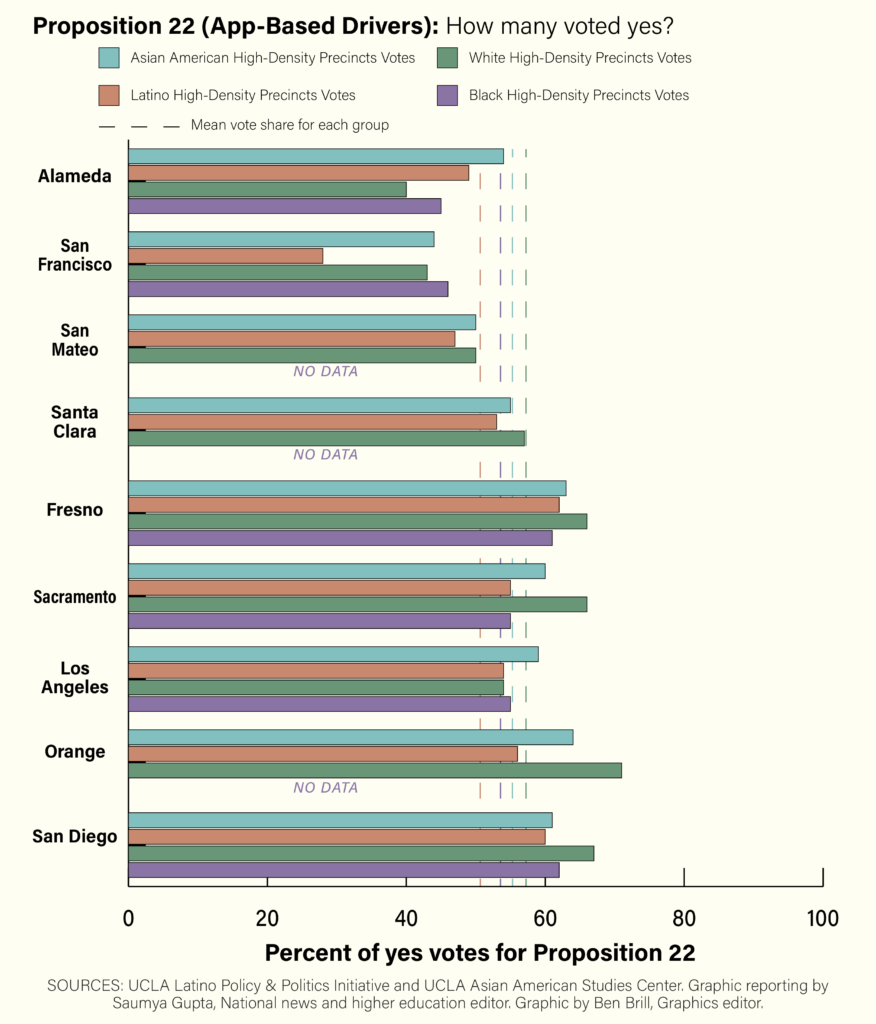 Dominguez-Villegas said he suggests election reform and more inclusive policies by the state legislature to mitigate the strong role money plays in California politics.
He said limiting the amount of expenditure by political campaigns is important to prevent corporations from dominating the minds of voters through expensive advertising. Encouraging policies that protect people of color, the working class, lower-income communities and those who are not as capable of running sweeping political campaigns are also important to counteract the special interests that often prevail, he said.
Proposition 16, which, if passed, would have established affirmative action in California, showed division in preferences by race, with 54% support in predominantly Latino precincts, 64% support in predominantly Black precincts, 54% opposition in predominantly Asian American precincts and 56% opposition in predominantly white precincts, according to the report.
There were also regional differences, with more Bay Area precincts voting in favor of the proposition and Central and Southern precincts typically voting in opposition, the report showed.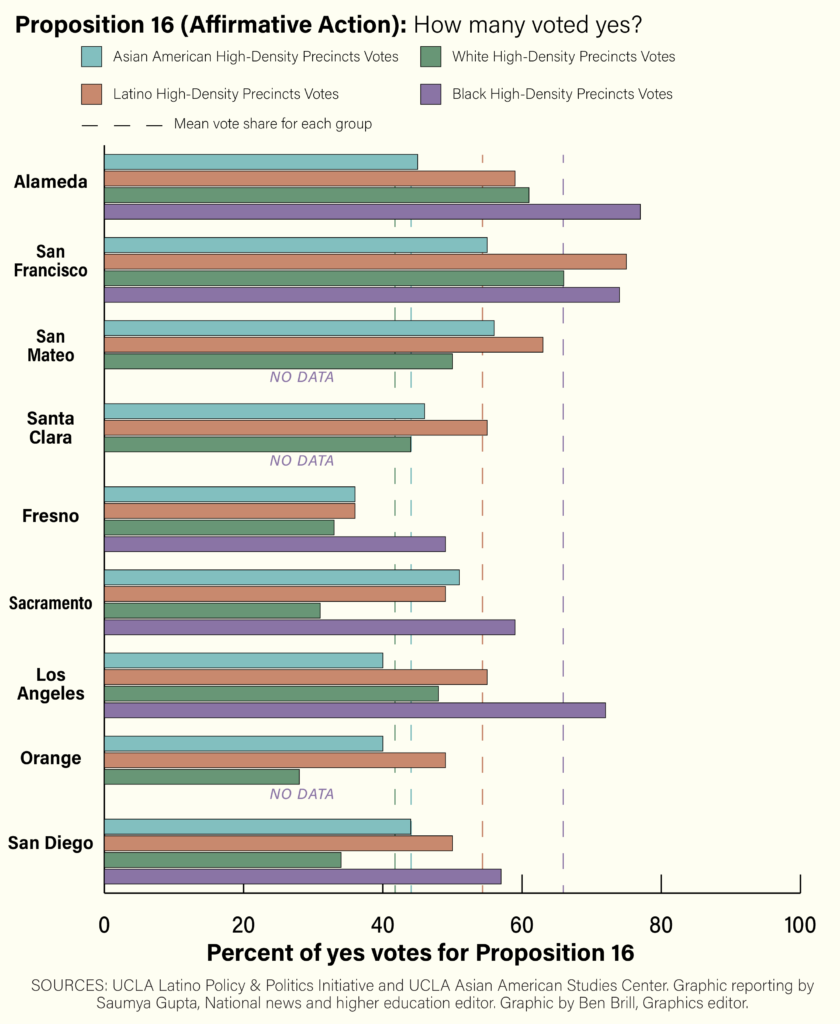 Masuoka said a lack of sufficient voter education may be the main reason the ballot failed to pass. She added that policy descriptions are often difficult to understand and can include legal jargon that many voters don't know.
As new immigrant voters begin to familiarize themselves with major political issues in the United States, Masuoka said it is crucial to fully inform the electorate so they are able to vote in their best interest.
Dominguez-Villegas said the passage of Proposition 16 would have reversed a ban on using race as a factor for decisions in education and employment, which resulted in minority groups potentially not having as many opportunities as they should have. He added that a more thorough education campaign could have clarified any confusion and dispelled misconceptions about what would happen if the proposition was passed.
Voters of color should be recognized as powerful forces for political change as California becomes more and more diverse, said Nathan Chan, a co-author of the project and a doctoral candidate at UC Irvine, in an emailed statement.
"Organizations need to more aggressively recruit and mobilize voters of color to encourage them to participate in the political system as well as accurately inform them on the outcomes of their political choices," Chan said in the statement.
The impetus that voters of color can contribute to election outcomes was a key finding of the report. The authors said that racial minority groups voting in a coalition can change the landscape of an election.
"What I think we learned from 2020 is for all of us to take more of a role and not make assumptions about how voters of color are going to vote," Masuoka said.