Students repurpose UCLA's empty campus for recreation, relaxation amid pandemic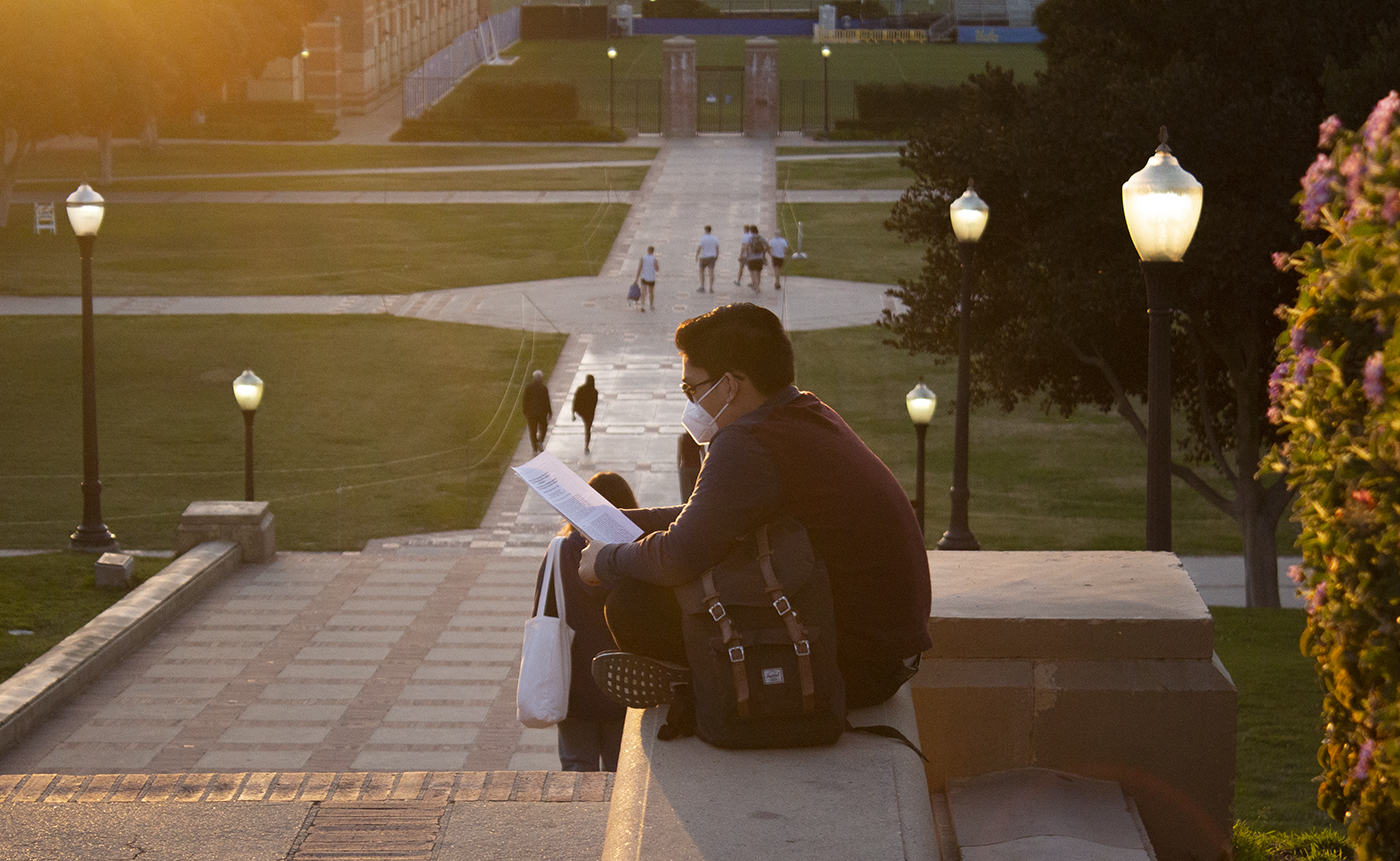 The COVID-19 pandemic shuttered most in-person classes, but students continue to visit campus. (Jefferson Alade/Daily Bruin)
As the sun shines through a cloudless blue sky, students on campus can see people sitting on the grass near Janss Steps for picnics, hammocking or throwing frisbees.
After the COVID-19 pandemic shifted most classes to Zoom, many students do not have a reason to return to campus. But some have found ways to repurpose the university's grounds for recreation and relaxation.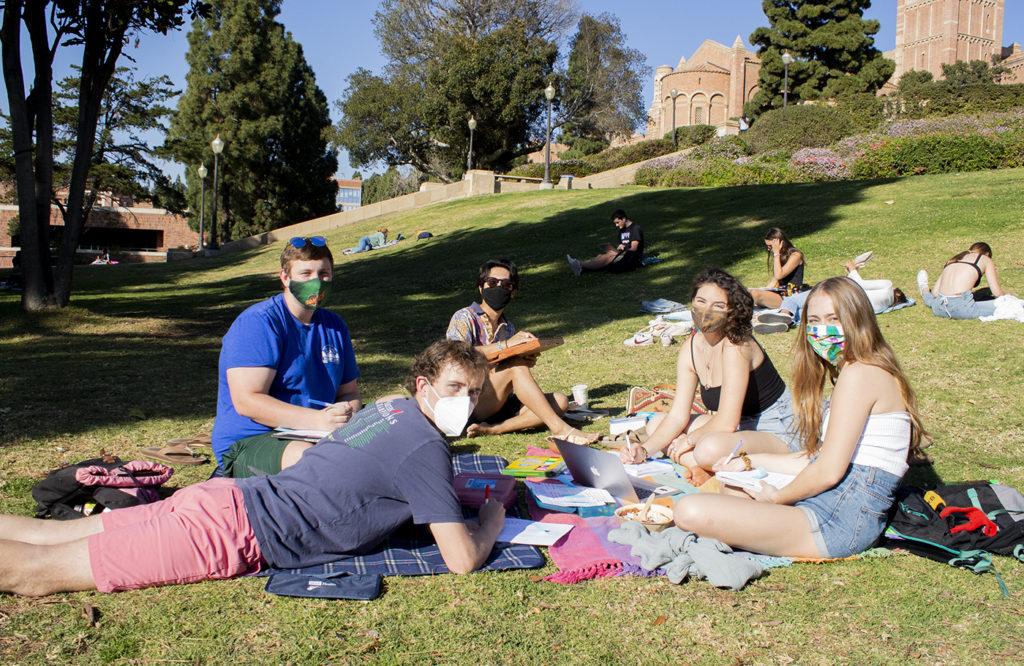 Cole Hume, a first-year philosophy student, expected most of his time on campus to be centered around academics before the pandemic. Instead, he said he now uses it for leisure.
Rather than studying on campus, he brings his guitar or a book to Janss Steps. Sometimes, he plays frisbee with his friends.
Hume also walks arounds campus to get to know UCLA buildings. Since most classes new students take have been online, some new students still don't know where South or North Campus is.
Being on campus reminds Hume that he is a college student, he said.
"When you're in the Zoom format, you forget what kind of education you are receiving," he said. "When you can walk across an incredible campus … it reinvests you into what you are doing."
Clio Cereceda, a fourth-year gender studies student, also found a way to continue using campus. She often grabs a coffee and studies outside – which she said she typically would not have done before COVID-19.
Cereceda said she used to study indoors, but has now developed a preference for completing her schoolwork outdoors because of the sunny weather.
Cristal Santaolaya, a first-year microbiology, immunology and molecular genetics student, said she also spends all her time on campus outdoors. Santaolaya sometimes enjoys going on walks and sitting on the Hill with other students when she wants a break from studying.
UCLA closed most indoor spaces in 2020 because of the pandemic. Santaolaya said she and her friends would joke about selling their kidneys just to get into Powell Library.
On Wednesday, UCLA announced plans to reopen libraries, some outdoor fitness facilities and certain performing art studios, among other on-campus operations in the coming months.
Campus has transformed from an academic space into a getaway, said Madisen Green, a second-year international development studies student. Green added that with in-person instruction closed, the campus has given her experiences that she would not have had before the pandemic.
Campus also has more space and is more peaceful now, she said.
Green said she and a friend rode scooters around campus one night – something she would not have done before the pandemic – and sat in the Franklin D. Murphy Sculpture Garden. Lights around campus were turned off, so they were able to see more stars than usual. She would have otherwise opted to explore Los Angeles, but now most places in LA are closed, she added.
Using campus for recreational purposes is not new, but the increase in dogs and families at UCLA is, Green said. Some celebrities, including musician The Weeknd and figure skater Nathan Chen, have also been spotted on campus.
Although students are finding ways to enjoy campus without in-person instruction, some students said the university's grounds feel different than before the pandemic.
On each occasion Green visits UCLA, she feels nostalgic of what life was like before COVID-19. She took campus life for granted, she said.
As for students who started their UCLA journey on Zoom, some feel robbed of a campus life they dreamed about.
"I definitely expected there to be a lot more people, … a lot more activity and just a lot more vibrant," said Manny Franco, a first-year public affairs student. "As of now, it's not really that. … After 6 p.m. the campus is really empty."
Despite the fun on campus, some students still feel cautious about their safety because of the ongoing pandemic. Santaolaya said she sometimes feels an uneasy atmosphere on campus from the need to comply with COVID-19 measures.
Santaolaya, who lives on the Hill, tries to minimize her time on campus as much as possible because of COVID-19 risks. She hopes to spend more time on campus when in-person instruction returns.
Although current campus life fell short of Franco's expectations, he has still enjoyed his first year at UCLA with the help of daily runs and the occasional game of soccer or football on the university's grounds, he said. Studying with friends near Janss Steps also helped, he added.
Campus is more empty than it was prior to the pandemic, but it is an improvement from last spring when UCLA was mostly desolate, Hume said. Now, he said, students are hammocking and playing frisbee.
Hume feels the interactions he shares with his classmates on campus builds his sense of belonging at UCLA.
"I think that those interactions are the core of having a sense of community," he said.