New players continue to make contributions as men's soccer season progresses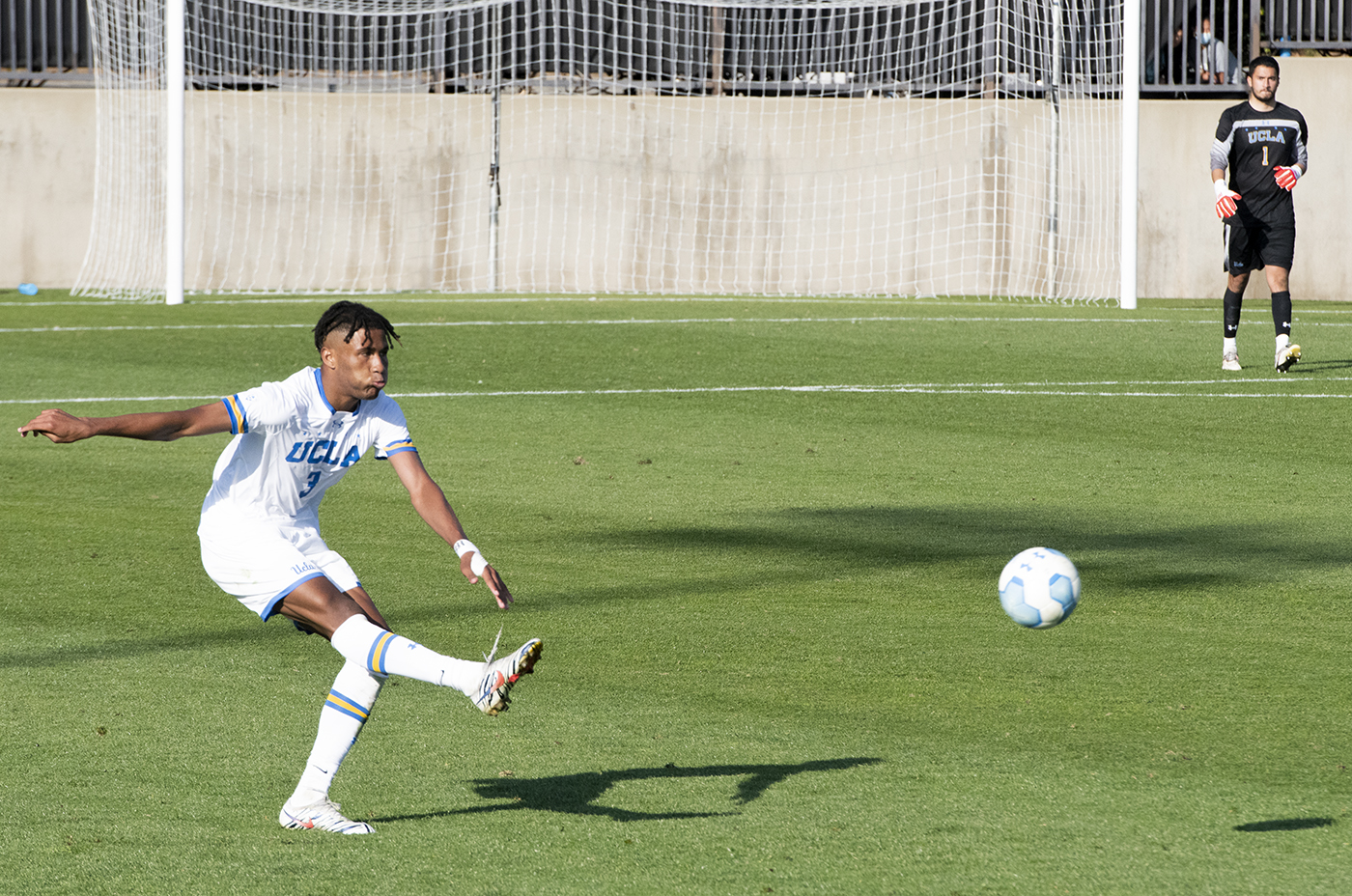 Junior defender Ahmed Longmire and the Bruins held San Francisco scoreless in their opening victory but allowed their first goal of the season in Friday's loss to Loyola Marymount. UCLA men's soccer's offense had one shot on goal in the defeat. (Alex Driscoll/Daily Bruin staff)
Despite the loss Friday, the Bruins still have new recruits at their disposal.
Last week against Loyola Marymount, a scoring opportunity came for UCLA men's soccer (1-1) off a free kick taken by junior transfer and forward Kevin Diaz in the 87th minute. Prior to the set piece, the Bruins had logged one shot – their first of the game – off target by sophomore forward Ollie de Visser at the 85-minute mark.
The Bruins' late-game attempts weren't enough to overcome the Lions' lone goal before the half, resulting in UCLA's first loss of the season.
With the potential of a game-equalizing free kick and opportunities to convert on five corner kicks, Diaz said he hoped UCLA could execute better outside of set pieces.
"If we play a little more direct, then (Loyola Marymount) will drop off a lot more and (open) that space in the middle," Diaz said. "As long as we improve our long ball then those passes will work out in the future."
Last season, UCLA recorded the lowest average shots per game in the conference with 9.83. And with 18 games played – three fewer than Pac-12 conference leader Washington – Bruins logged the most goals allowed of the season.
In 2019, however, now-junior goalkeeper Justin Garces topped the Pac-12 in saves per game, averaging 3.22.
"Justin is a very good goalkeeper – he's a leader on our team," said coach Ryan Jorden. "He has saved us in moments when (we) know we got exposed."
But with the recent loss to Loyola Marymount, Garces said UCLA has room to improve its defensive performance after he made five saves.
"We're going to see many games down the season similar to (Loyola Marymount)," Garces said. "There is a very typical college soccer type of play, so we just have to realize that we have to be a little bit more mature and organized in the back to try and deal with that style of direct play."
With the addition of 11 new recruits this season, the Bruins' starting 11 has taken on a different look since the team last took the pitch in November 2019.
In both games played thus far, junior transfer and defender Ahmed Longmire and freshman defender Tommy Silva have gotten the start at the back, with freshman forward Grayson Doody starting in the attacking third. Freshman defender Pablo Greenlee saw action as a substitute against San Francisco and Loyola Marymount, scoring his first collegiate goal in the team's season debut.
In UCLA's three-goal performance against San Francisco, new recruits Doody, Silva and Diaz earned points for offering assists.
UCLA has the opportunity to return to winning ways in its Pac-12 opener against San Diego State.
Vu is currently a Sports contributor on the men's soccer beat.
Vu is currently a Sports contributor on the men's soccer beat.