Editorial: Burmese students will need continued support in light of Myanmar crisis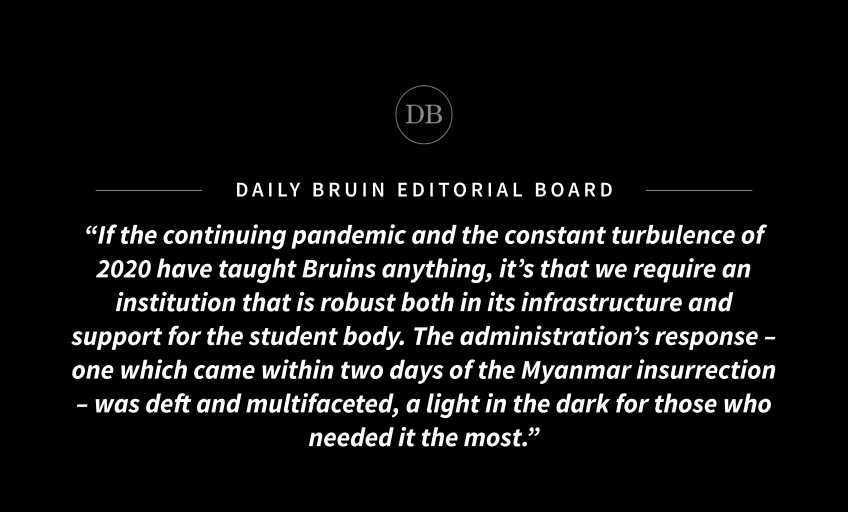 Overnight, democracy was toppled.
On Feb. 1, democratically elected members of Myanmar's ruling party were deposed by the country's military, which seized control of the nation and declared a yearlong state of emergency.
The military shut down social media, halted telecommunications and implemented a curfew. These actions immediately drew thousands of protesters to the nation's streets, calling for the release of their lawmakers and the restoration of democratic governance.
Closer to campus, Burmese students are experiencing the tumult from nearly 8,000 miles away. Those who rely on money transfers from banks in Myanmar have no way of obtaining them. Online communication is now futile in face of the national internet blackout. Mundane errands like paying rent, buying groceries and FaceTiming family members have become inconceivable sources of concern and strife.
During a tumultuous moment, the board pledges its full support and sympathy for Burmese students feeling the effects of an overturned election back home. As full-time students, they now have to navigate through midterms, financial challenges and the uncertainty of being able to reach their families.
Thankfully, the UCLA administration has snapped into action to support affected students.
The Office of the Dean of Students and the Economic Crisis Response Team plans to give financial aid to Burmese students affected by the coup to cover their living expenses, along with promises to provide mental health and academic support. These students will be eligible to receive a short-term loan of $250 or less and can receive more aid upon further evaluation.
The board strongly commends the administration's actions, especially during a period where their overall support could mean the world to worried students.
If the continuing pandemic and the constant turbulence of 2020 have taught Bruins anything, it's that we require an institution that is robust both in its infrastructure and support for the student body. The administration's response – one which came within two days of the Myanmar insurrection – was deft and multifaceted, a light in the dark for those who needed it the most.
Burmese international students at UCLA pay over twice the amount of in-state tuition, not including travel costs. However, these students do not qualify for state or federal aid, and on-campus employment is a rarity in light of nearly 11 months of remote instruction. While these loans might be only a fraction of the expenses of living in Westwood and tuition, college students know a little money often goes a long way.
It is vital, however, that these plans materialize beyond an emailed statement and an utterance in a USAC meeting.
Civil unrest can last for months, if not years. UCLA's plan for assistance, no matter how commendable, needs to be one that supports Burmese students for the uncertainties to come. While the measures in place are nothing short of accommodating, they must come to fruition and remain an option for these students as long as they need it.
Thus far, attending university in a pandemic has been a constant juggling act of financial and personal stressors.
For Burmese students, the last week has only added to the burdens these times have brought; UCLA would do well to not be another one of them.