UCLA men's soccer looks forward to facing San Francisco in delayed home opener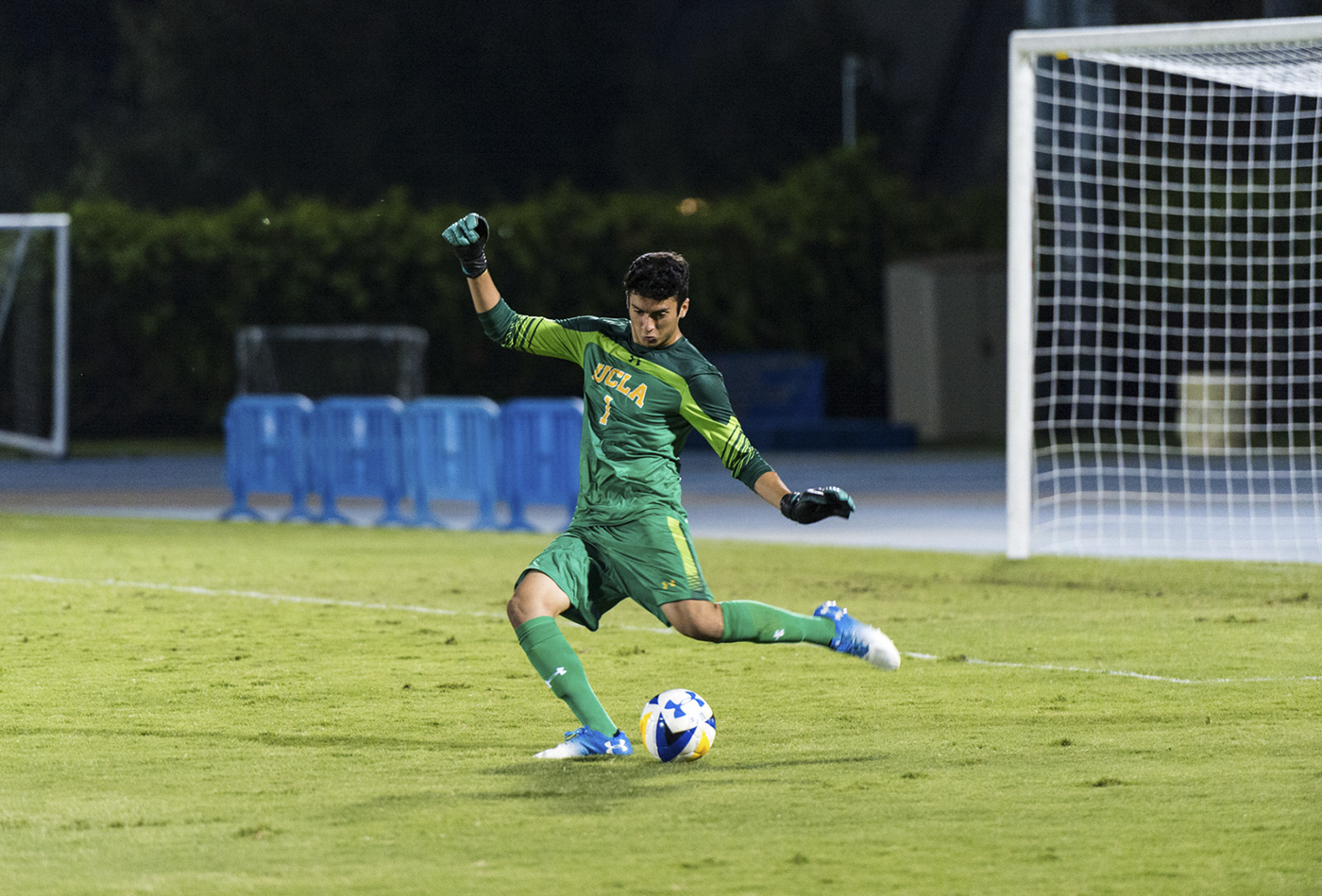 Entering his third season as the Bruins' starting goalkeeper, junior Justin Garces and UCLA men's soccer will begin the season Monday at home against San Francisco. (Daily Bruin file photo)
Men's soccer
---
San Francisco
Feb. 8, 2 p.m.
Wallis Annenberg Stadium
leanStream Digital Audio
Correction: The original version of this article's headline misspelled San Francisco.
This post was updated Feb. 8 at 5:52 p.m.
Gymnastics isn't the only UCLA squad that has had to practice flexibility this offseason.
After the postponement of its matchup against Westmont on Wednesday because of COVID-19 precautions, UCLA men's soccer now looks to San Francisco for its 2021 home opener. A victory at Wallis Annenberg Stadium on Monday would continue the Bruins' streak of seven consecutive undefeated season debuts.
"It's been a little over a year since our last real game," said junior goalkeeper Justin Garces. "It has been a long preseason, but it also has benefited us in being able to get back to training and build up our fitness and team chemistry to get to where we are in hopes of having a good start on Monday."
But securing three points early in the season has not necessarily translated to full-season success. In coach Ryan Jorden's first year with UCLA in 2019, the team opened its campaign 3-0 but finished 6-9-3 overall. The 2019 season also marked the second time since 1948 that the Bruins finished with a record low 0.417.
Senior midfielder Andrew Paoli said the team can build off its performance last season.
"Last year, I would say it wasn't really down to the tactics, but it was a group of new players, our first season with the coach and just some little things we needed to get right," Paoli said. "I think after another year of preparing with (Jorden), we're in a really good spot to improve a lot after last year."
The program has an all-time record of 24-19-5 against San Francisco. In their last meeting in 2018, the Dons left Westwood with a 1-0 victory over the Bruins.
Although the postponement of the Westmont game was the first rescheduled matchup of the season for men's soccer, the experiences of other Bruin squads have demonstrated the uncertainty of COVID-19-era athletics. As of Sunday, UCLA men's and women's basketball have had five and six games postponed, respectively, because of COVID-19 protocols.
Keeping the team healthy amid the pandemic has become a top priority for Jorden.
"I think that we're going to just have to be flexible all the time, and the players know that it's their responsibility to make sure that COVID cancellations don't happen on our end," Jorden said. "I think if your team has that flexible mindset, it means that they're going to be adaptable in games as well, so we look at it as a positive."
But just as the Bruins have had to shift their attention toward a new season opener against the Dons, Garces said UCLA is grateful to get on the pitch regardless of the opponent.
"From the guys' perspective and the team as a whole, we all realize how lucky we are to even have a season at this point," Garces said. "We just have to put our heads down and deal with what we have and just be happy that we are able to train."
Vu is currently a Sports contributor. She was previously a contributor on the men's soccer beat.
Vu is currently a Sports contributor. She was previously a contributor on the men's soccer beat.