Opinion: UCLA must increase communication about vaccination to inform fall quarter plans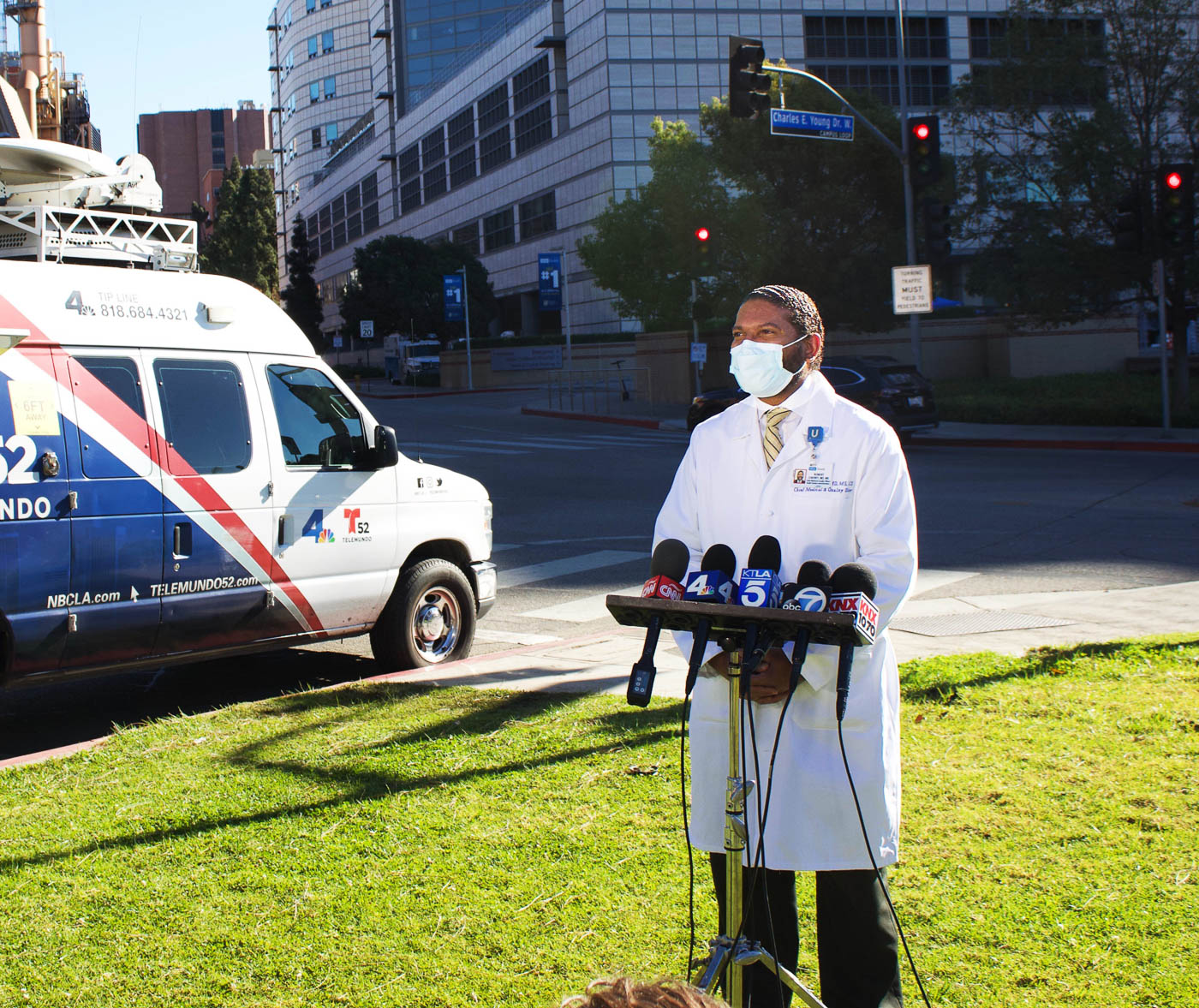 With plans for a return to in-person classes underway for the fall, UCLA must remain transparent and upfront about when students can expect to be vaccinated to allow for a safe return. (Ariana Fadel/Daily Bruin)
The University of California's announcement to return to in-person instruction in the fall likely came as welcome news to students.
But it may raise more questions than answers.
For the UCLA community, the development of a COVID-19 vaccine likely provided a wavering light at the end of over a yearlong tunnel. It is now a matter of whether California will be able to vaccinate enough students before the fall to allow for a safe return to campuses.
The slow and unpredictable state rollout isn't an encouraging sign, and the university's vaccination plans seem to reflect this. Though UCLA has already developed a plan to vaccinate faculty and staff, its plan for student vaccination remains murky.
Fall quarter is still many months away, so it is reasonable that the university may not have all the answers regarding student vaccination and in-person instruction, especially in a year as unpredictable as this one.
But this tentative plan to return to campus intensifies the stresses of budgeting, finding housing and traveling that take students months of preparation even under normal circumstances. Because of this, it is essential that UCLA maintains frequent and clear communication with students about the status of vaccinations – and its impact on in-person instruction.
Student vaccination is clearly the most important factor for administration to consider when contemplating a return to campus.
"I think we have to do that to be able to really feel comfortable with opening up classes," said Peter Katona, the chairman of UCLA's Infection Control Working Group. "Regular testing and vaccination is going to be crucial to that in the fall."
Student vaccination is also key to making students feel safe returning to campus.
"I think it's a very important aspect in terms of us getting back onto campus," said Audrey Price, a third-year human biology and society and psychology student and co-president of communications of Bruins Public Health. "Personally, I would feel more comfortable if that was worked into the plan."
But students are skeptical about returning to campus, as UCLA currently has no concrete plan in place for student vaccination. Such uncertainty is expected though, considering the difficult nature of predicting the course of preceding tiers of vaccination.
Distributing vaccines is in and of itself a monumental task.
"This is an unprecedented effort," Katona said. "Nobody has ever in the history of mankind tried to vaccinate so many people in such a short period of time."
But for students, getting vaccinated is just one factor to worry about if in-person instruction is indeed to return come fall. Securing housing and planning travel are always major stressors for students — let alone during a pandemic.
This is why UCLA must prioritize communication with students regarding in-person instruction. And since returning to campus hinges on vaccinations, the university must place discussions of student vaccination plans at the forefront of this communication, regardless of uncertainty surrounding the topic.
There are fortunately many modes of communication that administrators can use to make information about student vaccination accessible.
For example, the recent virtual town hall hosted by UCLA shared important information like the financial coverage of student vaccinations and vaccination eligibility for graduating Bruins.
Hosting town halls like this one on a regular basis will help keep students in the loop on student vaccination plans.
Undergraduate Students Association Council President Naomi Riley proposed another means of communication – a dashboard that provides up-to-date COVID-19 statistics for students. This dashboard could include information like the number of vaccinations already administered within the UCLA community or a ballpark estimate of when students may receive a vaccine themselves. It could also eventually provide an estimate of how many UCLA students were vaccinated, which would allow students more certainty in making arrangements for fall quarter and added comfort in returning to the classroom.
UCLA Health already has a similar website that provides answers to frequently asked questions and guides explaining the vaccination tiers, which shows that it is possible for the university to create such a website specifically geared to the student community.
And though a dashboard that students could check frequently would be ideal, even simple emailed newsletters about student vaccination would be effective sources of information for students.
Given, it's true that such information for students may not always be available, and what is available may be constantly changing.
For example, although mass vaccinations are in the works through the California Department of Public Health, the logistics of such plans often change on a weekly basis, said Christina Read, the USAC Student Wellness commissioner.
But the ever-changing nature of the circumstances surrounding student vaccinations is exactly why students must stay informed on vaccination plans. UCLA cannot wait for complete certainty to inform students; after all, planning for fall quarter begins now for out-of-state and international students.
The last school year has been incredibly uncertain for college students, but the return to campus shouldn't have to be.
It's up to UCLA to make that a reality.