Op-ed: UCPD should not be responsible for mental health care responses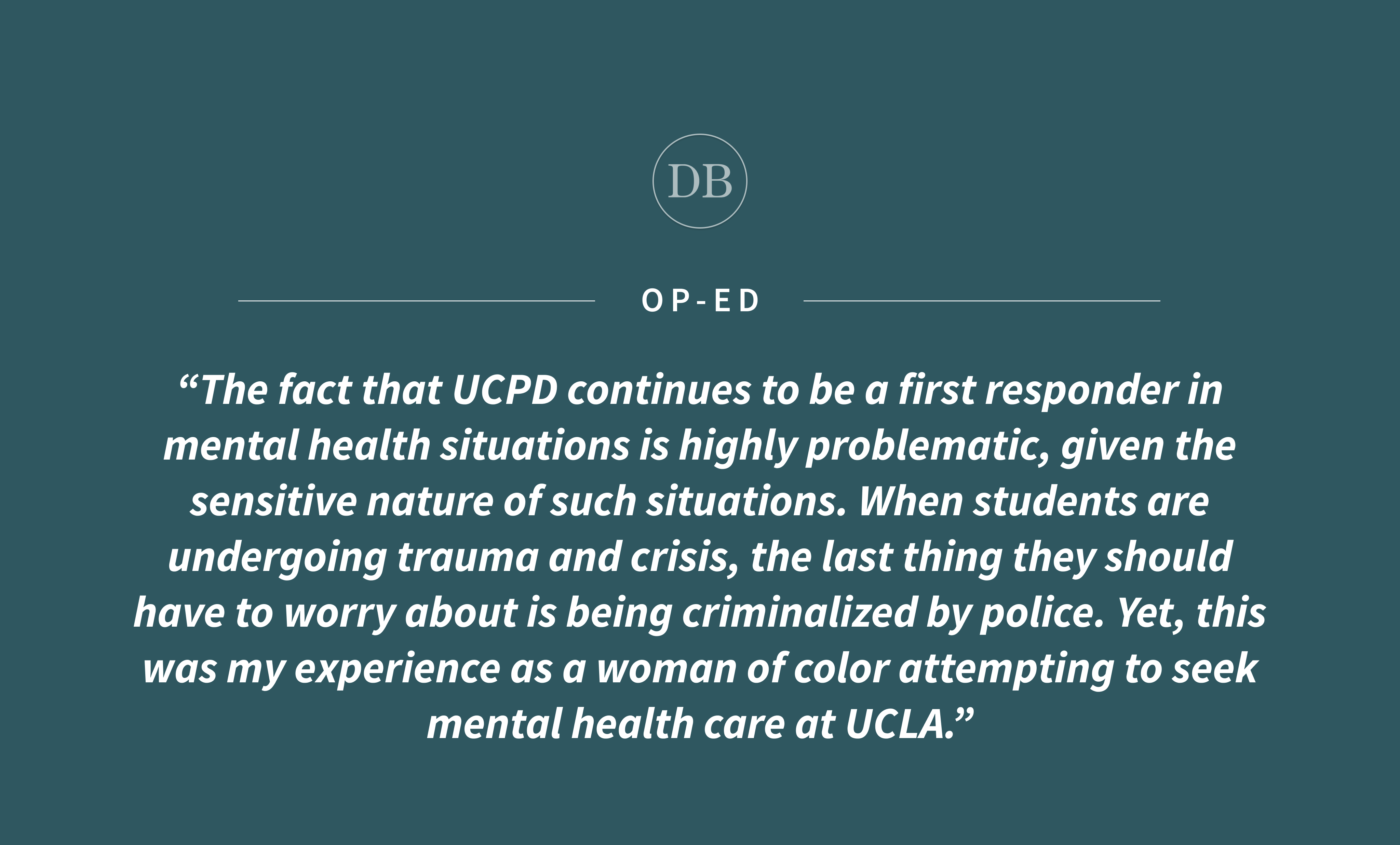 It is long overdue for UCLA to divest from UCPD and invest in the community.
After the powerful Black Lives Matter uprisings in June, Chancellor Gene Block and Executive Vice Chancellor and Provost Emily Carter, released a statement in response to protests, claiming: "UCLA will employ trained mental health professionals who can respond to mental health emergencies, either to support police officers on these calls or — if appropriate — to respond in place of officers. This approach has worked successfully in other communities and we expect it will better serve our campus, allowing police to focus on their public safety mission."
However, my traumatizing experience during this past fall quarter's finals week illustrated that absolutely nothing has been done to achieve this goal.
On Friday, Dec. 11, I had my first UCLA Counseling and Psychological Services session with a therapist in training who was a white woman. In this session, I spoke about my past experiences with poor mental health and ideation, which prompted my therapist to immediately call UCPD to involuntarily take me to the hospital for a "safer environment." She did not allow me to clarify my situation. I attempted to explain that these thoughts had passed a while ago and that I had not been in an unsafe environment for many weeks at this point, and I did not understand the process of how hospitalization worked. Despite this, she told me if I had to clarify anything then I can do so with a psychiatrist once I was hospitalized. The therapist also told me I can have a UCLA Residential Life staff with me along with UCPD, and I accepted this offer.
In less than five minutes, three UCPD officers showed up to my dorm. I was crying the entire time because I was not given a moment to process anything before being immediately searched for weapons and harshly interrogated about how I have been feeling recently. During the questioning, the UCPD officer took a pair of craft scissors out of my desk drawer to keep them out of reach, as if they expected me to attack them. Once the ResLife staff member finally came, the officers told her at the door that they were handling the situation. She did not bother asking me if I wanted her to stay.
I was told I would be handcuffed and taken to the hospital. Before being handcuffed and transported, I had to remind the officers that I needed to pack for the hospital, and they kept me in handcuffs and did not allow me to pack for myself. It was painfully obvious then and there that they had no understanding of the process of hospitalization, nor did they respect my agency or understand how to appropriately treat someone in a mental crisis.
I was transported from my dorm to the lobby of Ronald Reagan UCLA Medical Center still handcuffed for everyone to see, passing by floormates, fellow students and other people in public. It was not until I sat down in the lobby that a police officer read me a pre-written statement to introduce himself and assure me that I was not in trouble.
I was released from the hospital in less than nine hours because the psychiatrist understood how my CAPS therapist had misinterpreted and twisted my words. The psychiatrist understood the trauma I endured by UCPD.
It was such a painful experience being transported to the hospital with no time to think, being handled by UCPD and being stuck in the hospital for hours crying non-stop. I felt so sick at the end of the night. My head was hurting, my eyes were burning. I couldn't stop thinking about how I was brought there and placed in a facility for something a white woman misinterpreted. And during this entire experience, I could not help but think about the times I have witnessed police officers mistreating people in my own community. I felt that my struggle with mental health immediately caused them to treat me as a threat, rather than a human being with rights.
The fact that UCPD continues to be a first responder in mental health situations is highly problematic, given the sensitive nature of such situations. When students are undergoing trauma and crisis, the last thing they should have to worry about is being criminalized by police. Yet, this was my experience as a woman of color attempting to seek mental health care at UCLA.
To be clear, my experience with CAPS and UCPD is just the tip of the iceberg. And although UCLA administration is reviewing amendments to how mental health calls are handled, it does not dismiss my experience, along with past instances I personally know of where many other UCLA students – especially Black, Brown and Indigenous students – have had similar encounters with UCPD when undergoing mental health crises.
It is time for UCLA to practice what they preach and stop allowing UCPD to handle mental health situations.
Police officers are not health care providers – it takes complex skills gained from years of training and practice to empathetically intervene with someone in a crisis. On the other hand, police officers are trained to gain control over a situation quickly through intimidation and commands.
Students with mental health issues need care, not criminalization. Allowing UCPD to respond to such cases only criminalizes students and perpetuates the stigmatization of mental health issues, increasing humiliation, trauma, fear and distrust – especially among students of color.
I call on the UCLA administration to practice what they preach and fully divest mental health care from policing.
Gatica is a second-year sociology student and the assistant internal vice president of the Undergraduate Students Association Council.