Apt.1 Coffee generates buzz through its emphasis on community building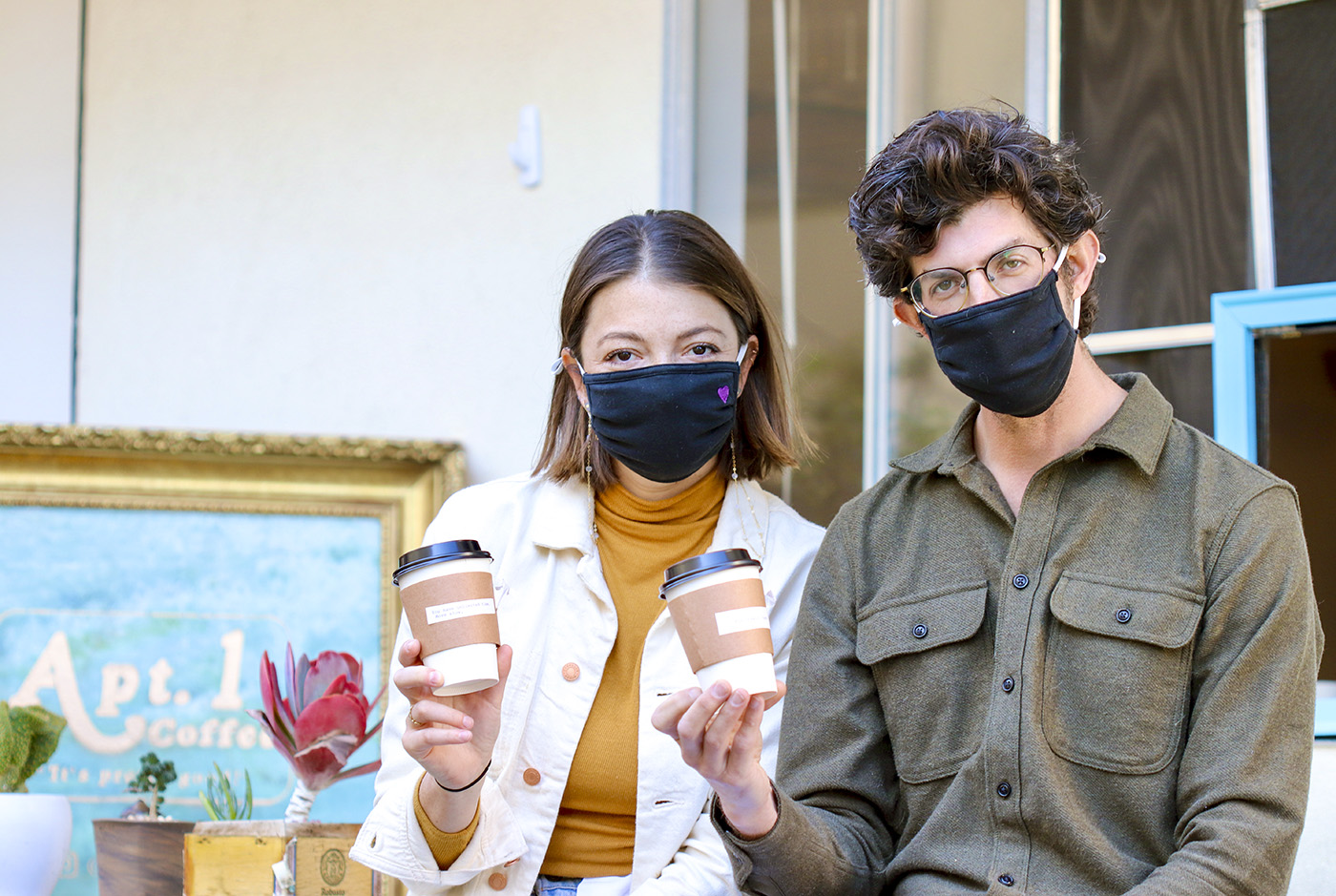 Danielle Brosh and Matt Diamond opened Apt. 1 Coffee to sell coffee products and baked goods out of their Santa Monica apartment kitchen window. As the small business grew through social media and by word of mouth, Brosh said they expanded the menu to include cappuccinos, cold brews, lattes, banana bread, muffins and coffee cake. (Kristin Pischel/Daily Bruin)
We could all use a "Cup of Hope."
Apt. 1 Coffee was established in September 2020 by co-founders Danielle Brosh and Matt Diamond and operates out of their Santa Monica apartment kitchen window. It is generally open Saturdays from 9 a.m. to 1 p.m., but operating hours vary and are updated on the store's Instagram account, @apt.1coffee. Diamond said the shop is marked by a sign on the adjacent street, leading interested patrons up a driveway to their apartment complex. The coffee shop – or rather pop-up – sells homemade coffee products including cappuccinos, cold brews and lattes, as well as baked goods such as banana bread, muffins and coffee cake, Brosh said.
"We've always talked about opening something but it was always … something we would do in the future, … and then COVID-19 hit and we started making coffee more since we couldn't go out and get it that much," Diamond said. "We thought it was just going to be a little thing we did for our neighbors, but people just started coming."
When Apt. 1 Coffee first launched, Brosh said about 15 customers visited each time it opened – when pour overs and banana bread were the only menu options. The goal was to have one or two new customers visit the shop each day, and she said the business eventually grew organically by word of mouth and through social media.
[Related: Alfred brews up solutions to keep coffee, matcha in hands of Angelenos]
The turning point for the shop was when the couple temporarily partnered with the Overheard LA Instagram account by selling the brand's new coffee bean product. That day 80 people visited, and Brosh said Apt. 1 Coffee's buzz has since grown on Instagram and in the Santa Monica community. She also said neighbors and friends began reaching out to provide baked goods and help the growing business.
"The coffee is good, but we're not trying to act like we're expert baristas," Brosh said. "We have a general idea about what we're doing. We know how to make the drinks that we do, but really we want this to be a creative outlet and a place for community to form."
As the menu expanded, Brosh said there was opportunity to play around with the coffee names. For example, during the 2020 presidential election, the labels were topical, like a pour over called "Cup-o-Joe-Biden." But Brosh said the names are mostly based on what feels natural to them – such as naming a drink after someone they know like the latte "Aunt Betty" or more abstract labels like the cold brew "Hope on Ice."
A distinguishing trait of Apt.1 Coffee is Diamond's myriad of original quotes attached to the coffee cup sleeves, which he said he writes on a typewriter for 60 cups in preparation for operating days. He said most of the quotes are general statements about life that all have some specific quality to them, ranging from inspirational statements to comical and witty comments.
For example, Brosh said one quote that speaks to her is "Love is a place you go." Expanding on that theme, Diamond told a short story about how to find love across 20 different cups – each one going to a different customer – called "Cup Story." Diamond said he occasionally writes a quote on the spot for a customer depending on how busy the day is.
"We kind of feel out the person and see if this cup goes with this person," Diamond said. "Because they're done ahead of time, it's not specific or personal, but it's not just a random cup. There's an energy around the cups, and we give (the customer) the one that feels right for them."
Another hallmark of the pop-up is its contactless pay-what-you-want system through Venmo or cash. Diamond said this arrangement allows him and Brosh to foster a more communal environment with their customers since their main priority is giving back to their community.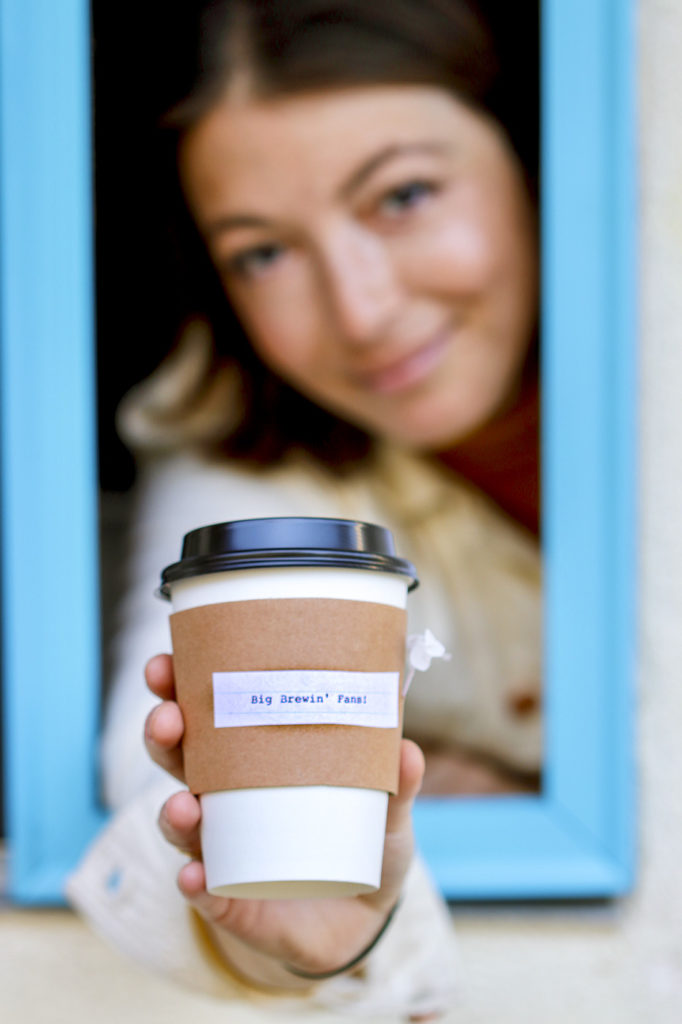 [Related: UCLA students blind taste test coffee]
Likewise, Brosh said patrons are excited by the price-setting freedom since payment is usually not something they have control over in general as consumers. However, customers do pay the amount they estimate is an average coffee price, which she said speaks to how people tend to follow societal rules like common courtesy. Furthermore, Brosh said it has been uplifting to see people reunite with friends at Apt. 1 Coffee because it is a safe, outdoor place for people to meet during the pandemic.
"I think that a lot of coffee shops, especially before (COVID-19), are a place to park your laptop," Brosh said. "And (Apt. 1) is the antithesis of that. … It's a place that invites conversation and invites people to come and just connect with us, connect with other people and have a cup of coffee."
Along those lines, second-year sociology student, Chloe Rosenstock, who has visited Apt. 1 Coffee and enjoyed the banana bread and the "Aunt Betty," said the atmosphere was very friendly and conducive for conversation – making for a homey experience. During a visit, she said she had a genuine conversation with one of the local neighbors, whom she had never met before, about her experiences at UCLA and her aspirations in life.
"(Apt. 1) seems like it's less about the business and more about the community," Rosenstock said. "More about building a space that's nice for people during this weird time. … You always meet someone new."
Most importantly, Diamond said the Apt. 1 Coffee experience is ultimately about visiting a coffee shop in a different way. Especially since there is a lack of interaction during these times, Brosh said it is uplifting to see people socializing right outside her apartment window.
"I mean, everyone gets a little jolt of hope when they have a good cup of coffee," Brosh said.