The Quad: Exploring the connections between evangelism and politics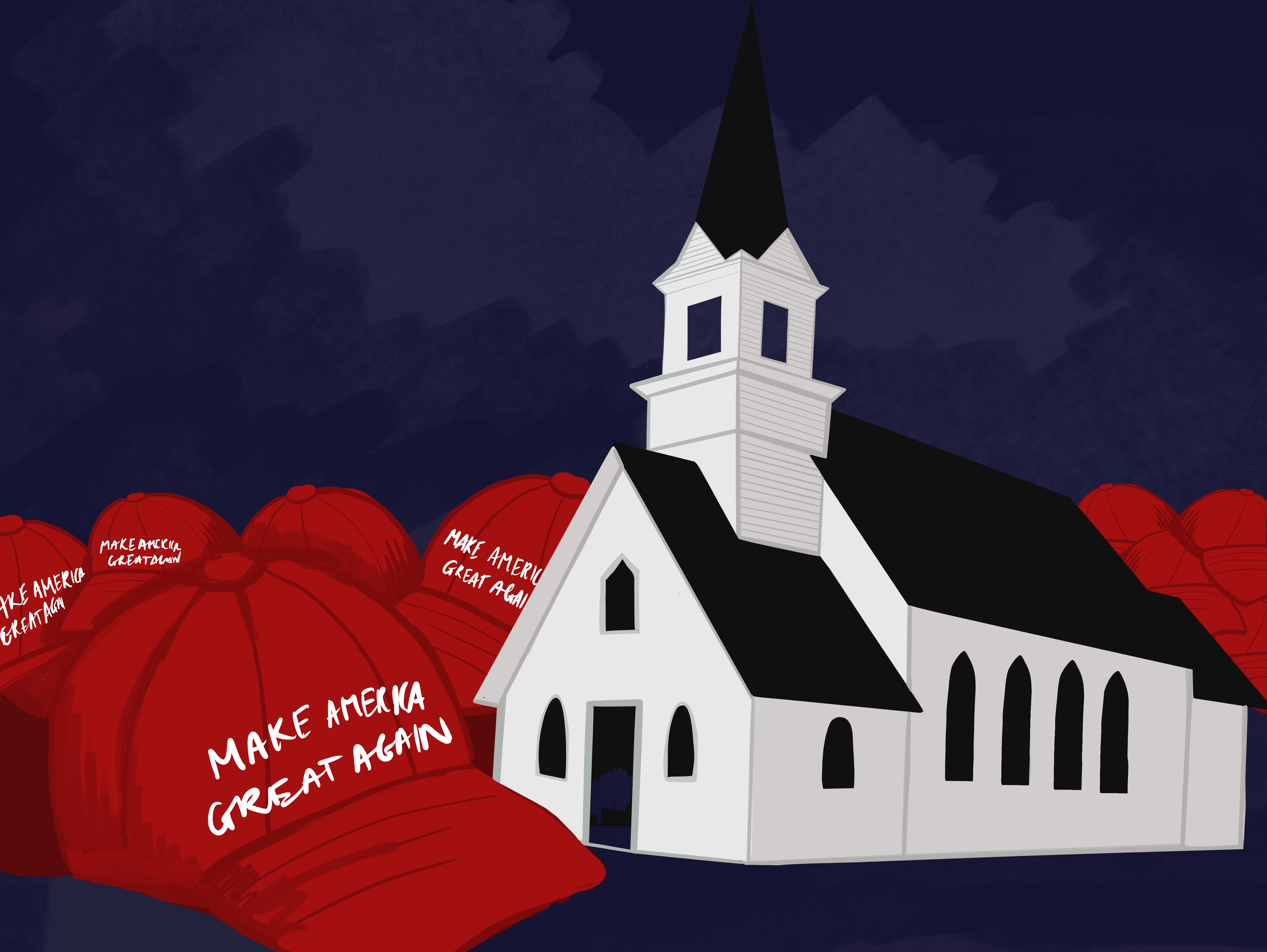 (Emily Dembinski/Illustrations director)
Millions watched as Trump supporters rallied around and stormed the Capitol building Jan. 6 – and those millions may have also spotted the banners proclaiming "Jesus Saves" and crosses nuzzled between confederate flags and "Trump 2020" signs.
The riot on Capitol Hill is not the first time Christian symbolism has been used in support of President Trump. According to the Pew Research Center, white evangelical Protestants are Trump's strongest supporters and are more consistently Republican compared to other major religious groups.
Although the term is traditionally accepted to be a religious word designating Protestant, born-again Christians, "evangelical" has become culturally associated with a voting bloc of white conservatives.
But can a religious ideology and a voting bloc be one and the same?
Alyssa Suzuki, a third-year public affairs student and member of Grace on Campus, a nondenominational Christian club, said belief in and acceptance of the gospel is the fundamental heart of evangelical Christianity, stressing personal belief over cultural background.
"A Christian is someone who believes in Jesus Christ, who believes that … they deserve eternal punishment because they have broken God's holy and perfect standard," Suzuki said. "And yet because of Christ in him bearing our punishment on the cross … we could be reconciled to him."
Considering a quarter of Americans identify as evangelical, according to Pew Research Center, understanding how evangelicals inform their vote is crucial to understanding the electorate.
Suzuki said while political participation is necessary, ultimately the sovereignty of Jesus is more reliable than the efficacy of the political system.
"We should be striving to make laws that are just and vote for people in leadership and authority who are going to be just leaders. … That's a responsibility we have," Suzuki said. "But I think the ultimate thing is first recognizing that whoever is president doesn't matter in the sense that one day Jesus is going to return and he's going to make all things right. … My hope is not bound up in our democracy."
Although the term evangelical has become culturally linked with white Protestant identities, the dominant racial/ethnic identity of evangelicals within the younger generation (18- to 29-year-olds) is Asian, according to Pew Research Center – showing that in actuality, there are many different subsets of Christian identity.

Nor are ethnicity and religiosity entirely distinct identities. Nick Kaneshiro, a second-year public affairs student and member of Grace on Campus, said his cultural experience as a Japanese American is closely tied to his experience as a member of a community-oriented Japanese American nondenominational church.
Kaneshiro said he is learning how to balance conflicts within Japanese culture and traditional Christian values.
"In Japanese culture, pride is a big thing," Kaneshiro said. "But increasingly, we (as Christians) are called to be humble."

Nevertheless, Kaneshiro said he seeks inspiration from his beliefs in guiding his political views.
"As a Christian, how I approach (politics) is just do my best to be true to what I believe in and true to my convictions … but still coming from a place of love and compassion. … Just realizing that part of loving my neighbors is supporting their struggles and their trials," Kaneshiro said.
Suzuki also said she counts on her strong religious values to guide her ballot.
"Among the two candidates, I felt like the one that I voted for, although they are not perfect, would ultimately uphold the values of allowing the church to be the church, allowing us to meet together, to preach the gospel (and) upholding traditional family values," Suzuki said. "If we're going to say that we need to advocate for and protect people who can't fight for themselves, … I think we have to first start with children and particularly the unborn."
As far as evangelism's connection to white supremacy ideology, lecturer and Catholic activist Eric Martin said many white supremacists who consider themselves to be Christians operate out of a perceived position of persecution and racial displacement.
Martin said after World War II, many Christians felt threatened by the increasing acceptance of atheism and communism and during the Cold War, these sentiments manifested once more in the perceived cultural crisis of the expansion of immigration reform to include non-Christian countries.
"The Bible has been a resource for liberation movements, but it's also been a resource for movements that falsely claim victimization narratives," Martin said. "There's a sense that America is a Christian nation, and it would be a crime if it did not remain so."
Though the separation of church and state exists in the United States, Martin said this separation is nothing more than an illusion considering the backlash Presidents Barack Obama and John F. Kennedy faced for their church choice and Catholicism, respectively.
"No matter what the legal status of religion is, functionally there is a system in place that polices people's religion," Martin said. "Evangelicalism, like any sect or religious group, is not uniform. … The guilt of some is not the guilt of all."
Although Christian symbolism was inarguably present at the events of Capitol Hill, Christian endorsement was divided. While the minority joined in protesting the "fraudulence" of the election, most condemned the violence, including an article in Christianity Today that was headlined "We Worship with the Magi, Not MAGA."
"I definitely do not think that (the riot) was an accurate portrayal of what God has called Christians to do," Suzuki said. "It is very clear throughout the Bible that we are to be peaceable, to do good and to submit to the leaders that he's placed over us."
Kaneshiro said the actions of those aligning themselves with Christian imagery and participating in the riots were misrepresentative of Christianity.
"Evoking Christ's name in a place that I don't think Christ himself would be putting himself seems extremely inappropriate," Kaneshiro said. "It can mislead a lot of people in terms of who Christ is and what he stands for."
Ultimately, Kaneshiro said Christianity's impact on his identity cannot be limited to one religious denomination or political ideology.
"My only identity is in Christ, and not in other subsets of Christianity," Kaneshiro said. "We're not aligning ourselves with a political group, we're aligning ourselves with the Bible,"