Editorial: CAE director selection displays disregard for student input in hiring process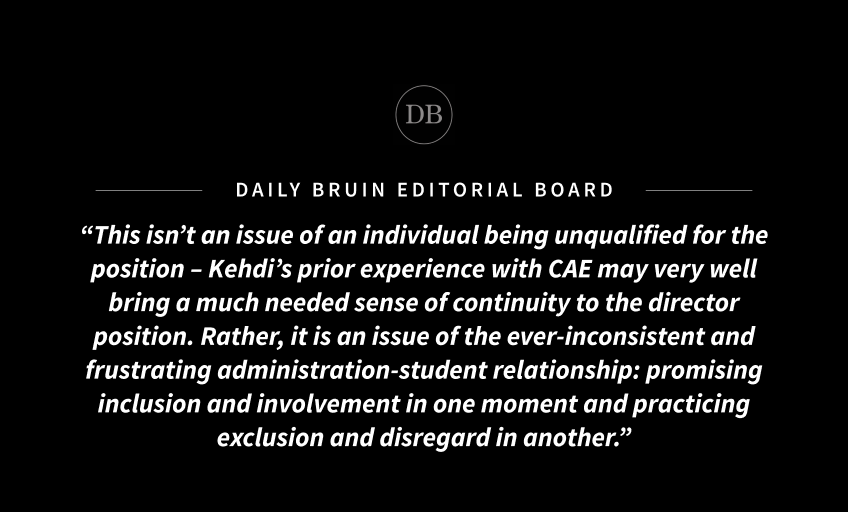 Student input shouldn't just be a badge of inclusion – it should actually mean something.
In November, Norma Kehdi was hired as director of the Center for Accessible Education after previously being the center's associate director of counseling services.
Student leaders involved in the hiring process, which was led by Dean of Students Maria Blandizzi, recommended against Kehdi's hiring despite her previous experience, citing her vague ideas and unimpressive interview compared to other candidates. Not only did Blandizzi ignore student input, she added insult to injury by leaving it to CAE staff to deliver the news to student leaders, rather than taking responsibility for the decision herself.
No one knows more about the impacts of poor accessibility than the students who experience those challenges every day. The CAE – and the community's approval of its leadership – is personal to these students, and their input should be weighted heavily in the decision making process.
Instead, it was treated as an afterthought.
This isn't an issue of an individual being unqualified for the position – Kehdi's prior experience with CAE may very well bring a much-needed sense of continuity to the director position. Rather, it is an issue of the ever-inconsistent and frustrating administration-student relationship: promising inclusion and involvement in one moment and practicing exclusion and disregard in another.
Students, particularly those who aspire to become the problem solvers of tomorrow, shouldn't be led on with promises of a seat at the table only to have the door shut in their faces at the last second.
It seems pointless for administrators to include student leaders and representatives from the disability community in the hiring process – who came in thinking their feedback would be considered – only to ultimately go against all the work they put into this alleged joint effort.
This is nothing new, of course. As graduate students clamor for their voices to be heard in the Graduate School of Education and Information Studies' search for a new dean, the CAE director search process makes one wonder if students are fighting a battle they have no chance of winning.
Student leaders of the disabled community know their own needs, and what is expected or required of a leader for a center that aims to serve them and others. Graduate students know which qualities are needed of a prospective dean who can best aid their professional development and efforts beyond grad school.
That is not to say student input is all that matters in these processes. There are certainly hiring factors administrators may be better positioned to understand.
But, if nothing else, those factors should be communicated and explained with great care, especially if administrators are willing to overrule students. That is what successful and inclusionary collaborations depend on.
If administrators truly want to fulfill the university's goals of cultivating tomorrow's leaders, they can't just say they'll work with students – they have to listen too.